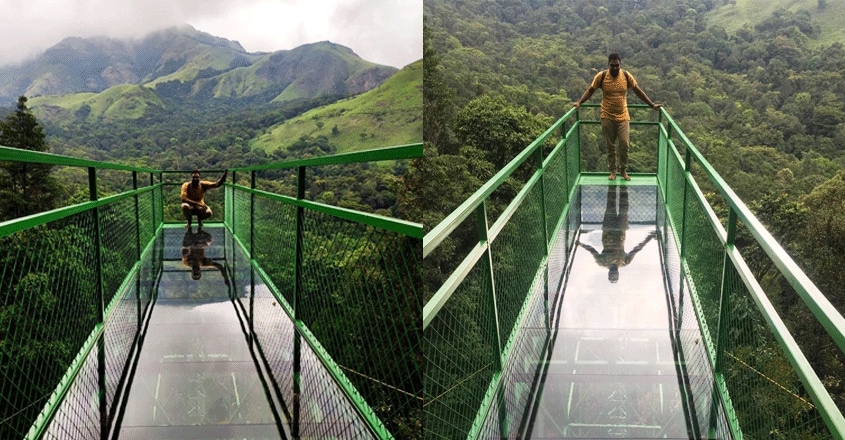 Imagine walking on top of glass? Wouldn't it be scary? What if it is a bridge made of glass set up in middle of a forest? But if you are one raring to undergo such an experience, go straight to Wayanad - there you will find the first glass bridge in south India.
Wayanad is rapidly transforming, it is fast replacing traditional tourism concepts by creating new attractions for the tourists. Travellers could get to experience a walk on the glass bridge amid all the greenery.
This is a smaller version of the glass bridge in China that was opened for the public in 2016. But back home, tourists are only slowly getting to know about this glass marvel in Wayanad.
This bridge is located at a pristine place called Thollayiram Kandi (900 acres), which is just 13km away from Meppadi. You can reach till Thollaiyaram Kandi in your own vehicle and from there you would have to take the jeep to the bridge. It is close to the trekking point at Thollayiram Kandi.
The walk on the glass bridge that is transparent would really fascinate you. Built at a height of 100ft, the bridge offers a 360-degree view of the green surroundings. You can enjoy the mesmerising view of the hills from there. And one glance down, you would see the deep dark forest. Some may find the experience scary, while for others it would be sheer thrill. Ultimately, it's an out-of-the-world experience.
This bridge belongs to a private party. Materials needed for the construction of the bridge, including the fibre glass, were imported from Italy. The bridge is made of glass that is durable and unbreakable. Only three or four people are allowed to walk on the bridge at a time. The fee per person is Rs 100.