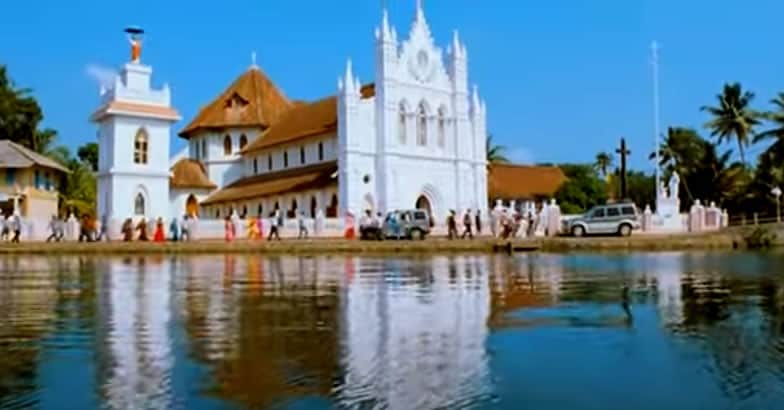 A gentle breeze rippled across the river Pamba. And across the river and a narrow road is a beautiful church which reminds one of a Portuguese style construction. This is the St Mary's Forane Church at Pulinkunnu, Alappuzha. The church, in this village in Alappuzha shot to fame after it was featured in Gautham Vasudeva Menon's super hit movie 'Vinnaithaandi Varuvaayaa'.
While most of the movie makers get the lead pair to romance on the backwaters, Gautham Vasudeva Menon did that and much more. He caught the beauty of the church in all its splendour. For those who have not seen this movie, here is a look at the scenes in which the church features.
Now for the history of this beautiful church. Ages ago, Pulinkunnu did not have a church. So, the devotees used to travel all the way to Champakulam- an overnight journey by boat. Once the party reached late and were jeered at. Saddened, they approached the King. The king granted the devotees permission to build a church at his old boathouse. And in AD 1557, the church dedicated to the holy mother came into being.
Over the years, the number of members in the congregation grew. A new building became necessary and about a century ago, a new church - the one you see now - came to be.
After the movie 'Vinnaithaandi Varuvaayaa' became a hit, there has a been an increase in the number of visitors to this church. All attracted by the serene and peaceful atmosphere this place of worship offers.
Also read: Around Alappuzha in 24 hours