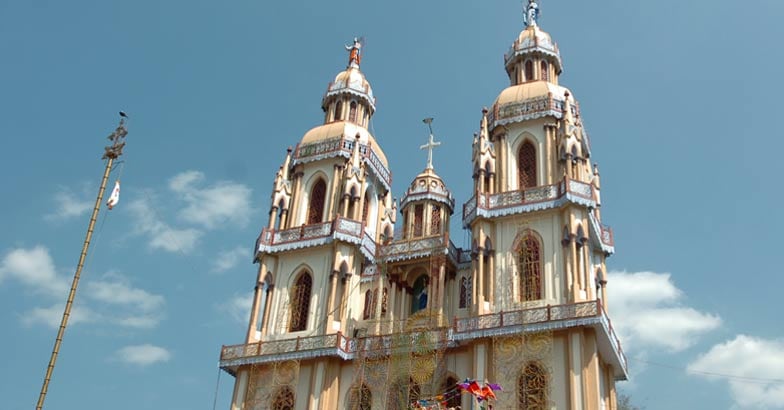 The roots of Christianity in Kerala go back a long long time. And hence, the state is home to some ancient churches. The St Mary's Forane Church at Kuravilangad, dates back to AD 335 according to certain records, but there are many who believe it is even older.
History
According to popular belief, Mother Mary herself appeared to a bunch of children who were tending to their flock. These kids were hungry and thirsty, and an old woman, appeared out of nowhere - fed them and showed them a spring from where they could drink. The old timers believe that is was Mother Mary who came in the guise of an old woman. The old lady, according to the history books, directed them to build a church next to a spring, which sprouts water even now. The children, informed the elders of the village who constructed a church in the place.
Artifacts and monuments
There are a lot of ancient artifacts in this church which speak of its antiquity. The most prominent among them is an ancient bell with inscriptions that have not been deciphered so far. There are church bells that were manufactured in Hamburg in 1910 and an eight pronged coconut scraper which is used during the festival of Moonu Nompu, which falls in January. The main altar is a rare blend of Portuguese and Roman architecture and it is said to have been made in 1570. The stone cross also was installed around the same time.
The 'Vadhyapura', a building used to play musical instruments, a presbytery, a couple of small churches form part of the church complex. They also have a school.
Festivals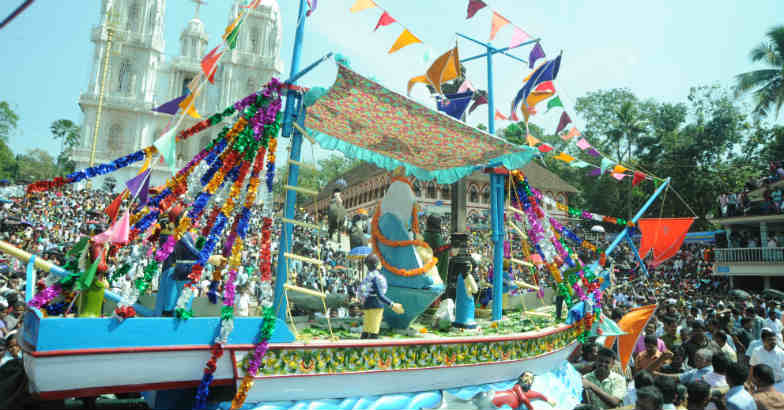 The main festival is the Moonu Nompu. And the Kappal pradikshinam that happens on day two of the three day Moonu Nompu festival is really unique. Read more about it here
Religious harmony
In the olden days, according to the 'Kristhavavijnanakosham', the elephants for the procession, on Moonu Nompu festival used to be sent from the Ettumanoor Siva Temple. The book also says that the Ettumanoor Devaswam gifted eight and a quarter acres of land to the church for farming. People from far and wide, irrespective of caste and creed gather on Fridays to offer oil at the stone cross in front of the church, such is their faith in 'Muthiyamma,' as Mother Mary is addressed at this church.