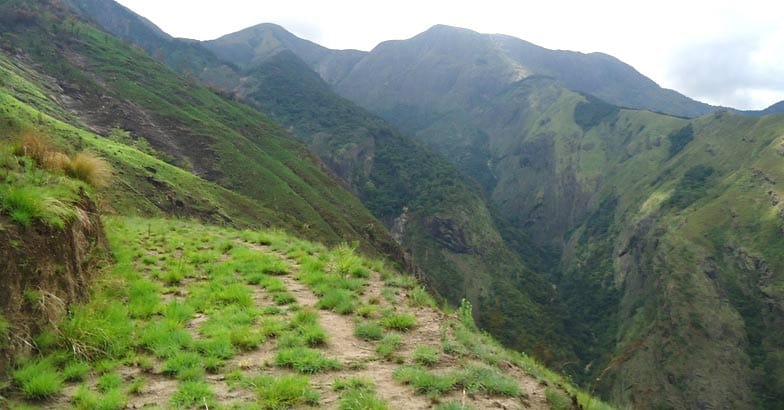 Are you the adventurous kind? Then, a trek to Meesappulimala near Munnar is a must. One of the tallest peaks in South India, we repeat, Meesappulimala is a destination for the highly adventurous.
Meesappulimala is about 24kms from Munnar town. Tall pine trees wave to you from both side of the road as you drive to the base camp. If you are reaching Meesappulimala in the afternoon, it is advisable to stay back at Sky cottage. From the rooms, you see the mountains and a waterfall gurgling past. The clouds kiss the earth and then float down the valley. You can also put up tents near the Sky Cottage. You can see Mattupetty Dam from a distance.
Start the trek early in the morning, pack some food from the base camp. You can either walk it or take the four wheel drive arranged by The Kerala Forest Development Corporation (KFDC). It is a good five kilometers to Rhodo Valley and that is as far as any vehicle will go. From there to the peak, you have to walk, through the misty hills, over rocks and brushes.
The trek takes you through some scenic places and vantage points. Rhododendrons and a thousand other flowering shrubs dot the hillside. The wind carries smell of wild animals. Mist rolls around your feet. It is ideal to pick up a local guide, since the terrain gets tricky.
And if you are in luck, you get a chance to come across elephants, Gaur (Indian Bison) and Nilgiri Tahrs in their natural habitat. Thick shrubs closely envelop the plateau. The crisscrossing streams make the trip all the more alluring. The brooks form a spectacular view from the hilltop. You can see the valley from many of the vantage points. If you are starting in the morning, you will reach Meesappulimala by noon. It is said that at some particular angles, the hills resemble a tiger's face; hence the name.
Just beyond that, lies Tamil Nadu. You gets a bird's eye view of Kodaikanal hills and Yellapatti village far below. However, the view is blocked on days of heavy mist.
Meesappulimala is one such place that lives up to the wanderlust expectations of a trekker, who loves to take the less trodden roads.
PS: Prior permission is needed for this trek.