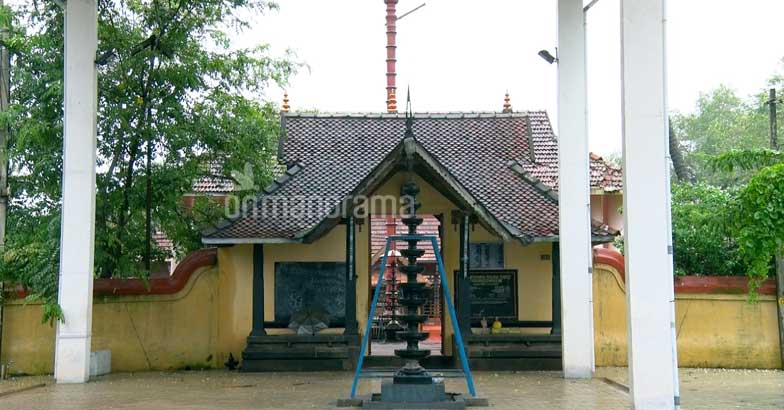 Moozhikulam Lakshmana Perumal temple sits on the banks of the Chalakudy river at Parakkadavu panchayat in Aluva taluk. This area was a jungle in the olden days. It is believed that Lord Vishnu appeared before Haritha maharishi here and told him about the coming Kali yuga and what people need to do to escape its ill effects. Thus the place came to be called Thirumozhikkalam, which later evolved into Moozhikulam. It is still referred to as Thirumozhikkalam in Tamil texts.
The nearly 5-acre walled, temple complex has four gates and in the middle is a light tower guarded by dragons. There is a wide namaskaramandapa inside, with the teak rafters covered by sculptures. The floor of the inside courtyard is paved with granite slabs. The main temple tower is plated with copper and has two storeys, a rare style in Kerala temple architecture.
The idol here is of Lakshmana, considered the avatar of Adi Sesha, getting ready to slay Meghanadha, the son of Ravana. The same garba griha also has the idol of Ganesha but at a different place.
On the north east is a temple of Goshalakrishna and on the south is a beautiful dance mandapa.
There are no historical records on who built this temple. One myth about its origin says that the idols here were installed during Dwapara Yuga while another says Lakshmana installed the idols here during Tretha Yuga.
But the Moozhikulam Lakshmana Perumal temple was a prominent one during the Chera rule and historical records say Kulasekhara Varman installed a flag staff here in 4 AD and the temple was renovated by Bhaskara Varman. The temple's decline started during Tipu's invasion in 18 century AD. Even the daily pujas were abandoned. Later it was renovated due to efforts by local villagers.
The temple festival starts on Atham day and ends with Arattu on Thiruvonam day. The festival sacrifice on the sixth day and the day pooram on the ninth are important.