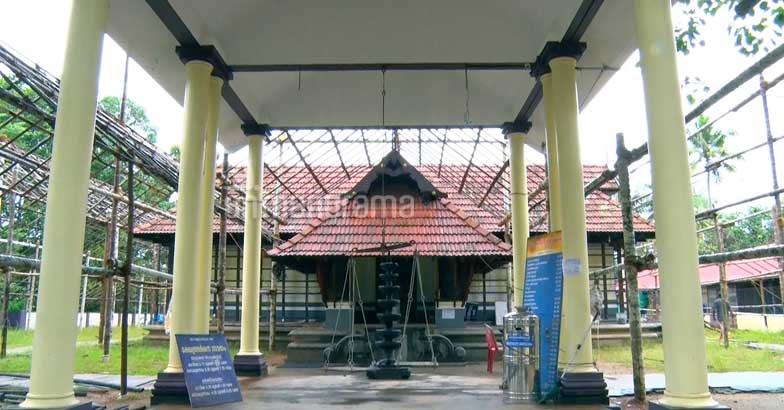 Payammal Shatrughna temple can be reached by taking a turn from Arippalam on the Irinjalakuda-Kodungalloor route and travelling two kiometers inside. The garba griha is square-shaped and Shatrughnaswami, considered an avatar of Vishnu's Sudarashana chakra, is the idol. It is believed attending the night puja is a must. Shatrughna here is portrayed as tasked with slaying Lavanasura, who had been blessed by Shiva with a lance that made him invincible.
Ganesha is installed on a rock to the south of the main temple. Anjaneya is worshipped on the front mandapa. It is said that the temple declined during the old days following a power struggle between various local groups and was destroyed during Tipu's invasion. The local people have now renovated it.
Sudarshana Pushpanjali, for vanquishing the enemy and for acquiring riches, is the main offering at the Páyammal Shatrughna temple. The festival here starts on the Pooyam day in the month of Kumbha and lasts for five days. An interesting custom here is submitting the income and expense receipts of the day before the lord after the evening puja, and seeking his forgiveness for all errors of omission and commission, before the temple is closed.
This is the last of the four temples on the ritual circuit; after the darshan here, devotees go back to Triprayar to complete the circuit.