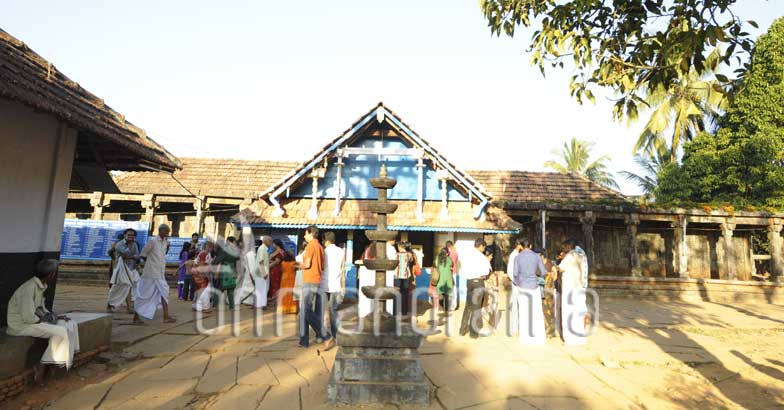 The smell of camphor lingered all over the air near the temple. Devotees seeking salvation for the souls of forefathers chant hymns with half-shut eyes and arms clasped in salutation. Thirunelli is Dakshina Gaya, the gateway to salvation.
This Maha Vishnu temple which finds mention in Unniyachi Charitham and the Thirunelli edicts of Chera king Bhaskara Ravi Varma date back to more than thousand five hundred years. Legend has it that it was Brahma who consecrated Maha Vishnu wearing his conch, discus, club and lotus here. It is believed that Brahma who alighted in Brahmagiri during his aerial journey spotted Vishnu resting at a gooseberry tree in the valley and decided to set up a temple there.
The temple is in a valley surrounded by four hills- Brahmagiri on the north, Udayagiri on the east, Narinirangi hill on the south and Karimala on the west. There is a stone mandapam each on either side outside along the nalambalam. Above the northern mandapam, a creeper with orange flowers lay sprawled. Behind the nalambalam is a stone floor where tulsi and bauhinia have thrived.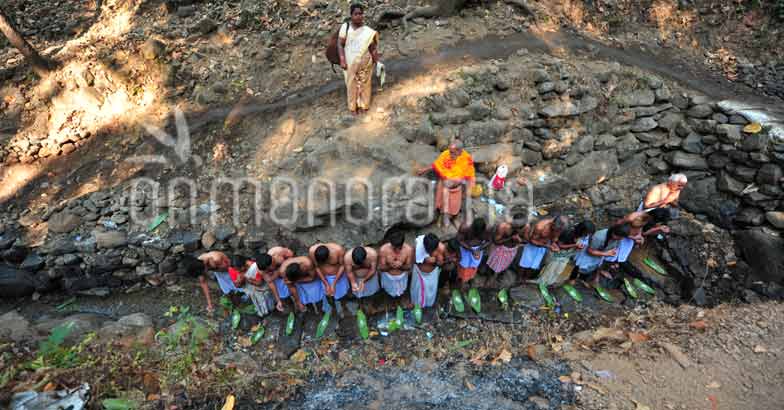 All around is a granite paved walkway. Water for day to day use arrives from Brahmagiri through a half kilometer long bed of stone in the temple without well. The place inside the nalambalam where Brahma is believed to have done his fire ritual is left unpaved. The full moon nights of Cancer, Libra, Aquarius and Vaisakha are important. The first mentioned one draws the most crowds.
Panchatheertham the temple pond is behind the temple. Water here is said to have come from one of the five sources originating in Brahmagiri. Conch, discus, club and lotus are carved in a rock in the middle of the pond. The way to Papanasini is through near Panchatheertham. Papanasini is a tiny stream that tumbles down the forest as we climb the boulder-filled way. It is the place where souls find salvation.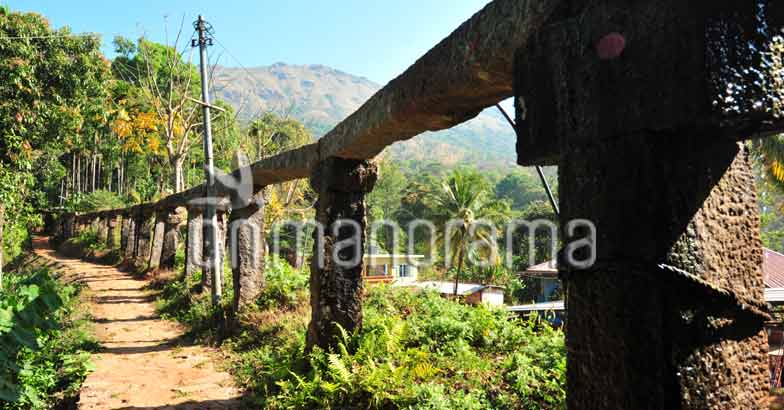 If we walk the path around Panchatheertham going backwards, we reach the entrance to a small cave. It is the Gundika Siva temple. One has to go on one's knees to be able to see inside. The doorway is closed shut with an iron barred door. There is a small lamp floor in front. Before the cave a white champak full of flowers lies spread. The cave was supposed to be a dwelling place of hermits once.
Myths vary that it ends in the bird netherworld and in Punarjani cave in Thiruvilvamala. You get the effect of Triumvirate darshan on reaching here as the place is blessed by the presence of Brahma-Vishnu-Maheswara deities.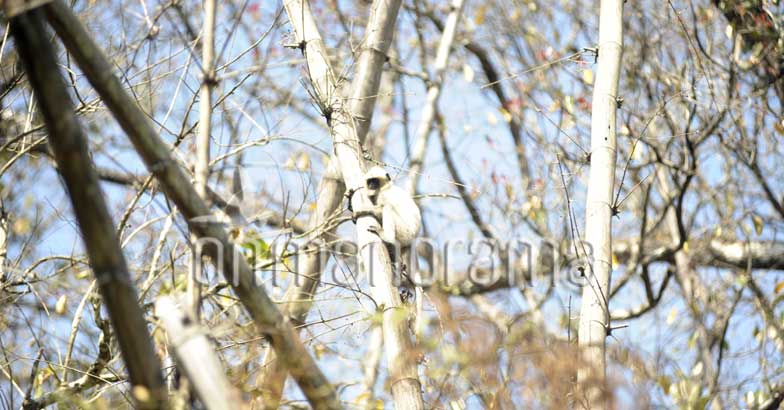 The wind passing through the circumambulation path, caressed by the magnolia leaves and seems to hum the Vishnu chant of 'Vande vishnum bhava bhayaharam sarvalokaika natham…'