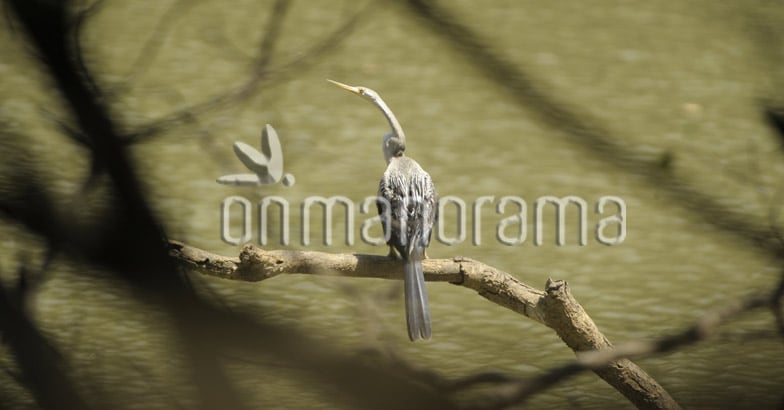 I found it difficult to identify the bird, but its song soothed me. The wind rustling through the bamboo trees calmed me down.
Kuruva islands are an astonishing installation of Mother Nature. A cluster of nearly 150 islands scattered under the Kabani creeks. The islands have areas ranging from 1 to 148 hectares. The tourists are managed by Forest Department on one hand and DTPC on the other. Guides of the Forest Protection Council are available to guide those arriving in the island.
Bamboo rafts are used for travelling in the river. A cool river breeze camouflages the sun's heat. The wind catches on.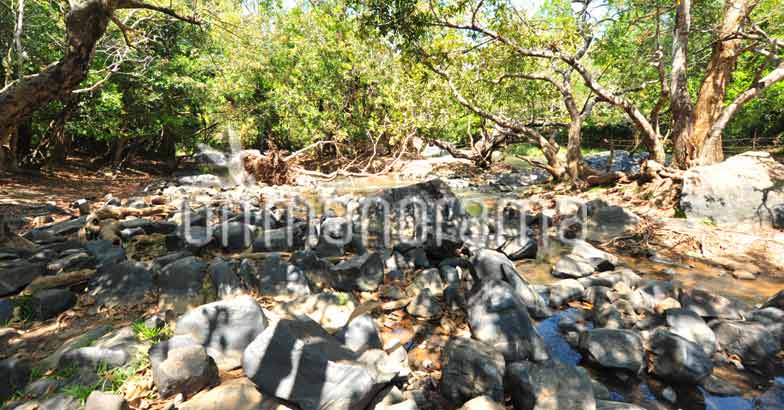 Kuruva's main island sparkles in the distance like a green leaf castle. Setting foot on land from the raft was like experiencing a new world. You are in a bamboo jungle and then there is teak, dalbergia and paniculata The sound of bamboos rubbing in the wind fills the air. It merges with the sound of wind in the leaves and the flow of river to form a symphony. A pavement appears by the river bank around the bamboo flocks.
The board of the Forest Protection Council shows before a tiny bamboo hut. Behind it runs a path stretching to the river bank and a beautiful bridge paved with bamboo. This is the spot where the tourists who are brought by the Forest Department from the other side of the island land. Adjoining it in the midst of a large group of bamboos is a gallery made out of fastening bamboos.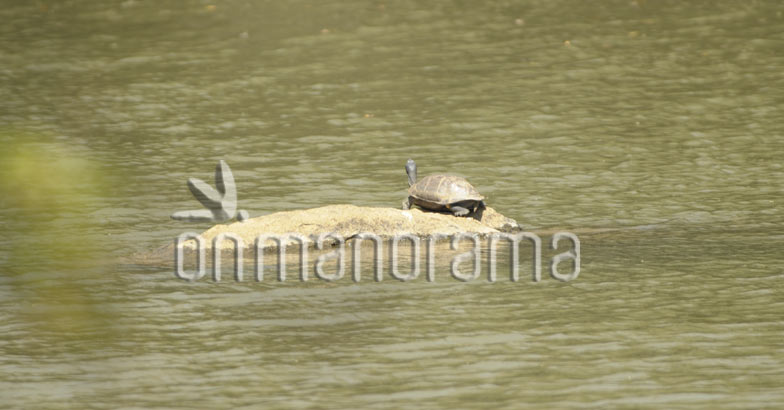 A bed of dry leaves litter the shady path running along the riverbank. The forest is on the right. Leaning on to the river on the left are trees. A tortoise is sunbathing on a rock in the middle of the river. The forest is in bloom. Hundreds of blue tiger butterflies circle the bamboo fence and fly about. Portions of the bamboo fence on the wayside are damaged. Naughty elephants come crossing the river from the other side. Suddenly one of the guides pointed to the river. A white seagull is perched on the tree branch leaning to the water. Must be because of the sound of rustling dry leaves, it dived deep into the water in that very instant.
A path curving down by a stream ends in a dark reef. Pointing to the white dust that had thickened in the river shore, guide Narayanan said: 'These are crocodile droppings. At quiet times, crocodiles go and lie in the shore for sunbathing.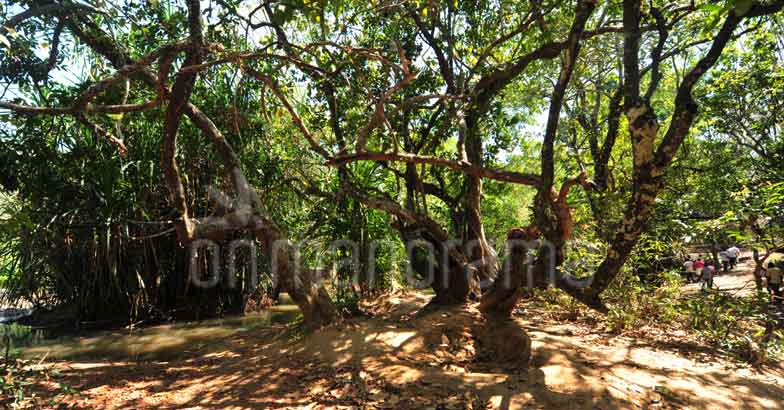 The river circles the reef sheltered by tree creepers and flows with knee-length water. Small trees spread out among jet black reefs shines like polish. Islands dot the surface on the other shore. Visitors are not allowed there. There are chains of deltas connecting the islands. One can immerse one's feet in the clear river water and sit atop the rock listening to the music of the wind.