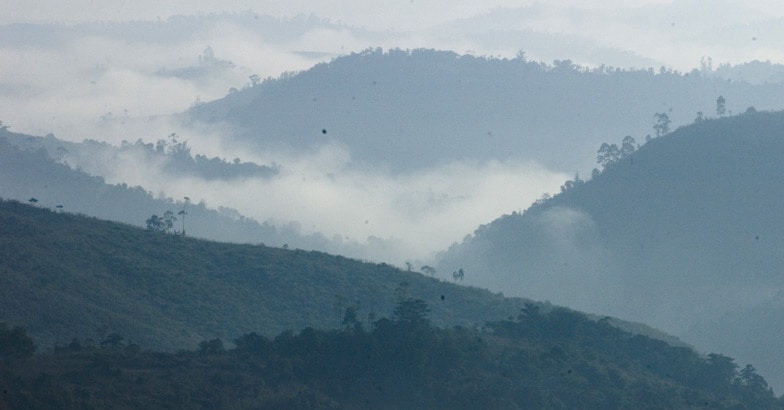 Home to exotic flora and fauna, lush green meadows and mesmerising glens, romantic waterfalls and mistcapped mountains, Vagamon is a site of scenic splendour. This enchanting hill station on the IdukkiKottayam border dotted with tea gardens, is one of Kerala's foremost ecotourism destinations. Named by the British as the Scotland of the East, Vagamon is 1100 m above sea level.
Some of the popular spots in Vagamon are Kurishumala, Thangal Para and Muruganmala. Kurishumala (Mountain of the Cross), located 10 km from Vagamon, is a Christian pilgrimage centre frequented by a large number of devotees carrying wooden crosses during the Holy Week. There are 14 crosses fixed along the path leading to this hilltop church. 
Legend has it that the Afghani Sufi saint Sheikh Fariduddin lived and died at Thangal Para some 800 years ago. The Urs festival attracts thousands of devout Muslims to Thangal Para. 
Muruganmala, as its name suggests is a rockcut shrine dedicated to Lord Murugan, located 8 km from the Vagamon town. Rhea Saran in Outlook Traveller Getaways, Kerala with Lakshwadeep says, "Apart from verdant spice plantations, a silent monastery and luxurious resorts, Vagamon has been made famous by a string of three hills, each dedicated to a different religion, all of them coexisting peacefully. It is difficult not to be touched by this quiet reflection of religious tolerance."
Vagamon also plays host to an annual Paragliding Festival jointly organised by the Kerala Tourism and Adventure Sports and Sustainable Tourism Academy (ASSTA) and offers thrills to the adventure seeker.  The breeding centre of the Kerala Livestock Board is located at Vagamon.