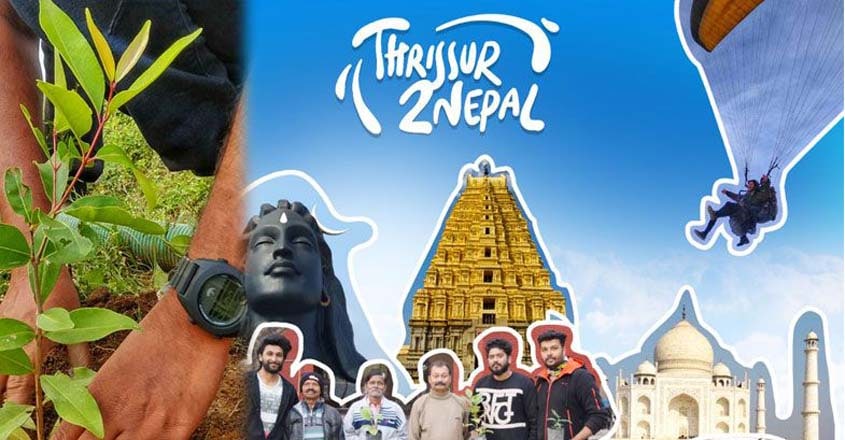 Journeys are not planned, they just happen; the only investment being the traveller's passion. A long journey was on their mind for a long time. But the trio who set out on it never thought it would create a canopy of greenery across India. A car than started from Thrissur drove 9,184 km through 14 states, spent 18 days on the road and made it to Nepal and back. All along, they planted saplings, with a message for a greener tomorrow. All at a cost of Rs 60,000!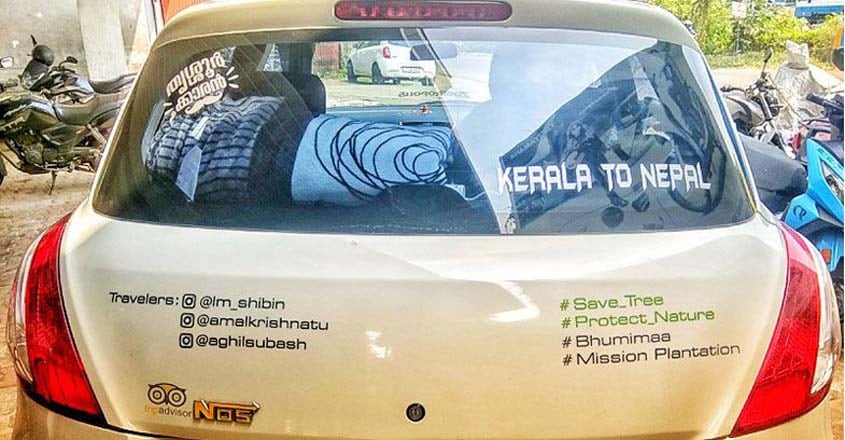 Thrissur natives and friends Akhil Subhash, Amal Krishna and Shibin Gopi were the travellers. The Maruti Swift that started from Kerala touched Tamil Nadu, Karnataka, Maharashtra, Rajasthan, Madhya Pradesh, Haryana, Punjab, Uttar Pradesh, Bihar, Telangana, Andhra Pradesh and New Delhi and reached the destination, Nepal, and returned. They encountered many people, saw awe-inspiring sights, savoured numerous local flavours, and planted more than 300 saplings in a journey that will ever remain green in their memories.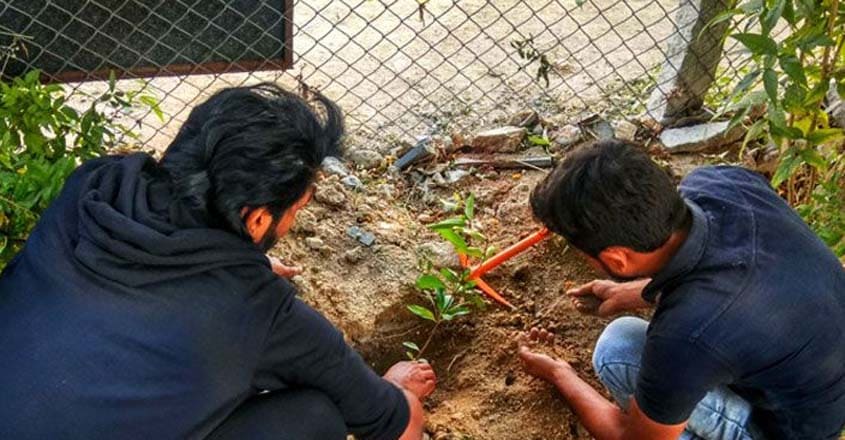 Akhil works in a private firm in Dubai. He wanted to take his mother on an all-India tour. But her health issues made him think of friends instead. Amal, a relative and photographer, was between jobs and got on the tour wagon without hesitation. Friend and employee in a private pharmaceutical company Shibin Gopi too decide to join in.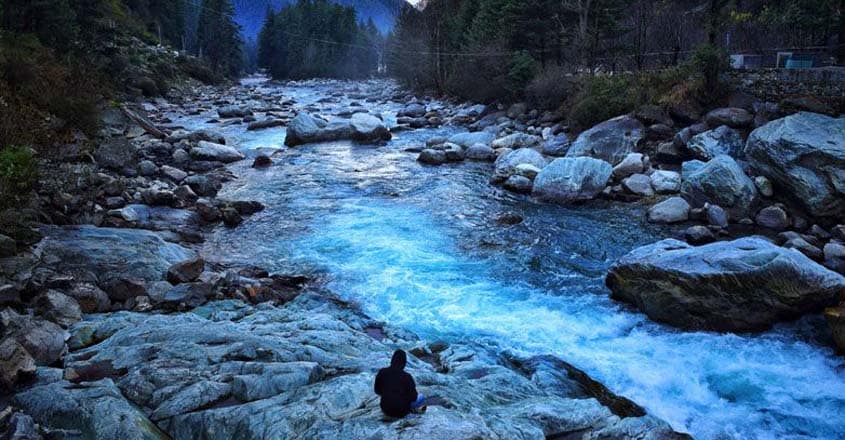 The trio started brainstorming about the travel. A mere sightseeing trip seemed meaningless. Thus the idea of planting saplings all over India was born. 'BhoomiMaa,' an environment friendly drive, became a big part of the trip. One car, three guys and many saplings thus set out to be part of India.
From Cherpu to Nepal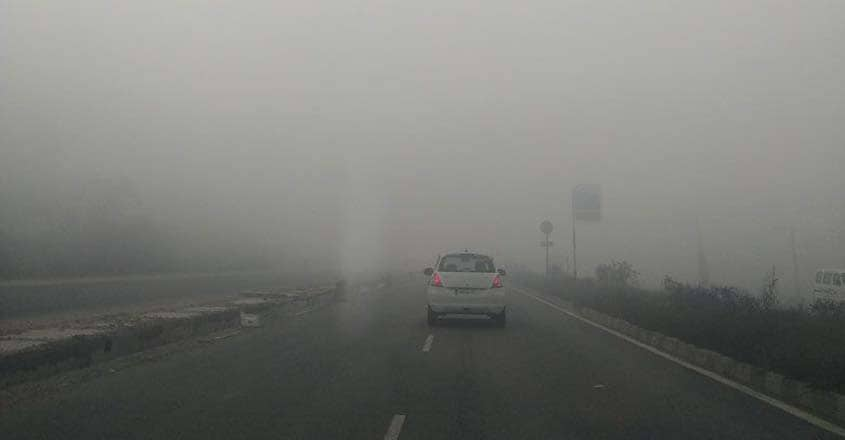 Itinerary was not planned in advance – plan was to go where the heart wanted. The car was fully serviced, all four tires replaced, new fog lights installed. 'BhoomiMaa' stickers were pasted on the rear. The car was blesses at the Bhoomimatha Temple in Cherpu, Thrissur, as suggested by Shibin.
Isha Yoga Centre in Coimbatore was the first stop. The authorities denied permission to plant sapling in the premises initially citing security reasons. But once they came to know about the trio's 'BhoomiMaa' drive, permission was granted and saplings planted with the help of Gayatri from the centre.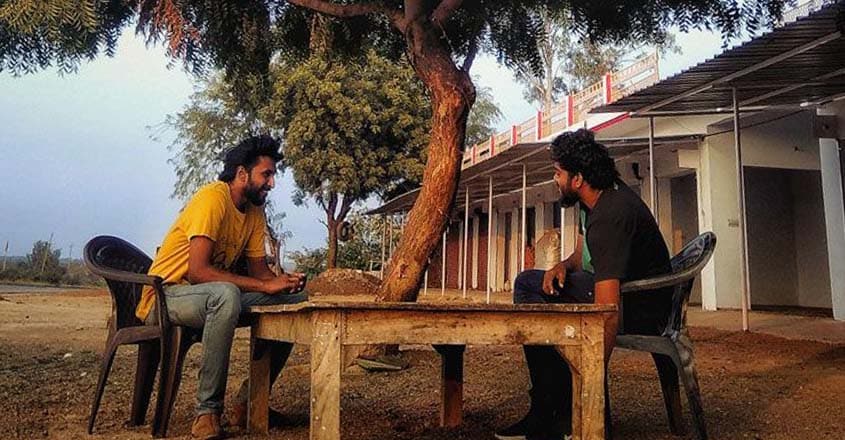 The next stop was Bangalore. They stayed overnight at a dormitory near Salem railway station. It was a decent place; had a good night's sleep. Left for Bangalore the next morning and met a few friends on the way who helped plant sapling by the roadside. Missed sunrise getting to Nandi Hills, but it stood in all its might. It was foggy even after sunrise, as though clouds had descended on the hill, covering the tree houses and buildings for guests. Left Nandi half-hearted. A long journey was ahead and Hampi – the ruins of the Great Vijayanagara Empire – was the next destination.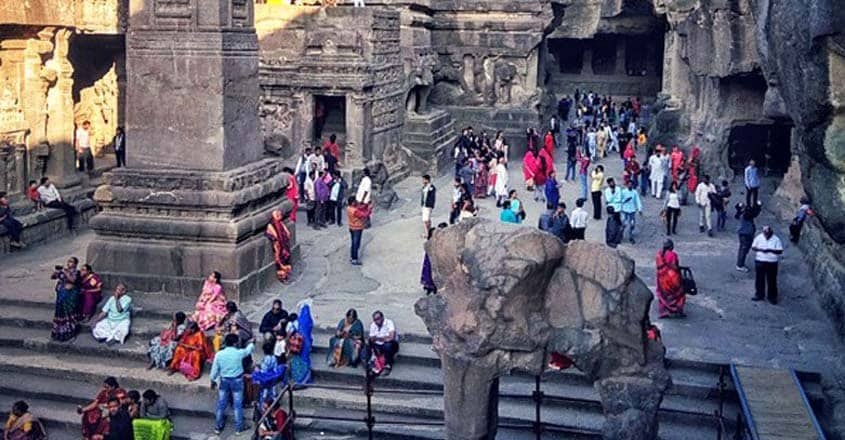 The drive towards Hampi was dangerous and adventurous. The road was straight as a ramrod lying in the middle of paddy fields. Roads were bad in patches and barely had street lights. Fear of the unknown and the dark created some discomfort. We stopped at Jungle Tree, where the hospitality of the hotel staff allayed all our fears.
A few saplings were planted in the hotel property with help from the staff the next morning and we left for Hampi after breakfast. The sights in Hampi begin from the Viroopaksha Temple. Remains of palaces, temples, huge idol, monoliths, innumerable stone pillars, chariots, rivers peppered with boulders, coracles, Tungabhadra reservoir… Hampi reminded us it can't be covered in a single day.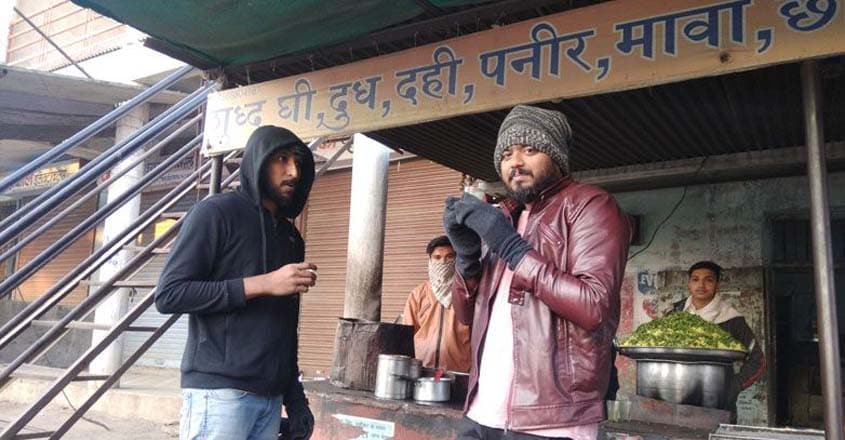 Back in hotel, route was set for Aurangabad. Drove a long stretch and decided to spend night at a hotel to avoid driving tired. Took a room at Hotel Janpath on the Karnataka border around 10pm and slept dreaming about Hampi. Rose at 6am the next day and left for Aurangabad and reach around noon.
Ellora Caves that made its way into the UN heritage sites list was the first stop. Among the hundreds of caves here, only 34 are open for public. Religious symbols of Hindus, Jains and Buddhists can be seen here. The artistry in stone inside the caves several kilometres long astonishes you with their intricate nature and antiquity.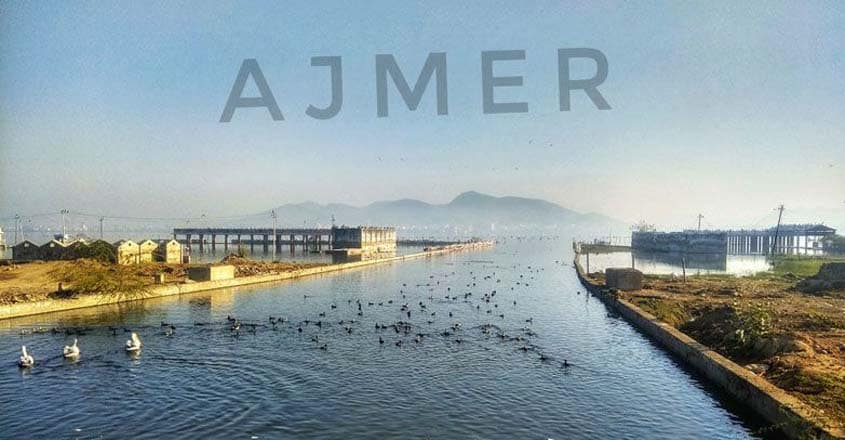 The Kailasanadha Temple structure here is the largest monolith ever found. The genius of architecture here is astonishing. It was supposedly built over generations, standing tall as one of the best works on stone in India. It was a feast for the cameras. We left Ellora at eight at night.
We were all hungry and had to drive a long way to find a dhaba. Ordered roti, eggs and chicken masala and ate to the heart's content for a reasonable price. Thanked the dhaba guys and decided to spend the night in a hotel off the Dhule Highway.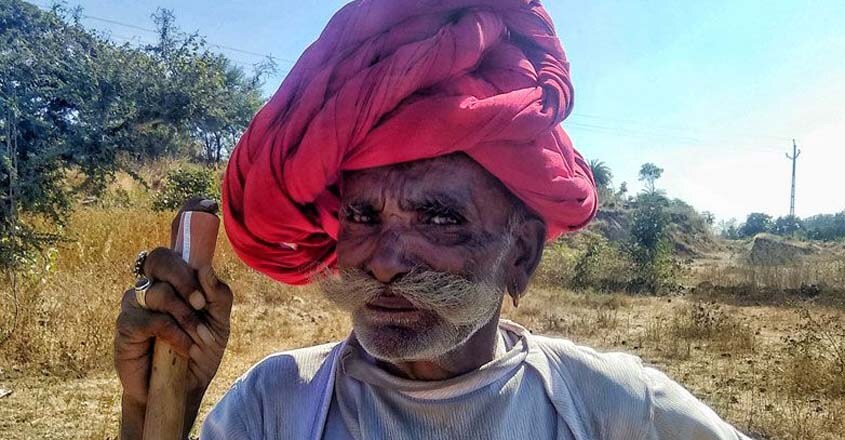 We left Aurangabad for Pushkar in Rajasthan, a non-stop drive. Met some farmers on the way and spoke with them in a language they could understand; a people full of love. Here is where we met Sohanlal and family. They helped us plant some samplings on the roadside. They served us tea and promised to nurture the plants.
Their energy gave a zing to out drive to Pushkar. A pilgrim destination –temple premises here hosts events from moustache competition to camel mela. It is land of numerous temples, the Pushkar Lake and lovely cuisine. Bathing in the Pushkar is a main pilgrim attraction.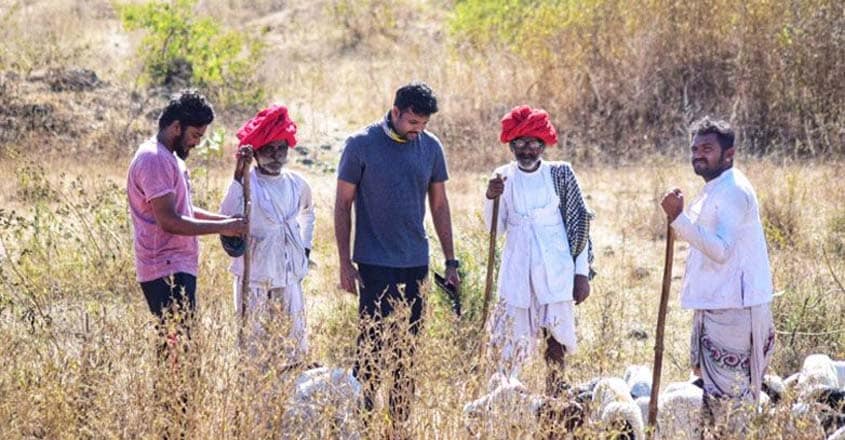 The camel fest and Brahma Temple made in marble are world famous. It is a half hour trek through the foots of Ratnagiri Hills to the temple of Savithri, Brahma's first wife. Apteswar Temple, supposedly built by Brahma to appease Shiva, a temple for Varaham, Rangji Temple – a marvel of Rajput and Mughal architecture – are all part of Pushkar's charm. Sapling were planting at a heritage home here run by Scottish woman Anna.
Ajmer, surrounded by Aravali mountains, was the next stop. The name of the city is derived from Ajayyameru, its name during the rule of Prithviraj Chauhan. It's a peaceful place that takes away all the fatigue of the travel. It's the home of Sufism that has stood as the source of a spiritual experience surpassing religious boundaries for hundreds of years. It is the land of the emperor of Sufism in India, Khwaja Mounuddin Chisti. The Ajmer Dargah is visited not only by Muslims but people of all religions.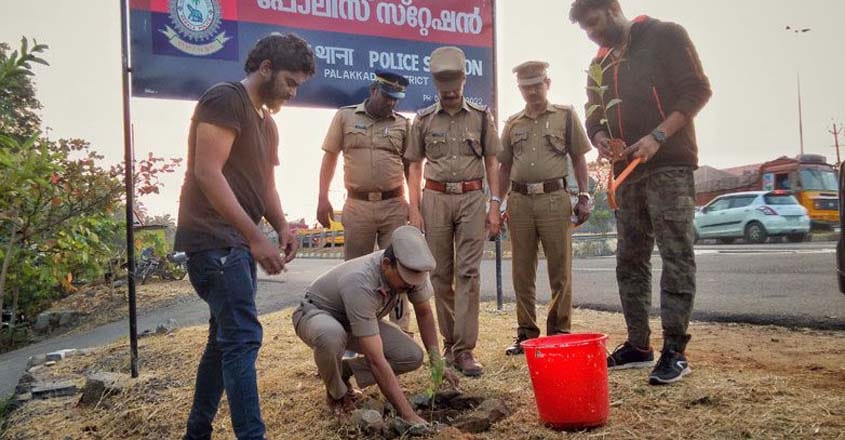 Next destination was Jaipur, the pink city known for its precious stones business. City Palace, Hawa Mahal and Amber Fort are but a few of its ancient architecture. Men with huge headgears and long mustaches are a common sight here. The people riding camels in their colourful attires reminded us of the postcards of Jaipur.
We had reached the heartland of India and the sights were overwhelming. The next stop was Manali, heaven's valley. We went through Haryana, not wasting time by stopping at smaller attractions. Stopped in Haryana for the night and left early morning for Himachal Pradesh through Punjab.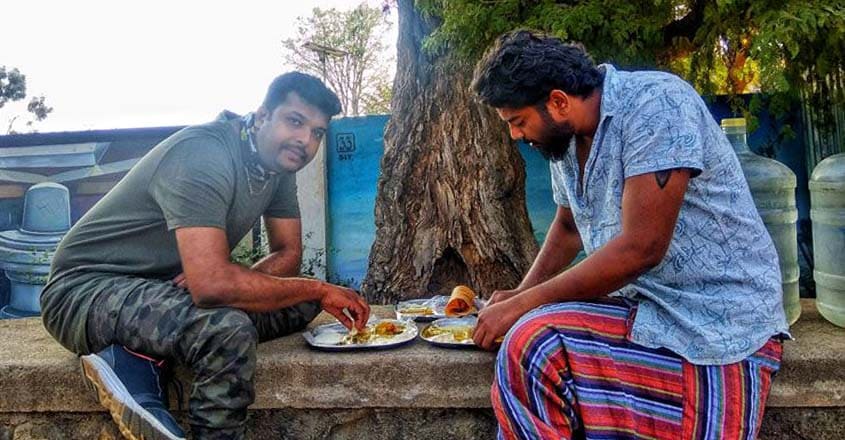 The roads were in poor condition in many places. We stopped at some areas and planted saplings with the help of locals in Haryana and Punjab. Reached Manali at 9.30pm after a long drive. Snow, Devadaru trees (Cedrus Deodara) and Biyas River are Manali's 'beauty secret.' The cuisine of the Himalayan valley is a beauty too. The Hadimba Devi Temple nestled among Devadaru trees is hundreds of years old. Some women were found earning an income by posing hares with tourists here.
First snowfall was a great moment. With temperatures hovering around minus 28 at night, the town had many stores selling locally made warm clothes. We did not have to buy much of it since we had them on us already. Clouds mingled with the mountains as we made our way through Rohtang Pass. The only vehicles on the road here were that of the visitors and the Indian Army. Saplings couldn't be planted in Manali because of the adverse weather. Reached Kasol passing Solang Valley and stayed at Mahendra Singh's home stay. His aide Pankaj helped with planting of saplings here. The hot, spicy taste of noodles and chat masala in cold conditions still lingers on.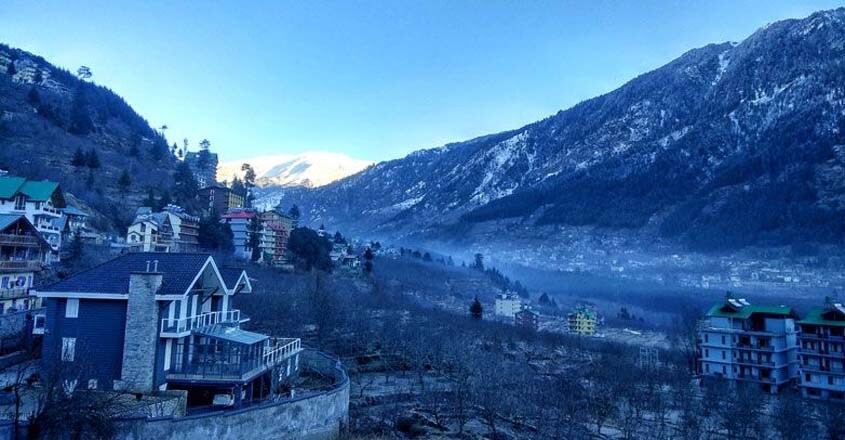 We left the snow-clad mountains for New Delhi. It took us more time than planned to reach Delhi foggy conditions made driving difficult and poor light made stopping impossible. It was the most arduous drive of the entire trip. We followed buses all along. Nothing but the tail lights of the vehicle ahead was visible. The fog made it impossible to gauge the width of the road. Around 2am, we saw an 'exit' sign and took it and stopped somewhere we thought was safe.
We waited for the fog to lift. But it didn't happen and decided to continue the trip on day ten. Drove for three hours and stopped because of poor vision. Waited for another couple of hours and decided to drive again despite the prevailing bad conditions. It was after noon we reached Delhi.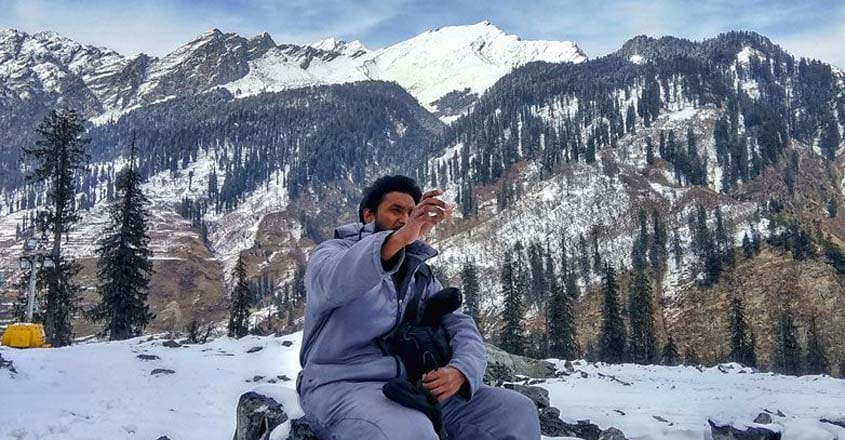 Planting the sapling in a metro raised one big question – where! Who shall we contact? Googled some names. Finally decided to approach Delhi Malayalee Association. Spoke with president Chandran over phone who sounded elated about the plan. He asked us to meet at their office around 4pm. Chandretan and Mohanetan helped us plant the sapling in their office premises and offered other help.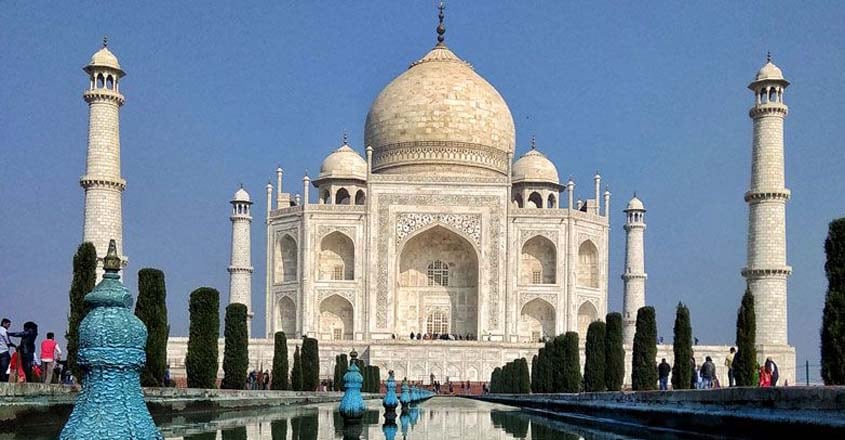 We stayed at a hotel near the railway station. The market in front of the station is a sight in itself. Locals and foreigners throng this place where you can find reasonably priced goods. It's a crowded but fun place.
Agra, home of eternal love, was the next stop. The high-speed drive on Yamuna Expressway was a delight. No jams and wide lanes made driving fun. Reached Agra quickly, spent the night at Nature Resort, where the rooms were tidy and cheap.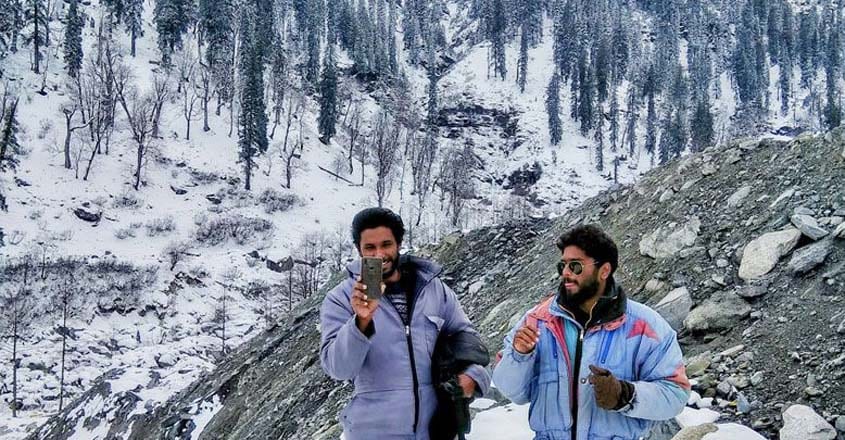 Visited Taj in the morning. Mughal architecture in its full glory! Poets have showered praise on this monument Tagore once called 'a teardrop on the cheek of eternity'. We have all read that 20,000 people worked 22 years to complete the monument, but its enormity can be gauged only when you stand in front of it. Shutterbugs would love this place.
Got a call from home when we were about to leave for Lucknow – Akhil's mother was unwell, but nothing serious. The travel plan was cut short to return quickly. Nepal now became the one last stop. Got Akhil's Nepali friend Deependra Kumar on phone and told him about the new plans. The meeting point was Bithamore on Indo-Nepal border. Roads after Punjab and Delhi, leading to Nepal were mostly poor. Fog made it more difficult. We didn't have much information on roads and weather, but stopped nowhere.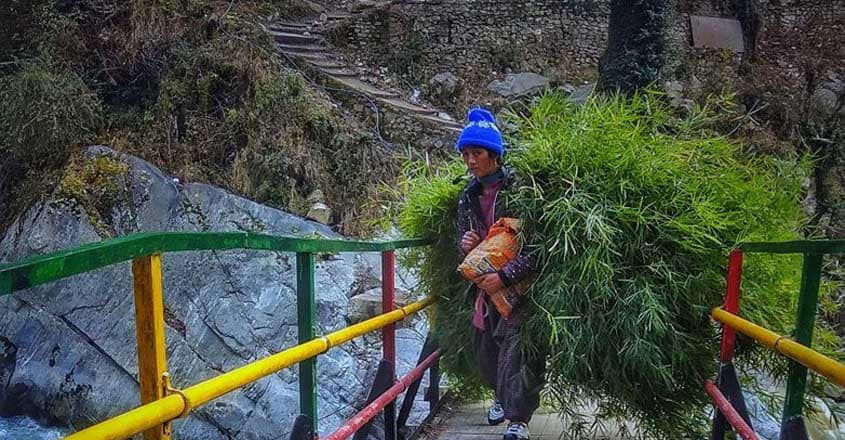 We were determined to make it not matter what. The car was doing 60kmph at times. The line in the middle of the road was the only thing visible. Reached Sitamarhi in Bihar around 3.30am and stopped to sleep in a lodge. Bihar was supposedly an unfriendly place. But the people here treated us well. We had good food at a reasonable price. Sitamarhi borders Nepal and is where King Janaka got Sita from the field. Farming is the prime occupation here. Paddy, wheat, corn, vegetable and lentils are cultivated here. A village charm seen only in movies. Samir and Usri helped us plant saplings here. Janaki Mandir, Janaki Kunt built by King Janakan in her memory, Draupati's birthplace Dhekuli and temples that remind of Ramayana and Mahabharata are all here in Sitamarhi.
Reached Nepal border around 2pm. Deependra reached only by 4.30pm. But his place was only an hour away. The Maliwara-Bithamore road was unpaved. We came to a warm reception at Deependra's home. Couldn't spend much time at his place because we had to return home quickly and planted a few saplings on his property.
Coming back home
We bid farewell to Deependra and Nepal and set course back home. We were all tired. Some sleep was necessary. We took a room at a dhaba and slept our fatigue away. The next stop after Agra was Hyderabad. But we took a room near Sagar to rest some more. We left for Hyderabad early next morning. The village road was a strip in the midst of fields full of tall sugarcanes. Stopped at a tea stall and had scrambled eggs with jiggery tea – a unique combination.
The return was quicker. We reached Bangalore the next morning from Hyderabad. That's when our sponsor partner Dubai Smacks Media's owner Sujith called. He said Malayalam FM radio station in Dubai talked about the trip and the message of environment friendly living received many positive responses from listeners. We felt proud and happy.
At Bangalore, we put up at a home stay run by a Malayali in Indira Nagar. We could smell Kerala on the road to Palakkad. Once we reached Kadamkod, a hotel named 'Meenchatti' made us stop. We were offered rice and fish curry on plantain leaf. Taking a cue from the car and our attires, the hotel owner asked us about our travel. We got inside the car again content with one of the best fish curry meals ever had.
We stopped at Kuzhalmantham Police Station. SI Anoop and ASI Divakaran were friendly. They congratulated us on the mission to make India greener. They joined us in planting some saplings near the station. By then over 300 saplings were planted in India and Nepal. All three of us reached our homes in the shade of memories that will forever remain green.
The trio travelled across India with the message of a greener world. Everything has been captured on camera. They are now working to make a short film of the trip. New destinations are also on the anvil.
For the love of travelling
Everyone loves a good journey. Every land, own and foreign, awaits us with a carnival of sights. Most people procrastinate for lack of money or time. But regular travellers say unplanned trips are necessary. It won't happen if you wait for the right time and budget, says Amal Krishna. Most travels don't go as planned either.
Make sure the vehicle is serviced well if you take your own car. Keep essential tools ready in case some minor repairs are required. Read first-hand reports of travels; this can help save ourselves from unforeseen issues. Medical kit, biscuits and dry fruits should be carried depending on the kind of trip. Punctuality is essential. We made sure to rise early and move early. Download apps necessary before start. They will help find cheap places to stay and eat.
Google Maps was a great aid. No stays were booked in advance. We took bare minimum clothes and ate at roadside stalls rather than expensive restaurants. Don't wait for money and time. Plan something and leave! The experiences that travels give are priceless. Our expenses including fuel, food and stay cost us only about Rs 60,000, said Amal.