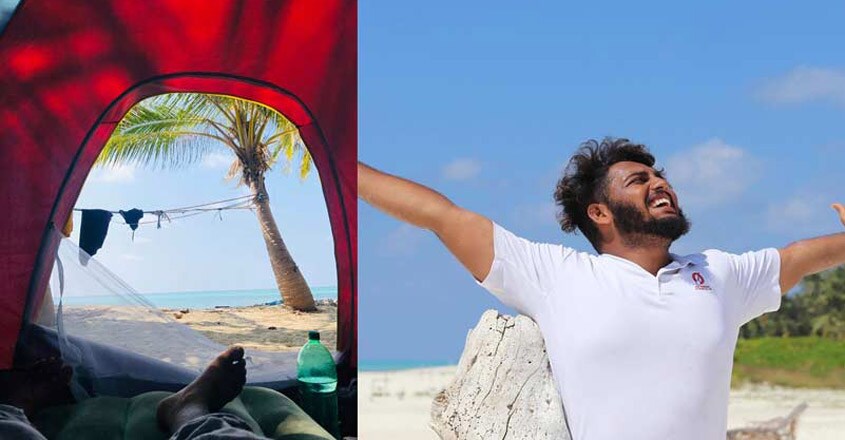 Though there is no complete lockdown on the Lakshadweep isles, a certain degree of restrictions and directions are in place in India's smallest Union Territory off the coast of Kerala.
The pristine beauty of Lakshadweep, an archipelago comprising 36 atolls, was in full display in Malayalam flick 'Anarkali,' which had Prithviraj in the lead. After watching the movie, Kollam-native and vlogger Ajinas Ansari got enamoured by these enthralling isles and had set off on a journey to visit the group of islands. But now Ajinas is stranded in Lakshadweep after the government announced lockdown to halt the spread of coronavirus.
Ajinas shares his lockdown experience in Lakshadweep, which normally has some regulations.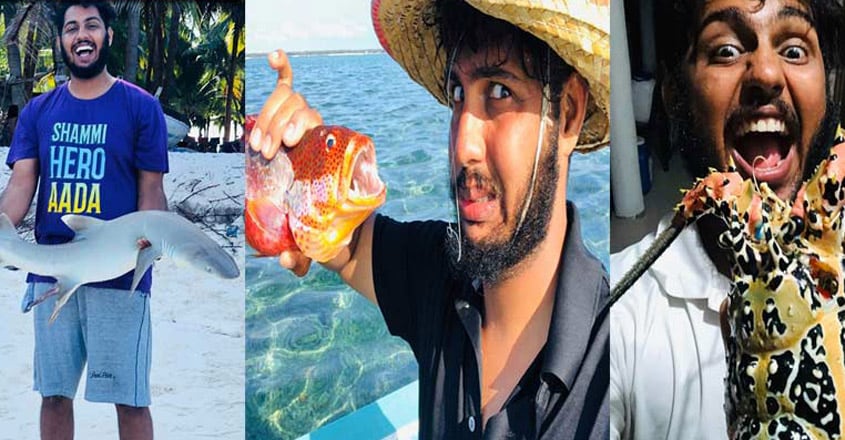 Ajinas became a vlogger after completing his engineering studies and has travelled on motorbike to sought-after places such as Manali in Himachal Pradesh and Leh in Ladakh. All through his travel escapades, he always had a long-cherished desire to visit Lakshadweep.
Ajinas was quite late to know about the Lakshadweep administration's decision to call off ship services to mainland. Later, he took permission from the officials concerned to stay back on the isles till the lockdown ended.
Initially Ajinas was anxious, but the genial local people helped calm his frayed nerves. Presently, he is on Agatti island, part of the Lakshadweep archipelago, and the avid traveller is in awe of the local people who have loads of virtue and uprightness.
"Now Lakshadweep is like my homeland as the natives have made me one among them. There is no scare of coronavirus here. There are only five to six shops in Agatti, and following the minimal restrictions in the wake of lockdown, only two are open now," says Ajinas.
Ajinas' credo is budget travel. "I have a tent and bed, and that helps me save money on accommodation. Next is food. I buy essentials needed for cooking from local shops. At times, islanders lend a helping hand by donating provisions. Without any reservation, they have given me a big fish or a chicken free of cost. I just have to cook it," he adds.
The unexpected long stay in Lakshadweep has taught Ajinas the principles of self-sufficiency. He learned to fillet a fish, dress a chicken, and cook some lip-smacking dishes.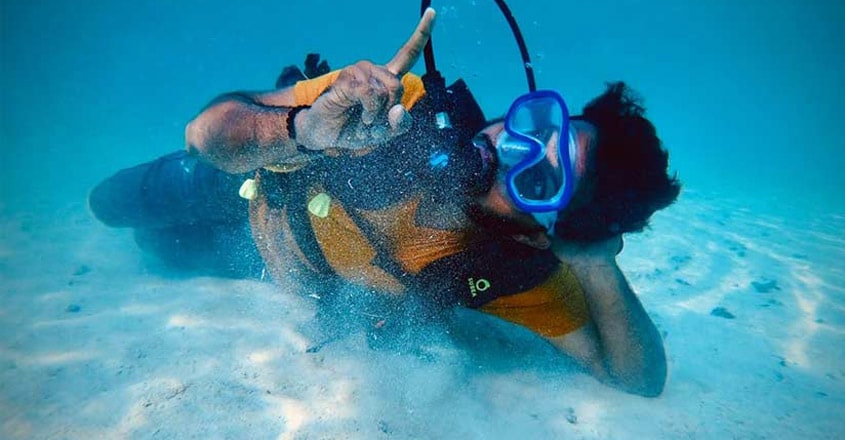 Ajinas usually takes bath at a house near his modest tent, and people living there occasionally give him food and black tea. He is a good friend to local children and goes for sea surfing along with them in the blue waters. Ajinas overcame his fear to be in deep waters and also became a master in snorkelling.
"Snorkelling is an out-of-the-world experience. The breathtaking views of the sea floor are simply ineffable. The wonderful world under the surface of sea seems like a fable that I heard in my childhood. It is indeed a fantasy world," he says. The deep sea is replete with coral reefs and fish of many hues, adds Ajinas. He also loves to climb relatively small twisted coconut trees.
The internet and cellphone signals are pretty weak on the islands. "My family members are not getting panicky as they know that I am in Agatti. They are aware that I won't be able to travel to any other place," he says. Ajinas loves the stay in Lakshadweep though he is stranded on the enchanting isles due to the lockdown curbs.
"The people of Agatti have given some memorable moments for me to cherish for the rest of my life," he notes.