The sea and jungle offer sights that are unbeatable. Muthanga will be a different experience for those who want to spend time in the wild soaking in the tranquil greenery.
Think of jungle safari pictures of destinations like Kenya, Botswana, South Africa, and Zambia etc would rush to mind. But forests in Kerala also offer opportunities to see tigers, deer and wild elephants at close quarters. Places like Muthanga, Tholpetty, Parambikulam and Periyar have in store enough sights and sounds that we are not used to.
These destinations, thick with green forests full of trees, bushes and creepers, are not like the open grasslands of Africa. Sightings of animals also won't be like the foreign safaris, the Muthanga safari could be termed as a 'hit or miss' one-hour-long journey spotting wild animals are rare.
The call of the wild Muthanga falls between Kalpatta and Sultan Bathery, two towns connected well with bus services. Bordered by Karnataka's Bandipur and Nagarhole national parks and Tamil Nadu's Mudumalai National Park, the Muthanga Wildlife Sanctuary is about 14 km from Sulthan Bathery.
Visitors can hire safari jeeps to enter the forest from Muthanga forest check post. A ticket for the 16-km safari would cost Rs110.
Both the sounds and silence of the woods, which will make its presence felt whenever the old off-roaders pause, will send waves of thrill through the spine. A tip: There would be around 20 authorized jeeps lined up to enter the jungles at the check post. Ask an experienced guide and he would suggest opting the last one in the line if you miss the first one. Animals would withdraw into deep jungle hearing the first vehicle itself. But when the last jeep enters the jungle, post 4.30pm most of the times, they might reemerge from hideouts.
The safari party will enter the jungle through a narrow and stone paved route flanked by tree houses, quarters and the dormitory complex built for tourists. One will also find tribal settlements en route.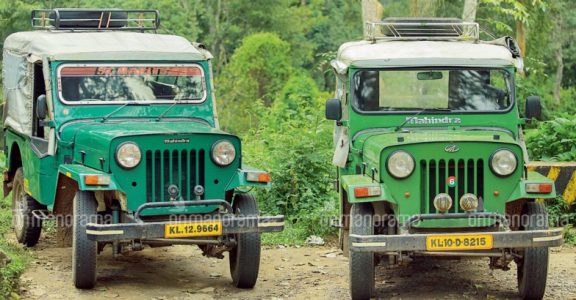 Once the jeep crosses the main entrance to the jungle, the picture will change to a scape intermittent of trees, shrubs and patches of grasslands.
The honey tree
Though animals are rare, there is no dearth of exciting moments in Muthanga safari. Follow the trail created by safari jeeps and one will pass by trees that are so thick that even four people would find it difficult to encircle their trunks. There will be honey trees with branches crouching under the weight of bee hives. Guides relay on people from tribal communities, who enter the jungle to collect honey, to spot wild animals.
Don't enter the forest with preconceived expectations. Enjoy every minute inside the forest.
Travel info Muthanga wildlife sanctuary is 38km from Kalpatta, Sulthan Bathery (14), Mananthavady (55km).
Safari jeep timing: Morning 7-10, evening 3-5
Charges: Rs 110 for Indians, Rs 300 for foreigners + jeep entry fee Rs 75 + jeep charge Rs 600.
Places to see Edakkal caves  - If stepping into the bygone era is something you are passionate about, then the historically significant Edakkal Caves will prove to be a great experience.
Meenmutty - Choose the wilderness and the river to wash away the tedium of city life.
Aranamala  - fills eyes and hearts
Sugandhagiri -  Where fragrance wafts in every breeze
Banasura Sagar Dam - The largest earthen dam in India is located at Padinjarathara, about 25 km northeast of Kalpetta.
Must eat
Ask your tour operator to make arrangements to try out tribal cuisine of Wayanad, like kaatu curry, then nellikka, etc.
Puttu and beef/fish curry – Have you tried fish for breakfast? If not try, give it a try in Wayanad.
Try it at home Recipe: Puttu kozhi – a whole roasted chicken stuffed with puttu,  Malabar beef roast
Chatti Pathiri - is layered savory pastry made in Malabar and the northern regions of Kerala.
Bread Mukki Porichathu - Amusingly enough, this is a sweet snack.
Neypathiri – It is a must try snacks for vegetarians.
Things to buy
Honey, coffee, tea, cardamom, handicrafts, spices
Things to do
Trekking, camping in forest, rock climbing, boating, visiting tribal settlements, bird watching