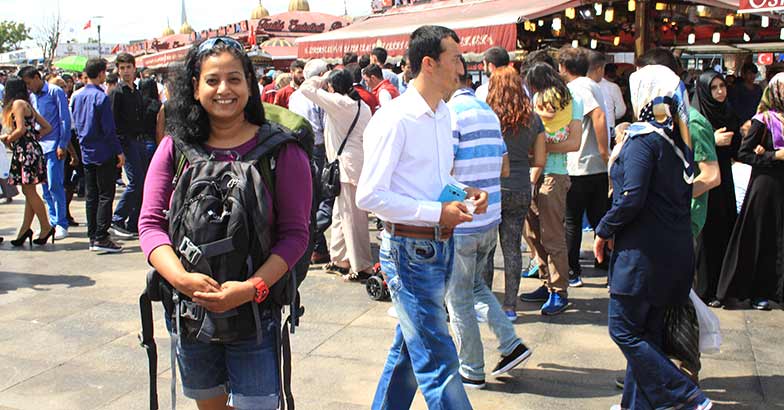 My answer, in one simple word, is – YES.
Agreed that on June 29, 2016, forty five people died and hundreds injured when attackers opened fire at Ataturk Airport (one of the two airports in Istanbul), but the answer to this question is still a firm YES.
So what gives me the right to say this? Well, I visited Istanbul four days after that fateful day, landing at Sabiha Gökçen, Istanbul's second airport. I am not sure what I had expected to encounter there, but definitely not what I did. I made it past the immigration and into the transport bus right outside the airport, along with other visitors, and was gone in less than fifteen minutes.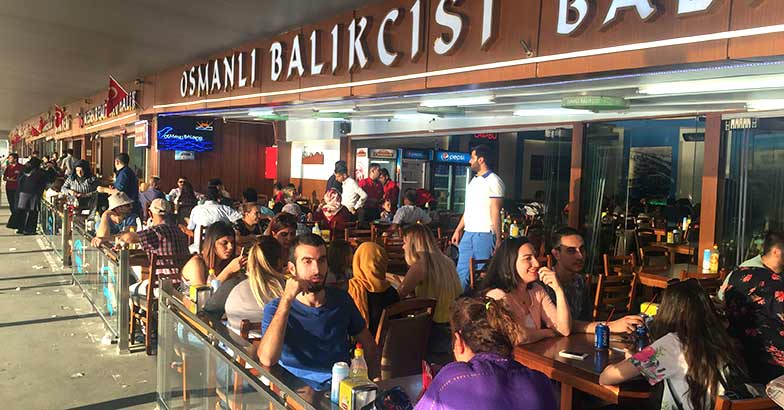 Did I get frisked? Questioned?
That was something, right? No one took the scanner to my bags or asked me a thousand questions. The immigration officials were just as cheerful like the last time I was there in 2012. If they were laboring under pressure, they didn't show it. The reason I am writing this is NOT to encourage people to travel, defying all terror threats – the reason I write this is to show how Turkey and specifically Istanbul, the mecca of travelers, is coping with multiple disasters over the last few months.
Not once was I stopped, frisked or asked questions as to my intent. Does it mean they are not doing enough? Turkey, like every country under threat of attack, is doing what it can to prevent further incidents. Security has been upped at airports, yes, police patrol all the important tourist attractions, mall security has been beefed up – but what is most striking is that people are smiling. And being as kind and generous as ever.
Is it a ghost town?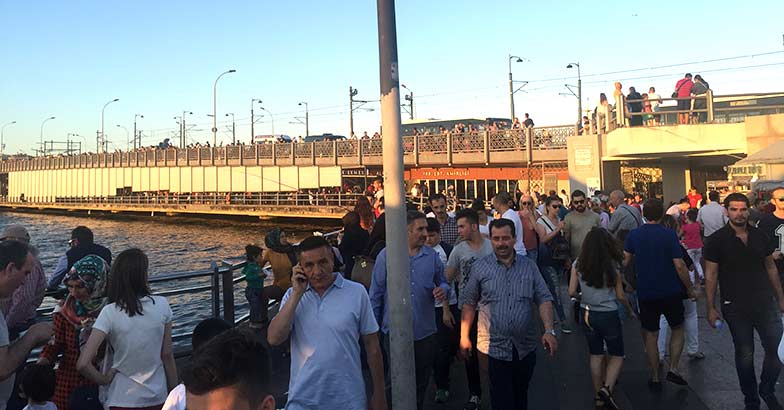 While I was there, someone asked me if Istanbul looked like a ghost town? I believe some media reported that shops were shut and no one was seen on the streets – wrong.
There are two reasons to this. One, it was Bayram, Turkey long break (for Eid as we know it) and people traveled out of the city for holidays. This was true because when I myself headed out of Istanbul towards Canakkale, the roads were jammed! In my previous travels around Turkey, never have I once experienced traffic jams on the highway! So yes, people of Istanbul do, on their holidays, down shutters and have fun elsewhere too. What's so wrong about that?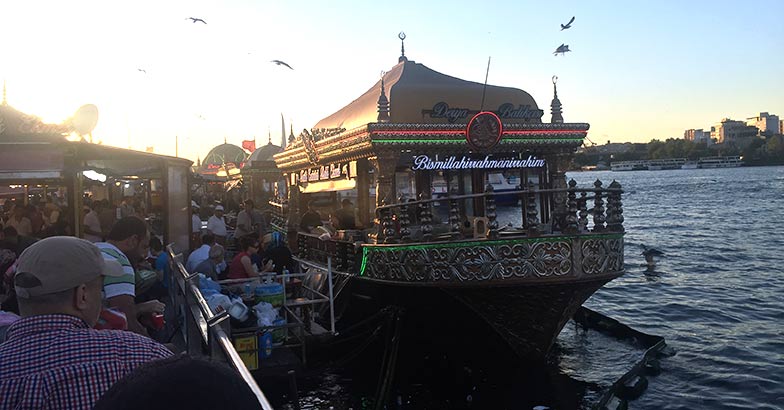 No fear was strong enough to keep them locked inside their houses – instead, the people were determined to turn the otherwise grim situation into a matter of fact and moving on. You gotta give it to the Turkish people – they are strong, level headed and kind.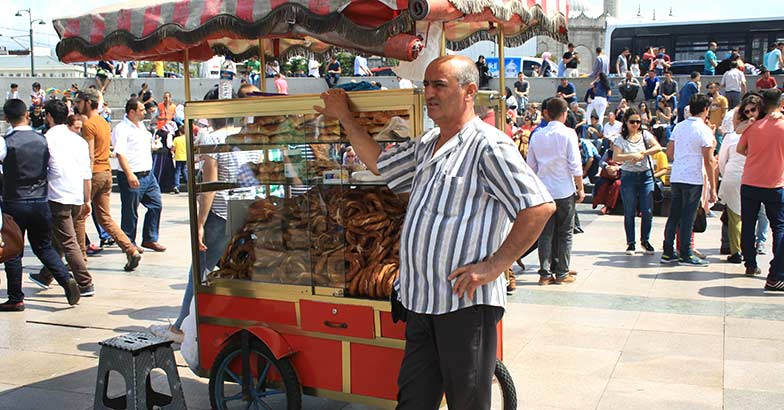 Were the streets bereft of tourist? No. All the popular spots were full of tourists and Turkish people from other parts of the country. Bosphorus Cruises were full. Trams were full. Eminonu, the popular "hangout" spot by the Galata Bride was full of people eating the famous fish sandwich – the smell of fish was heavy in the air – the sandwich makers or corn seller – busy as ever and the restaurants under the bridge packed!
I spoke to a few shopkeepers – cautiously at first, but candidly when they opened up and explained in detail the situation, engaging in an open discussion about a fact. And despite their recent loss, they were just as friendly, not inherently distrustful of strangers.
When I arrived in Sultanahmet and got lost trying to locate my hostel tucked away behind the Blue Mosque, a kind shopkeeper gave me tea, sat me down and googled directions and sent me on my way with his business card "just in case" with a young man on an electric bike who then drove me to the hostel. That is kindness – right? Kindness towards a stranger!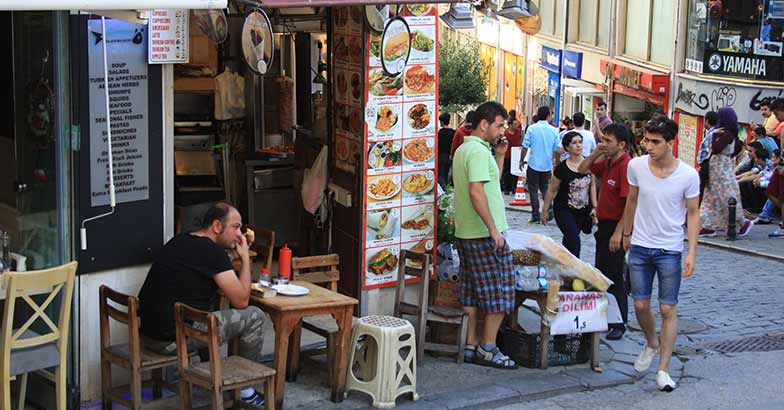 "We refuse to be cowed down. We will fight. We are with our country, our government," a shopkeeper in Taksim told me. "When you go back, you tell the world we are alright. We are fighters. Tell them the truth."
A few months ago, in January, a blast near Blue Mosque killed ten people – and you would think policemen with scanners and sniffer dogs would be waiting for you at every corner. But I saw people just walk into the Blue Mosque, offer prayers and leave. Same with Hagia Sophia and the Topkapi Palace – you put your bags through a scanner, like every other mall in the world – and you are through. Yes, there are police cars around, watching – but not for them the excessive or obsessive caution or fear of visitors.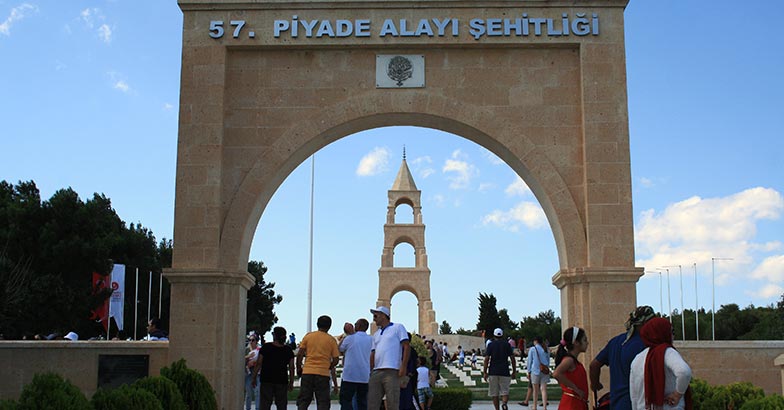 Yes, perhaps this time last year, there were more tourists than there are today – but it is not right to peg it down to one reason. Globally, the number of travelers has diminished due to economic plunge – but for the intrepid traveler seeking the sights of Turkey, nothing is going to stop them from finding their experience.
If you have planned your travel to Turkey, I'd say go ahead – right now, Bayram is over, shops are back to being open (so no worry about going to a ghost town) and the good Turkish people have once again proved that nothing can pin them down or bring their life to a halt. 
The author Anjaly Thomas is a Traveler, Writer and Author of 'There are No Gods in North Korea.' She blogs at Travel with Anjaly