Tamil boy Aari might be just a few films old, but he already is going places in the cine world. With a strong background in theatre, Aari has already carved a niche for himself in Southern cinema with his recent hit bilingual flick Maya (Mayuri in Telugu).
In an industry where hackneyed cliches rule the roost, Aari dares to be experimental; his journey from Nedunchaalai to Dharani to Maya bears eloquent testimony to his evolution as an actor.
If his family had their way, Aari would have been a doctor today. But, thank god, the youngster had his goals set ever since childhood and he knew where his heart was.
As an actor, Aari carries himself with confidence and is someone who knows his place quite well. Talking to Onmanorama, the actor is assured in his responses, his knowledge of films, and the way the industry works. Excerpts from a candid chat:
Basking in the success of Maya
Initially, actor Nani was approached for my role in Maya and since he couldn't allocate dates, a friend of mine suggested my name for the project. When I heard the script, I was really excited as I had never done any horror movie before. When I signed the movie, everyone asked me why did I chose to sign a woman-centric project such as Maya.
Most of the horror flicks don't have much scope for performance but Maya had been different. Each of our characters had a depth and that balanced well with the technical aspect. Now, after the movie released, a lot many people gave me positive feedback. Many said they could not understand the movie when they watched it for the first time and had to see it again and again. When you get such kind of responses for a movie, it feels wonderful to be part of it.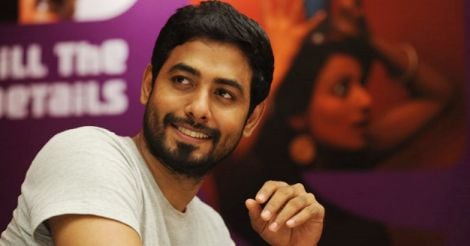 Aari is assured in his responses, his knowledge of films, and the way the industry works
Working with Nayanthara
Nayanthara was roped in for Maya because the producers felt it can be pulled off only by someone who has a great screen presence. Nayantara had the opportunity to work with a leading hero, but she didn't mind working with me as she believed in the script.
I've just started my career and at this point, to even work with a star like her means a lot. I will be always be thankful to her for agreeing to work with me. It's not every day you find star actors willing to work with newcomers.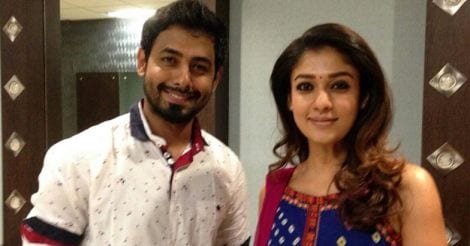 Aari with Nayanthara
I played the role of her husband in the film and on the very first day, we had a fighting scene and she was full of energy on sets. A very down-to-earth actress, Nayanthara makes everyone comfortable and is perhaps an artiste who has the calibre to work in any industry.
Extra efforts for the movie
I played a role of an illustrator in the movie. It's a very interesting character. Since we had to shoot a lot of close-up shots, the director expected the paintings to be perfect.
Initially the film's art director Ramalingam did the painting works and later, I picked up the skill. After the shoots, I used to sit with the art director and learn some techniques from him. I thought I should make some effort for my role.
The film as a whole was made in a minimum budget. In every aspect, the lighting, the sound design, the background scores everything was set at a right pace and was highly engaging. I would rightly say that it has managed to meet an international standard.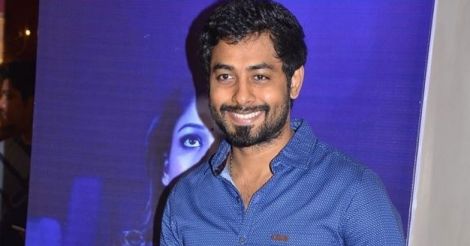 There's a definite amount of difference between the way Malayalam industry and Tamil industry works, feels the actor
Love for Mollywood
I am a native of Palani and my father has a business there, so I have learnt Malayalam and can speak the language. (Laughs and speaks in Malayalam) Malayalam and Tamil are not very different from each other.
Like every Malayalee, my favourite actors in Mollywood are Mammootty and Mohanlal. Among the new-gen stars, Fahadh is a favourite. I like Fahadh's versatility and his choice of scripts. The same goes for Dulquer and Nivin, who make it a point to veer away from being typecast. The youngsters are experimenting with different genres.
I loved watching films like Anjali Menon's Bangalore Days and Jeethu Joseph's Drishyam. There's a definite amount of difference between the way Malayalam industry and Tamil industry works. Malayalam films have a soul and there is an originality in them. In Tamil, script is not given much importance. Tamil films tend to be more commercial but the viewers in Malayalam, welcome all kinds of films. The films are also completed at a faster pace there.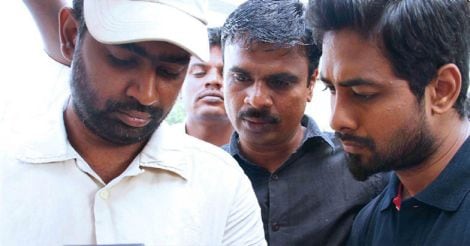 Aari with cinematographer Saleem Bilal on the sets of 'Kadai Enn'
I was fortunate enough to have been part of T.V. Chandran's psychological thriller Aadum Koothu, which also had Navya Nair in the lead. Though the film won the Best Regional Film Award, it didn't get a commercial release.
Right now, I have also been approached for a Malayalam-Tamil bilingual under the banner of Century productions, which will be helmed by veteran filmmaker Thampi Kannanthanam. Not much details have been revealed about the project and I am yet to hear the script.
The long run
Currently, I have a couple of projects lined up in Tamil and one in Malayalam. I would love to do more character-oriented roles with good screenplays, be it in Tamil, Telugu or Malayalam.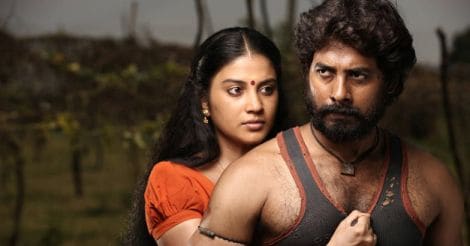 A still from the movie 'Nedunchalai'
I had always been passionate about body sculpting. I believe the physique helps an actor to mould the on-screen appearance of a character in a particular movie.
Some day, I want to start an academy guiding youngsters who are passionate about acting. Just like I came to Chennai from Palani many years ago, lots of youngsters from small towns land here with filmy dreams. I would like to show them the way.