After the critical acclaim for 'Hadal', a novel based on the ISRO spy scandal which turned out to be a sham, eminent journalist turned author C.P. Surendran is in the spotlight again, this time for his debut as a screenplay writer of the movie Gour Hari Dastaan', directed by Anant Mahadevan.
Gour Hari Dastaan revolves around a man who is in search of his identity as a freedom fighter. CP, as he is known in literary and cultural circles, talks to Onmanorama about the evolution of Gour Hari Dastaan, on juggling between different genres in the world of letters and the reason why he prefers English over his mother tongue in his creative pursuits.
On Gour Hari Dastaan
The movie is about a man who is in search of his identity as a freedom fighter. He realises too late in his life that no one takes his role as a young freedom fighter too seriously. Not even his son. It is therefore increasingly a matter of life and death for him to establish the meaning of his life and the only thing — the freedom struggle— he has believed in. That actually means a set of Gandhian values.
Gaur Hari Das's problem is to find out if those values still hold good for himself in the contemporary world. So it is not just his identity as a freedom fighter that he is worried about. He is also talking about whether he can explore with grace that existential situation with the values he believes in. In short, the form of his struggle now is perhaps more important than ever. To retain his Gandhian moorings in the face of a world that doesn't particularly care. He is holding on to those values and comes out an understated winner at the end of 30 odd years of an undeclared war.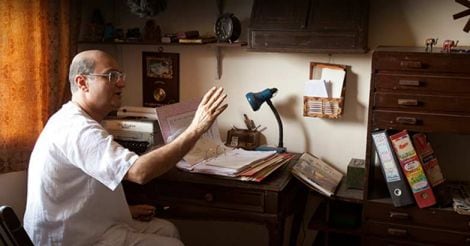 A still from 'Gour Hari Dastaan'
On how Gour Hari Dastaan' materialised
Anant Mahadevan had read my columns. He wanted a writer outside Bollywood. His brother Ravi— a character himself, and based in Thrissur — had had a part to play in this, I presume. Ravi is a close friend of mine. When Anant approached me initially, I was not interested. I found Gaur Hari Das and the subject too straight and dry. Who is interested in freedom struggle any more? But Anant persisted. I slowly realised both the subject and the character were a challenge: how do you lend drama to a man who was reconciled to going up and down the steps of public offices and in and out of the doors of the bureaucrats a million times without showing anger or resentment? How do you lend characters a personal touch? How do you create conflict? How do you put together a 100-odd tight, good scenes? Besides I had always wanted to write for movies. I made good the opportunity.
On juggling between different genres in the world of letters
It's not difficult, really. It's what your frame of mind is. In a certain frame of mind, things turn into poetry. An object, an image, a memory. But unlike poetry or a column, fiction could be really physically and intellectually challenging because of the long format. Unlike cinema, which is supported by sound, visuals and actors, the novel is an experiential system supported by logic.
Things must hold. And in my case, I am particular that what I write in fiction should be interesting and exciting to me. It's only then that others would find merit in it. But it's also equally possible that your ideal reader is not necessarily of the present. He could be from the past or from the future. But I think you are right to use the word juggle. Sometimes I believe I am running short of time doing too many things and that I am hurrying through it all. And we can't even say in these amnesiac times that time will tell. The present is really all we've got. Paul Celan talks about, quoting, I think, Osip Mandelstam, poetry being a message in a bottle. That's a bit of risk then, don't you think, the written word waiting an infinity for one ideal reader?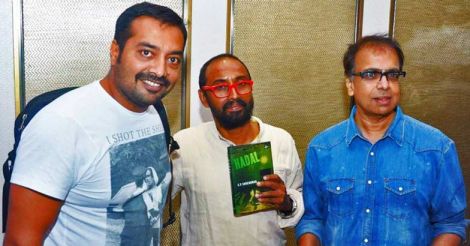 Surendran(C) with Anurag Kashyap (L) and 'Gour Hari Dastaan' director Anant Mahadevan
Poet, novelist, journalist and screenplay - On the role which he relishes most
Novel. I don't think that's my natural medium really. But after Hadal, I believe I can pull it off. I hope that is not a delusional feeling. The thing I learnt about while writing Hadal is that no one knows what you are writing about as much as you do. That's both the crisis and the solution. I have a rather poor opinion of most agents and publishers. I just don't think they know the edge, the new ground in writing. I am at the same time indebted to HarperCollins for their trust in me. Hadal was a tough nut to crack.
On why he chose English over his mother tongue Malayalam in his literary pursuits
One reason could be that English afforded me a refuge from the famous lineage. I didn't want to be burdened with what my father (Pavanan) and other writers in the family could share. Besides, as a child I think I had too many secrets, and considered writing as an activity in stealth. English, in terms of its sensibility of tolerance, was closer to me than Malayalam, which in retrospect I must have found too insular in its transactions. I suppose my extreme self consciousness and shyness nudged me towards the pools of shadows I found in the great words of our colonial legacy.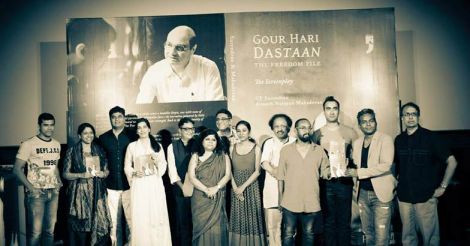 The team behind ''Gour Hari Dastaan'
On the sort of response Gour Hari Dastaan is getting and the art of reviewing in the country
I must tell you that the art of reviewing in this country is immature. Whether it is literature or cinema, there are very few people who know what they are talking about. Hadal has had pretty good reviews. But at least two were truly idiotic. Both were written, I later found, by beat reporters or desk hands. That's a very casual way of treating a work of literature by the editor. Most of the reviewers, in my experience, can't write a good sentence. Much the same holds for cinema critics.
Though generally speaking GHD has been well received, feminists have gone on the rampage. There is a streak of misogyny in the movie represented by one of the main characters, a journalist, played by Ranvir Shorey. He is a chauvinist. That's his character. As is the case with Honey Kumar, the protagonist of Hadal. The problem with feminist critics is that they read and review their subjects politically. That may be good for feminism. Is that good for literature and cinema? I doubt it. Good art will transcend genders. Even otherwise, I am greatly sceptical about the talent and exposure of our reviewers. This is a semi-literate country with derived values. You can only hope you are ahead of time.