I.V. Sasi was honoured with the J.C. Daniel Award by the state government for his contributions to cinema spanning four decades. Even though we might be tempted to think that the Malayalam film industry could have forgotten him, he has no such complaints.
I.V. Sasi shares his experiences:
Timing of the award
"I would first like to express my happiness at receiving the J.C. Daniel award. I do not feel it is late; on the contrary, I am happy that I got it now. I did not expect the award, which makes it even more valuable," said I.V. Sasi.
The selection process
I.V. Sasi feels that the selection processes should be changed if age is a factor in the award decision.
"Even youngsters need to be considered for the award. If young people have contributed substantially to the cause of cinema, they too should be considered. There are many young achievers who have contributed a lot to cinema," added I.V. Sasi.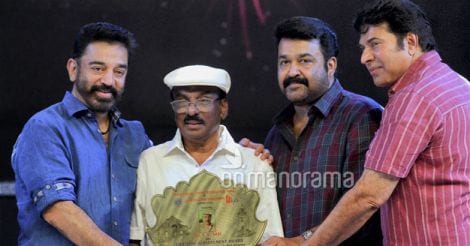 Actors Kamal Haasan, Mohanlal and Mammootty presenting a memento to the director. Photo: Russel Shahul
His absence from limelight
Health issues were keeping him away from making public appearances, however it never stop him from planning his next. "I am planning to make a comeback and I hope to make a film that would remain in people's minds for long time," I.V. Sasi said.
A next with Mohanlal
I.V. Sasi who will be doing his next film with Mohanlal after a gap of 14 years, said his next should never be compared with the pair's 1993 blockbuster Devasuram. "One can neither make a film like another film, nor compare one to another."
"However, it would be something like Devasuram; it would be an evergreen film. It would not be made just for the sake of making a film and Mohanlal would be the main protagonist. The film would not deal with politics," said I.V. Sasi.
The veteran director has not decided on rest of the cast yet, but made it clear that the film would give due importance to male and female leads. "Discussions are on and I can only say that it would be a socially- relevant film. I am also planning for a film with Mammootty, but that would have to wait," added I.V. Sasi in the exclusive interview.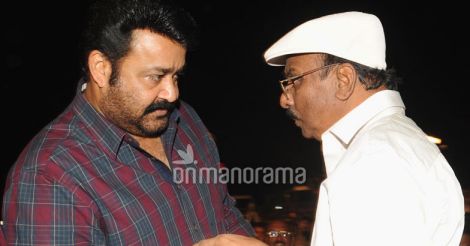 Mohanlal and IV Sasi. Photo: Russel Shahul
New movies
"I watch as much movies I can. I liked Ennu Ninte Moideen out of the recently released films. It brings to screen the eighties quite vividly and each visual does that honestly. I also liked Bangalore Days and Ustaad Hotel."
'Premam' and films influencing youngsters
"I watched Premam and I liked it, that's all. I felt nothing else. But accusing a film of influencing young people is not correct. Older films had a lot of scenes depicting rape and alcohol consumption. Did anyone get influenced?"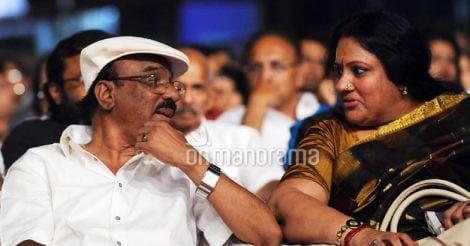 File photo/Manorama: IV Sasi with wife and actress Seema
Advice to next generation
"The new generation (artistes) should not be haughty. Successes in one or two films should not tempt one to feel that he/she is a big actor or director. Everyone has some amount of arrogance in them, but the trick is not to express it. When 10 or 12 films of ours become successful, perhaps we can begin to consider ourselves to be something substantial. Learn to respect elders and be courteous to all, I.V. Sasi said.