It has been a steady course for music director Bijibal ever since 'Arabikatha' happened. His presence in Malayalam filmdom has been a dominating one and so has been his soulful music which continues to enchant millions.
The unique aspect of his music is that it is always original and his songs conjure the mood of the situations. That is the reason why most of his songs are known to be best enjoyed while watching them in films.
Drawing fathomless zeal from experimenting, Bijibal is always on the look out for opportunities to create real, genuine music whereby he can freely share his musical thoughts. Even as his latest movie 'Varsham' is in the offing, Bijibal shares with Manorama Online glimpses of his evolution as a music composer.
When did you figure out you were going to have a career in music?
Sincerely speaking, I never had the so-called plan to embark on a career in film music. I am a violinist basically, and have been learning it from my childhood days. Though I used to feel happy about earning scantily from music, I had never thought of taking up music as a profession. I used to compose songs since college days.
After acquiring a Masters Degree in Commerce, I started working for a company, but that lasted only three months. Then a friend of mine named Rajasekhar and myself set up a studio at home and started working on smaller projects like devotional albums, jingles for commercials and so on. Though it was least rewarding, we pursued it as an activity of interest. And my evolution as a music director must have taken place somewhere in between and it pushed me into creating full fledged musical ensembles.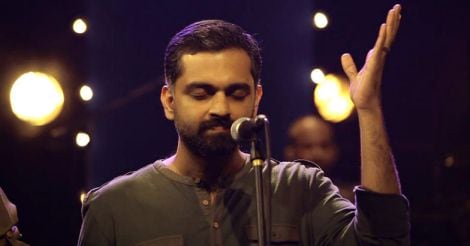 Bijibal never had the so-called plan to embark on a career in film music. Photo: Facebook
It was while making one of those ad jingles that I met Lal Jose and was eventually roped in to set tunes for his 'Arbikkatha'. So that's how it all happened without any precise decision-making.
Which is more interesting to you– BGMs or songs?
I relax doing songs though I enjoy doing Background music (BGM). Compared to songs, doing background score is lot more arduous with time constraints staring right in your face all the while.
Normally, we get some ten days to come up with the BGM for a movie and there is a lot of pressure to complete it within the stipulated time. The phones go restless as the deadline approaches.
What follows are a quagmire of complaints, concerns and fears of delay in the film's release. But doing songs is a hassle-free affair since it is done in the pre-production.
Your music varies from one film to another. What preparations do you make?
There is no preparation. But I do follow the character of a film and then try to carry that into the music. When we get films, which have a deep sense of aesthetics, we get the freedom to explore different musical expressions that we have learned and practised. It becomes possible only when the director of the film respects the thoughts of the musician.
We are then able to experiment and explore, make use of ragas which are rarely resorted to or visit intricate designs in the musical repository like pitch digressions and so on. This will lend some freshness to the music we compose. For example there is a song 'Pettenningane' on childhood in the film 'Njan' which is said to have been considered as refreshingly novel. But the fact is it is really an archaic tune. Since it was based on raga that is not commonly used, the song exuded freshness.
Which film do you think you were able to give the kind of music you always wanted to?
It's not easy to pick a few. I have always tried to give my best in which ever possible way I could in all my songs. Yet, what comes to my mind instantly is my first film 'Arabikkatha' directed by Lal Jose. Then there is 'Salt N' Pepper', the National award winning film 'Kaliyachchan', 'Ozhimuri', 'Palerimanikkyam', 'Idukki Gold', 'Njaan', 'Munnariyippu', and so on.
Coming to Iduki Gold, there is a song sequenced on experiencing weed.
Yes, we feel happy when our music serves its purpose and reaches out to the audience we have targeted. Though the song was much appreciated among selected audience, it could not be promoted widely for the nature of the song. While conceiving the song we had intended it to be a tripping experience for those who have had known the trance of weed. The result was evident when I was Delhi to attend a theatre festival. A group of students from the National School of Drama were introduced to me by a friend of mine. Interestingly, they were all specifically appreciative about weed song in 'Idukki Gold'. The group included students from various states, including Bengal, Assam, Gujarat, Maharashtra and so on.
Your guru?
Violin maestro Harihara Iyer under whose tutelage I have been practising for the past 25 years.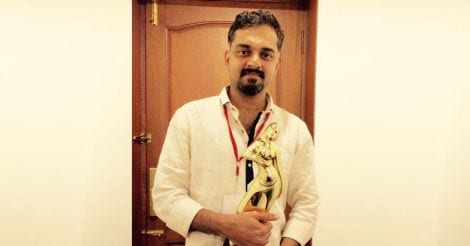 Bijibal won the National award for film 'Kaliyachchan'. Photo: Facebook
Have you ever assisted any music directors?
No.
With an ever expanding league of singers and talents, Kerala has now become a musically vibrant destination. Do you believe Malayalam film industry is accommodative enough?
Let me first make this clear. We tend to consider film industry as the sole area where music can flourish. For many, music means film songs. This is a wrong trend. Making a departure from that concept, there should be a willingness to pursue a parallel and independent music stream. In late eighties and early nineties, we used to hear a lot of such popular music. That disappeared in the due course.
But now again, such musical ventures, which are not connected with films, are making a comeback. And it's my dream to revive such a culture myself whereby good, popular and independent music can be created putting behind the concerns of turnover. As a short step towards this direction I've started a website bodhisilentscape.com which is in its initial stage.
How much is the lyrics important to you?
For me, lyrics is cent per cent important. I have never done music for songs which have no logic in their lyrics except, may be, couple of songs. Lyrics are so powerful and I believe even a single line can sometimes change a human being. My interactions with great poets and lyricists have always been inspiring. The lines they pen could be a drive for me for weeks, months or even years.
But orchestration rules the roost in film songs at present?
Yes, that is the trend. But good songs with good lyrics are also coming out though less frequently than in early days, when songs transcended film sequences or even film itself, when situations and songs used to be poles apart. But these days, film songs are supposed to be precisely filmy.
Who is your favorite among singers?
Rather than the term favorite, I would say the singer who has influenced me the most has been Kalamandalam Hider Ali. I have never known any other singer with such deep emotional intensity. He is the reflection of the society and with his remarkable style of rendition and artistic nuances, he always towered over others as a great singer of exceptional merit. As Malayalees, we should learn his history. I would have gotten him to sing at least a few lines for the film 'Kaliyachchan', a movie based on Kathakali if he were alive. The songs I did for the movie are in fact dedicated to the great artist. Then of course, there are veteran singers like K.J. Yesudas and P. Jayachandran, among others who always reside in our hearts.
Which music director do you think had an influence on you?
Apart from old and contemporary music directors, who have always been inspirational, I have followed Sharreth who belongs to an entirely different school of music. I used to trail his music since my college days. I think his music didn't get the recognition it really deserved. Maybe because his songs failed to appeal to masses, owing to his extraordinary style of composing and complex stream of notations. But many of his old songs are now gaining popularity. I have been fortunate enough to make use of the great singer in him for a number 'Karimukilukal' in the film 'Varsham'. It was a wonderful experience.
Among your own creations, which remains closest to your heart?
All of them! But I painfully remember some of the songs, which I have made with exceptional grit and involvement, were left out failing to make it to the public domain.
The promo song of the film 22 Female Kottayam, 'Neeyo…' is an example. The song summed up the state of the lead character in the film. The song was not promoted lest it would drain off the suspense of the film. Of late, the song "Neeyillathe jeevitham" from the film 'Tamaar Padaar' is also one of my favourites.
New projects?
Apart from 'Varsham' by Ranjith Sankar, there is a film titled 'Pathemari', directed by National Award winning filmmaker Salim Ahmed.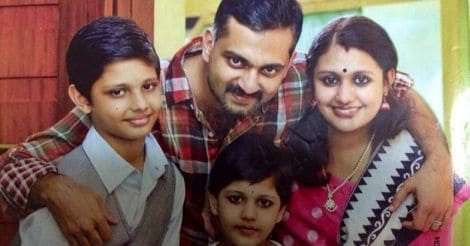 Bijibal with his family. Photo: Facebook