At a time when the crew behind the camera languished in the periphery of the Malayalam film-making ecosystem, Venu, through his unbridled penchant for timing, lighting, balance and angle, zoomed the spotlight on this faceless bunch. The Pune film institute graduate, however, remained reclusive, shunning the centre-stage despite his stupendous cinematic voyage panning a plethora of masterpieces. Film direction was never considered his forte, but Venu made Daya in 1998. Then came a protracted sabbatical. Ahead of his second directorial venture, Munnariyippu, Venu leaves his self-made cocoon to have a candid chat with Manorama Online. Excerpts:
You embarked on film career with Prem Nazeerine Kanmanilla in 1983. What changes have you noticed in the film industry over the years?
I entered filmdom as cinematographer through the Mammotty flick directed by Lenin Rajendran. We can see a host of changes, for example the change in technology, the change in the making of the film, change in the perspective of what should be the main aspect in a film and so on. Before I came into the scene, films were mainly based on literary works. There are also some changes like style of acting, dialogues etc. These are some minor changes. One major change is the change in the technology of film-making.
Earlier, films were often adapted from literary works. Do you believe the literary element has waned at present?
The age of films based on literary works was already over when I came into films. Such movies were common in India as well as outside. This was followed by independent scripts and stories written exclusively for films. Even that has changed. It's now said that only an atmosphere is required for a movie or for a character, the mental stature is all that is needed. Though there were youth-oriented films before too, these days there is an exuberance of youth element in movies. This leads to indulging heavily in many aspects alien to the makers which ultimately leads to drain of verity of what is being exhibited. This is one of the main reasons why many of the films seemingly fail to be do justice to what is being presented on screen.
Your directorial debut was Daya in 1998, scripted by renowned writer M T Vasudevan Nair. Why did you opt for your own story this time?
In my opinion, if a director wants to make a film it should be based on his own idea. The film should be the telltale of its maker's ideas and thoughts. Then only the film belongs to him. If a film is based on another person's story, the filmmaker has little right on the cinematic interpretation. Our thoughts will be limited to technical aspects in that case. I have no respect for directors who claim the whole credit for films not based his own story idea.
Which Malayalam film directors have influenced you the most?
It is very difficult to name just one in particular. There has been a myriad of good films in Malayalam and so many outstanding directors out there both in the past and at present. In terms of personal rapport, it has always been Padmarajan and John Abraham. If you ask who has influenced me the most as director, I would say it is Padmarajan. That is not on the basis of the quality of films he has made, nor would I say that there has been no better director than Padmarajan. This completely on the basis of the personal attachment as well as professional involvement. Then there is T.V Chandran, though I have done least number of films with him. M.T.Vasudevan Nair is yet another personality who has influenced me a lot as litterateur and as a person and also as a filmmaker. There is no doubt that his film, Nirmalyam is one of the most prominent films in Malayalam. So is G.Aravindan's Kanchanaseetha.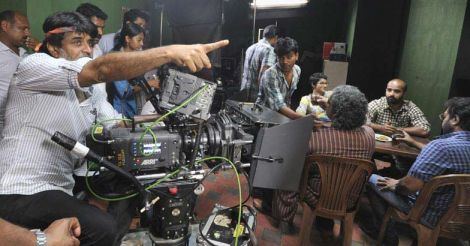 Venu on the sets of the film Munnariyippu
Your experience of working with noted Bengali director Buddhadeb Dasgupta?
He was one of most prominent film makers and an internationally known figure. Though his films dealt with local subjects, his ideas had a universal appeal. He spent much of his time in exploring the language and expression of cinema and disregarded many of the elements of mainstream films.
You have often resented that there's no Malayalam film that can be compared with the standards of world cinema.
Yes I have said it. There is no film in Malayalam which we can hold up to the world as a classic one in our language.
What about films like Chemmeen or Yavanika?
They are good films, of course, but compared to world classics they are very ordinary. This is purely my personal opinion and I am not for any debate on this at any forum.
Have you been conscious about this aspect while making Munnariyippu?
There is no point in being conscious about it. It comes naturally. You cannot make a film of international standards by simply planning for it. You should have a natural talent for that. Some people do have it and some don't and I don't believe I have such a talent. All we should do is try to bring out the best in us.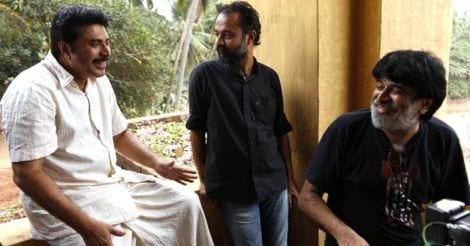 Venu (R) on the sets of the film Munnariyippu. Mammotty (L) is also seen.
After Daya in 1998, why did you leave such big gap between your films?
My focus was cinematography and I had no intention of making films. Daya happened when one day MT called me up and said he had a script and a producer was also ready. He insisted that I should be doing the film. When a person like MT says I didn't have to give a second thought. I accepted the offer and the film was made. However, the thought of making another one never occurred to me even after that. However, the idea of Munnariyippu took shape in the last couple of years and then things fell in place fast and it materialised. Now, the desire to do more films have crept in.
How much hope do new age films exude in terms of ideas, style and depth?
Consider the state of affairs in Malayalam film industry till eight years ago. There were no new technicians, new music directors, actors or cinematographers. The Malayalam film industry had been getting stale by dishing out films on cliched subjects and themes. We tend to forget these things very easily. Malayalam filmdom has been suffering from acute shortage of new technicians, new music directors or film makers for years. The biggest advantage by the torrent of the so called new age film makers is that it has bailed out Malayalam film industry from the ruinous state of creative stagnancy. The new crop of film crew has breathed a fresh air into Malayalam cinema. Of course there are allegations of plagiarism and excessive explicitness in language and content and that we cannot simply justify the practice of 'lifting' from other films (even with credits acknowledged) we've got some fresh and valuable elements.
Is Munnariyippu a suspense thriller? What exactly is the atmosphere?
We cannot categorise it as a suspense thriller. It's basically a story of two individuals who meet accidentally and one of them trying to get something out of the other. Whether the person succeeds in getting it or not is the central idea. The film, by virtue of its storyline, has made a departure from many of the conventional cinematic elements. For instance there is no love, songs, violence or sentiments, which are usually considered as indispensable ingredients of a film.
Mammootty's films have not been making much of a movement at box office for quite sometime now. Do you have any apprehensions?
The story was conceived with no particular actor in mind. It's a general story, which can happen to anyone. So the character could be played by any one who is a good actor. So we cannot call it an outright Mammootty film. Thus the question of fear never arises. Now that the film is complete general perception in the dressing room is that Mammukka has unleashed a top notch performance. For certain nuances he gave his own interpretation which I had objections initially. But when the film was completed I realized that he was correct. His performance has been awesome. May be his films of late had offered him no much room to explore his acting prowess. In Munnariyippu he has his proven mettle again and has stood apart as a master of class.
Now that you have turned into film making, what sounds more appealing to you - direction or cinematography?
Now it's direction because a director's job is the most excruciating and prominent one. Directors are seen relaxed on the sets but there is lot of mental exercise that go into it. A true director has to have the insight of each and every aspect of a film right from the costume, make up, lights, camera, angle, script, budget to post production. It's the most challenging role in cinema.
After Munnariyippu what is your next directorial venture?
Not yet planned, but there is a plot in mind. Will be working on it soon.