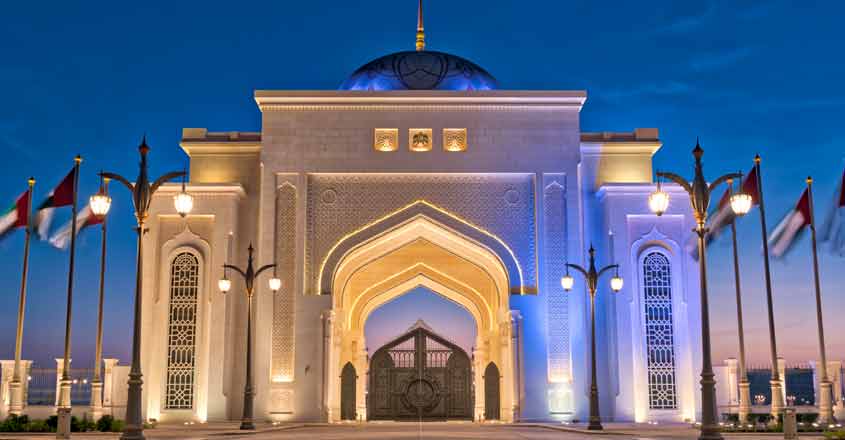 The Presidential Palace at Abu Dhabi is a stunner even at first sight. Previously out of bounds for visitors, the palace was opened to the general public and tourists on March 11.
The amazing sights of the building are certain to leave visitors spellbound. The palace blends stately and traditional architectural styles, highlighting the ancient building traditions of Abu Dhabi.
Constructed in Arabian style, the palace is called 'Qasr al Watan' in Arabic. It translates as 'The palace of the nation'. Considered a modern monument intended to spread culture, knowledge and ideas among the people of the world, the palace offers visitors an opportunity to learn more about UAE's traditions and values. In addition, the palace sheds light on the country's culture, history, scientific and intellectual contributions.
A small entry fee has to be paid for visiting the Presidential Palace. It amounts to 60 dirhams for adults and 30 dirhams for children aged between four and 17 years. The Palace is open to visitors from 10 am to 8 pm every day.
Common people can also enjoy the beauty of the garden around the palace. Fee for visiting only the garden is 25 dirhams for adults and 12 dirhams for children. There are food outlets and resting areas for the benefit of visitors.
Inside the palace visitors can take a tour of a well-stocked library which flaunts numerous volumes dealing with rich cultural, political and social history of the UAE. In addition, shows presenting the traditions of the country are held regularly.
On the western side of the palace is arranged an exhibition that informs visitors about the formation of the country and its administrative machinery. Meanwhile, on the eastern wing, visitors can examine ancient manuscripts, traditional handicraft items and descriptions on the contributions of Arabs to science, arts and literature of the world. Shows are also organised to explain these facts.
The Presidential Palace functions as the official residence of the President, Vice President and the Crown Prince of Abu Dhabi. It is also the seat of the UAE cabinet and Federal Supreme Council. It was based on an official decision taken by the President and the royal family that the palace was thrown open to visitors.
Anyone can enter the palace now, but certain conditions are in place. Skimpily-clad women will not be allowed entry. Women have to wear a dress that covers their entire arm. Pants are compulsory for men.
A bus service is available from the gate for differently-abled people.