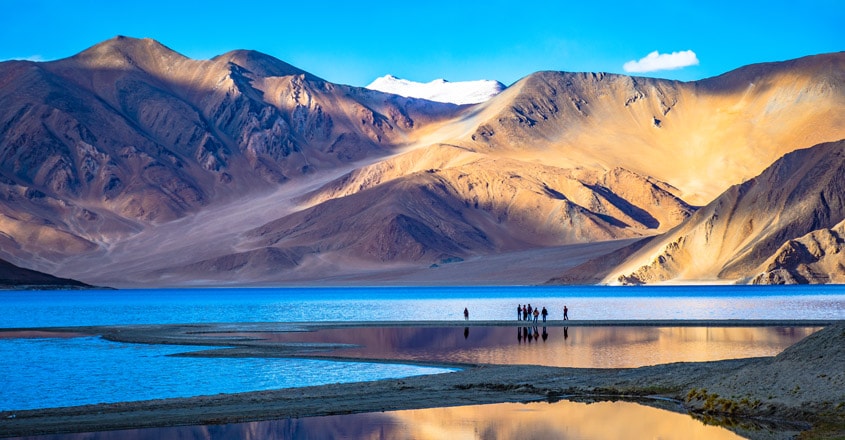 The placid lake with crystal clear waters that change from blue to green to ash to red, locked in by land and mighty mountains, leaves one wondering whether such beauty can exist.

But indeed, it does and it is Pangong Tso in Ladakh in the Himalayas, which has of late been in the news for all the wrong reasons.
Right from May of this year, Indian and Chinese troops have stepped up their presence here because of a political standoff between the two countries. Though various stretches of the Indo-Chinese border have been witnessing clashes, the lake seems to be the focal point of the dispute which justifies the name 'conclave lake.' 'pangong' in Ladakhi means conclave and 'tso' in Tibetan translates to the lake.
At a height of 14,270 ft above sea level, the 135-km long lake is Ladakh's prime tourist hotspot and extends from India to the Tibetan Autonomous Region, controlled by China.
The place plunges into -5 degrees C to 10 degrees C in winter thereby freezing up the lake despite the salinity of its waters. The crystal clear waters, the soft hills around the lake, and the serene view lie like a painting.
How to get there
Pangong Tso which lies along the Himalayas is around 140 km from Leh.
A five-hour drive from Leh will take you to Pangong Tso. The attractive feature of the trip is the picturesque route to the lake and it takes one right through Ladakh, another tourist attraction.
There's a sense of thrill when you realize you are zipping through the narrow and winding road of Chang La the third highest motorable mountain range in the world at a height of 17,590 ft.
The place is right for all seasons except winter.