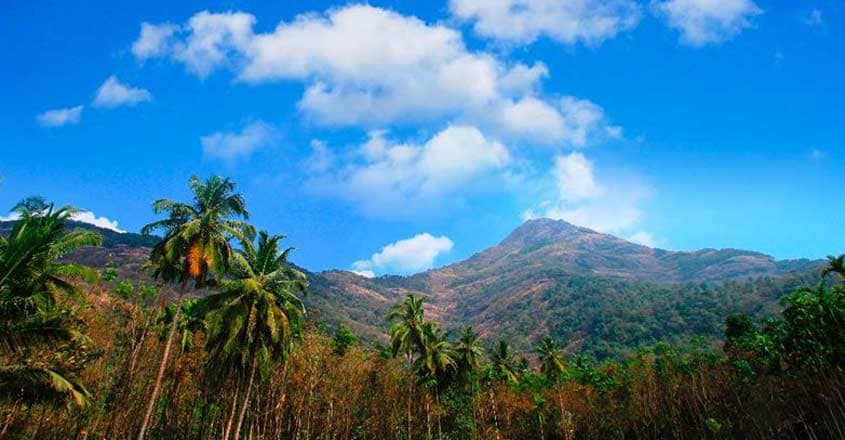 The myth of Kalladikode Karineeli has an overriding presence in the Malabar folklore. And the ritual dance forms - Neeliyattam and Karikuttiyattam - that germinated from this feisty lore are an embodiment of beauty, beliefs, and customs. The fulcrum of these art forms is the legends and hearsays surrounding Kalladikode Neeli, a goddess of Palakkad who evokes devotion and fear among people.
Now, a group of artistes from Palakkad drama village is all set to give a theatre wrap to the mythology of Neeli.
The dance drama, scripted and directed by Thycaudu Ravi, will hit the stage at Palakkad Town Hall on November 1, the Kerala piravi day. The tale of Neeli is unravelled through three generations of sorcerers who invoked the fierce deity.
The legend of Neeli
Kalladikode hills, situated in Western Ghats in the Palakkad district, is a hotspot of many varieties of medicinal plants, and is the favourite hunting ground for traditional ayurvedic physicians searching for rare medicinal herbs. Sorcerers from far and wide too visit these hills in a bid to exorcise evil spirits. The Kalladikode hills always paint the picture of a ferocious goddess in the minds of the sorcerers, and it is believed that she resides deep inside the forests. As per the lore, her presence is felt in the classical elements of nature such as wind, fire, and water. It is also believed that wild elephants, tigers, and leopards are pet animals of the jungle goddess.
It is a mesmerizing view to see the hills awash in full moon light, and the hill range looks like a lady lying down with her untied long locks of hair.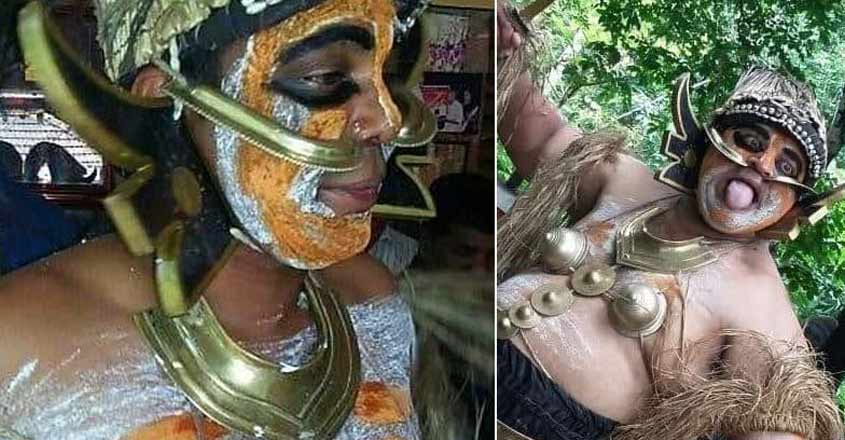 Many sorcerers pray to the feisty deity to attain special powers which, going by the legends, could be used to annihilate and punish evil spirits, and also to lure women. Most of these black magicians are residing near the Palakkad border in Tamil Nadu. They exorcise evil spirits by invoking Neeli, and these spirits will be bound in nails and fixed in tree trunks. Many trees in the forest are a testimony to these practices.
Worshipping Neeli
The first step in worshipping Neeli goddess is to take a skinny dip at midnight in the Muthikulam (pond) and invoke the deity by leaning on to palamaram (milkwood-pine). This is fraught with danger as poisonous snakes and wild animals are in the vicinity of the pond. A person can get special powers if he completes 18 days of fast, and one can become a lunatic if he runs away out of fear.
There are many stories relating to Neeli handed down through generations. One such story goes like this. Kalladikode was part of Pulapatta in Malabar, and there was a popular black magician, who had unique powers, belonging to the Nair community. But a slip in his practice of sorcery triggered his downfall. As a redemption, he built a temple and handed it, along with some land, over to a famous Namboothiri family in the region.
Tale of Neeli
According to myth, Neeli and Malavayi are the creations of great seer Uthithappan, who lived in the forests. There is a belief that Uthithappan is a reincarnation of Lord Shiva. Neeli and Malavayi were born as orphans and lived in the forests as nomadic for long. Later, they met Uthithappan and pleaded to name them and give money, but unfortunately their request fell on deaf ears. After that, both propitiated Thurumulakkal deity, and the goddess confiscated thousand paddy grains of Uthithappan. Now, Uthithappan had no sunrise and sunset, and he visited the deity to know the reason behind this strange phenomenon. Thurumulakkal goddess asked Uthithappan to grant appropriate boons to the two young women and they repeated their earlier request. The eldest was named Malavayi and the other Kalladikode Karineeli, and Kalladi moothappan was given the responsibility to protect them. The young women asked for a proper place to groom themselves and they went to a nearby pond, which was infested with poisonous snakes, to take bath. This pond was under the command of Nallachan, a trusted aide of Uthithappan. Seeing the girls taking bath in the pond without his permission, an angry Nallachan asked who they were. While Malvayi addressed Nallachan as brother, Neeli approached him with romantic feelings which further infuriated Nallachan who cursed Karineeli and asked her to leave the hills. As per the folklore, Karineeli got pregnant while trekking downhill and later gave birth to son Karikutti.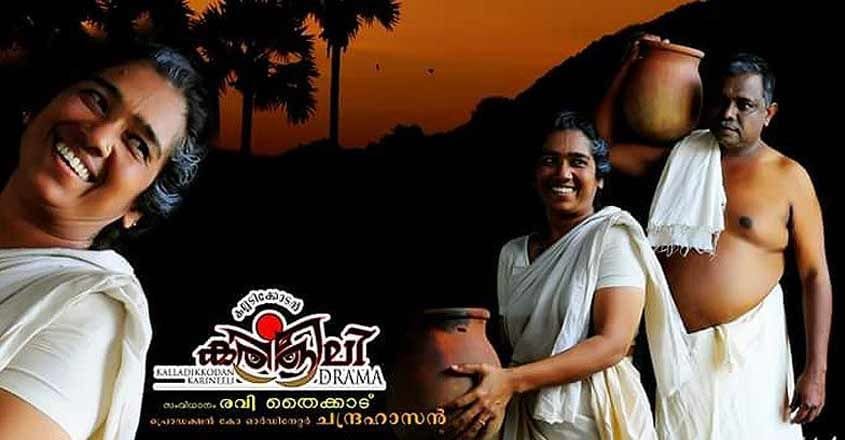 The dance forms of Neeliyattam and Karikuttiyattam are based on this mythology and are performed as thottam, a traditional ritual of worshipping gods.
Dance drama
The play kicks off with the efforts of black magician Chakkandan, who belongs to the paraya community, the traditional invokers of Karineeli, to propitiate the Neeli goddess. The Kalladikode hills throws up a challenge or two to Chakkadan's single-minded focus to attain unique powers from the deity. Finally, he appears before his community members after achieving the supreme strength, and they come to know about Neeli through Chakkadan.
Later, Chakkadan teaches his son Peradippuram Thevan the nuances of sorcery, but Thevan's son makes his mark on instrumental music. The drama also details the trials and tribulations of families whose main job is sorcery. Karineeliyattam, Karikuttiyattam, different forms of thottam and traditional songs are part of the dance drama.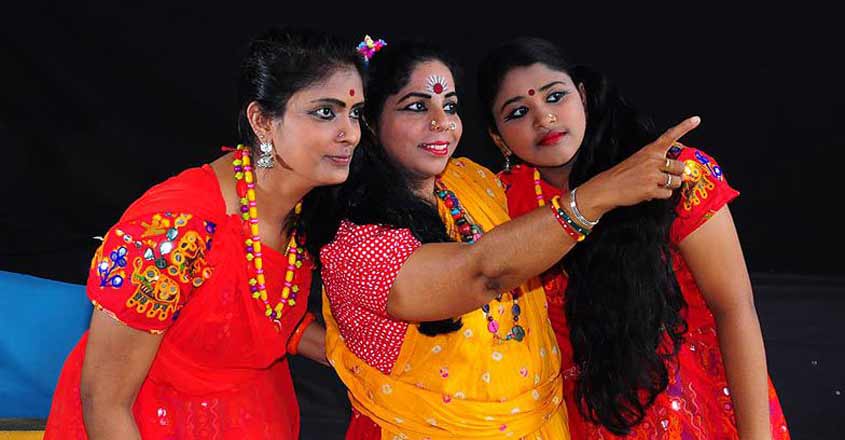 Cast: Murali Mangali (Peradippuram Thevan), Jinesh Thodangil (Chakkadan), Ambily Satheesh (Neeli), Anagha Thycaud (Malavayi), Malakurathi (Baby Girija), Shivasankar (Kallady Muthan), Sujatha Vijayan (paradevatha) and Joju Jose (Thozhan). Production coordinator: P V Chandrahasan, Light and sound: K A Nandajan, Music: Madhu Mundayam and Lyricist: V K Shaji.