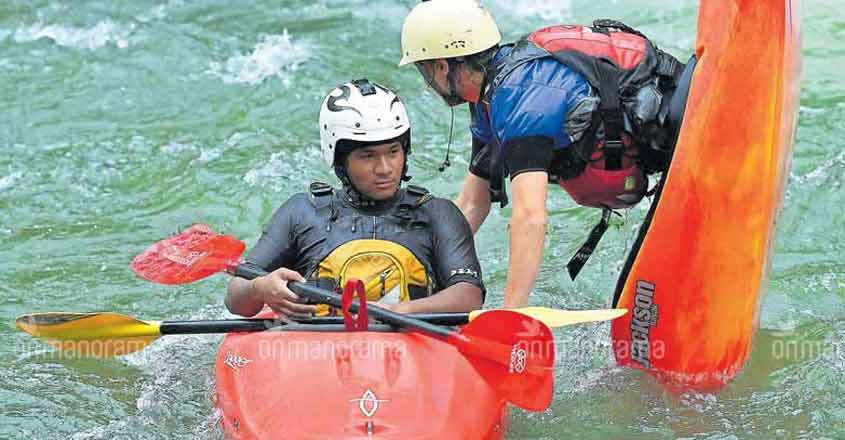 Over the past half a decade, the Pulikkayam bank along the gurgling Chalippuzha in upstate Kerala has dramatically changed in looks. The rugged spot that used to be a relatively obscure Malabar settlement has grown into a small town, thanks to its late recognition as an ideal location for white-water kayaking. Pulikkayam, close to Kodanchery in Kozhikode district, has its splashing tributary increasingly catching the worldwide fancy of tourists - particularly those crazy about paddling the narrow craft along comfortably turbulent waterways.
That is what white-water kayaking is all about. The water in Chalippuzha, which eventually joins the Chaliyar that is Kerala's fourth-longest river spanning 170 km, is suitably bubbly for canoe-like boats to negotiate, giving the paddler great thrill. Not surprising, thus, that Pulikkayam is the venue for the Malabar River Festival World Whitewater Kayaking Championship.
It's an annual event that particularly brings foreign tourists to this verdant location in a big way. Such visitors are usually known for their penchant for knowing more about local culture. This would also mean their preference to find accommodation in home-stays rather than hotels. The facility of living in a house as guests of a family steeped in the regional ethos gives them the added charm of experiencing a rooted life during their Pulikkayam sojourn.
Preferred accommodation
Many tourists, more so Westerners, aver that they find free-spirited home-stays under the blue skies more gratifying than a five-star room straitjacketed by its four walls. For them, the joy is far greater while sharing living space with rustic farmers at their modest but neat house, partaking of tasty ethnic food prepared in the kitchen. At a relatively micro level, the dishes do have its share of cultural variety, given that Pulikkayam forms that part of the Malabar belt to where families from down-state Tranvancore - primarily Christians - had migrated in the first half of last century.
Indeed, the tourists - kayaking-crazy or otherwise - spend outdoor time leisurely watching and even join the work at the nearby agricultural fields that mainly grow paddy and spices. Sensing the warm feedback, the District Tourism Promotion Council and the Kozhikode chapter of the Greater Malabar Initiative have been encouraging the people of Pulikkayam on their new-found vocation that is a boost to the economy at large. Special instructions by district collector U V Jose have seen regular convening of seminars and classes for the farmer families on how to prosper as home-stay entrepreneurs in the scenic area by the hills that form part of the Western Ghats.
Such activities are on the rise in the monsoon months of the year. For, water has swelled up to lovely measures in the Chalippuzha flowing down the smooth boulders by thickets of huge trees, wild creepers and coconut orchards. The water is suitably cool - never cold as is the case with several countries in Europe or America or even with the rivers in upcountry India during winters. If such chill makes kayaking difficult in such places, tropical Kerala's rivers stand in happy contrast, making their waters excellent for paddling round the year. As it's raining heavily this July, Pulikkayam is swelling with tourists.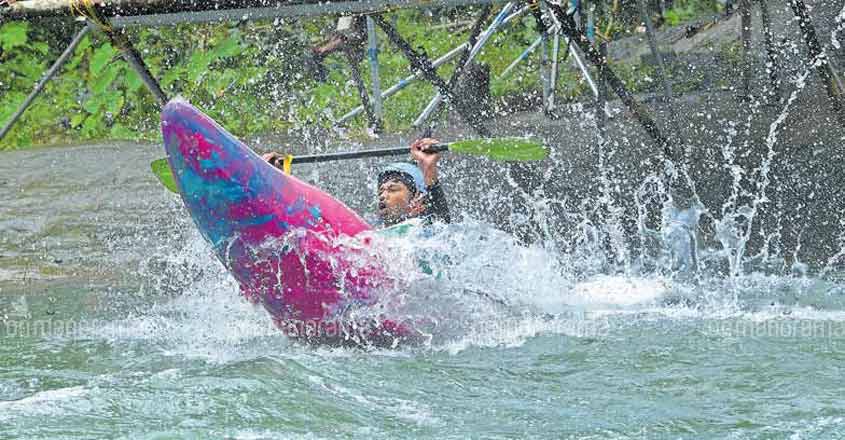 No more testing times
Not surprisingly, the overlapping Malayalam month of Karkidakam is no longer poverty-ridden as it used to in the region traditionally. Monsoon time is kayaking season - that's the new local mantra, which implies prosperous months owing to renewed tourist influx. As if producing evidence, Pulikkayam sees a rise in private transportation - vehicles ranging from autorickshaws to cabs to tempo vans, all carrying predominantly people from outside on a brief stay.
The road, right from Kummatty to Pulikkayam and beyond, is lined on both sides with hotels of varied sizes besides cool bars that see a rise in sales less because of the salubrious weather and more because of a rise in tourists. Especially famous among the local restaurants is Chechi's, where people visit to taste the special delicacies: banana fry and chicken biriyani.
Tourist surge
Over the past five years, there is a steady and visible rise in the number of tourists reaching Pulikkayam under the Kunnamangalam block dotted with temples and churches but known primarily for the bustling Tusharagiri waterfalls. Right now, a chunk of the residents are yet again busy entertaining guests in their home-stays amid intermittent rains that typically defines the season. The better-off among them are also setting up farm-stays that will give the tourists a peek at the grassroots pastoral life. For that, there are ample monetary aid and moral boost coming in from the civic authorities and tourism promoters.
Puli, in Malayalam, means tiger. Kayam is whirlpool. Together, Pulikkayam does present itself as a big cat majestically wooing people down to the crazy eddies of tourism to explore its deeper charms.
Read: Travel News