Kerala's lush green landscapes are truly welcoming. Then again, how many of you are aware of its many non-stereotypical ventures such as scuba-diving, hang-gliding or even paragliding? Why must you travel to the Nilgiris or the Himachal to experience the true sense of living on the edge?
Confused? So was I, until I decided to take a chance and fly.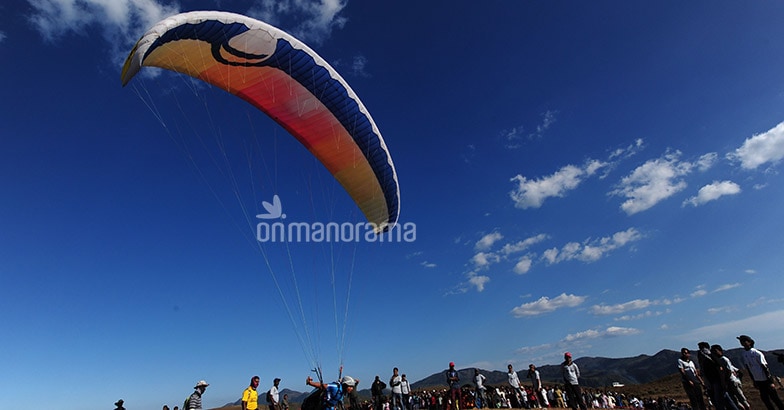 Vagamon, situated in Idukki district, is known for its many plantation estates. More importantly, it offers its visitors with a landscape that is ideal for many adventure activities; including paragliding.
Paragliding is an adventure sport wherein a pilot uses a special parachute that allows him to travel a long horizontal distance before he lands. It is not to be confused with hang-gliding.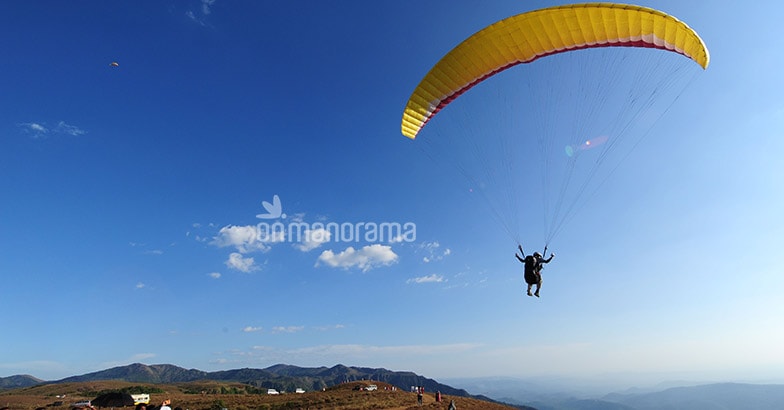 Here are few details regarding the gliding point at Vagamon:
Location: Kolahalamedu hill, Vagamon
Travel time: 2 hours 45 minutes (from Ernakulam), 1 hour 30 minutes (from Kottayam)
Mode of transport: Car or Jeep (most preferred), Bus upto Vagamon and then another means of transport upto Kolahalamedu
The ideal time to do so is between end of January upto the first week of March. "It is during this period that we receive west winds and that is most essential when you consider paragliding," said Vinil V, the paragliding co-ordinator of Fly Vagamon, a professional organisation supported by the Paragliding Association of India. It has also been supported by the Kerala Tourism Department on several occasions.
Also read: No govt support, Vagamon's paragliding festival cancelled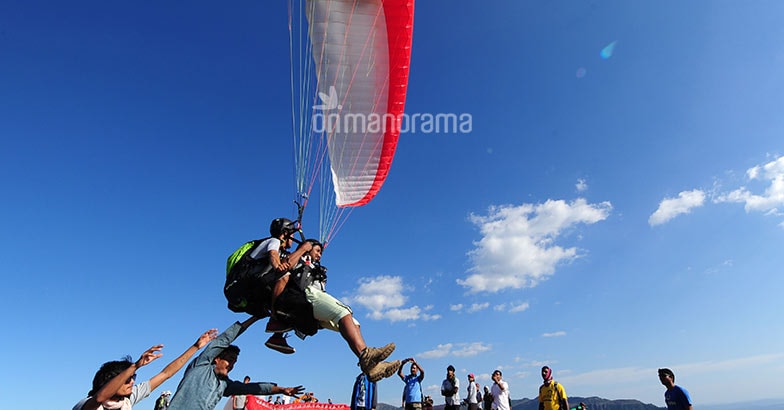 Fly Vagamon has been conducting sessions for paragliding over 10 years. At first, the sport was open to only professional paragliding pilots. Within a short period, they had decided to introduce tandem paragliding so as to give the public a chance as well. Tandem paragliding refers to that aspect of the sport wherein two people, namely the pilot and an amateur flyer, glide together. The pilot controls the parachute while the amateur flyer is seated in a harness before him.
The details of the Tandem flying sessions are below:
Duration: 30 minutes
Cost: Rs. 3500 per person (Rs. 500 is the advance sum that has to be paid before attending the session). An additional Rs. 500 is charged for those who wish to use the GoPro cameras offered by the organisers during the flying session.
They also organise pilot training courses. The training programme is divided into two parts. Part 1 of the programme gives one a basic outline of what paragliding is while Part 2 is meant for those who to wish to become professional gliders.
Part 1
Duration: 4 days
Location: Vagamon, Kerala
Cost: Rs. 18,000
During this period, the trainees are taught the mere basics of paragliding such as setting up the parachute, manoeuvring, taking-off as well as landing safely.
Part 2
Duration: 5 days
Location: Pune or Goa
Cost: Rs. 20,000 (approximately)
The five day training programme teaches the pilots to learn how to fly at higher altitudes. The training is conducted in Pune, Goa, Bengaluru or in a few other locations outside Kerala primarily due to certain space constraints that are required to be met in case the person is flying at greater heights.
One might wonder if the cost of the tandem session is too steep for the average Malayali. The fact is, the sessions are rather inexpensive in comparison to those conducted in certain other parts of India. (Outside Kerala, the costs could vary from Rs. 3000 per head to Rs. 7000 per head). Therefore it is a wonderful deal.
Moreover, the activity involves the use of a lot of safety gear and as well as the assistance of two or more international-level paragliders. Hence, it is bound to cost you more than a walk in the woods.
The sessions at Vagamon are safe. The pilots are experienced. They do not try stunts until and unless the weather conditions are ideal and when the customer requests him to do so.
But the experience, is unbelievable and not to mention addictive. An aerial view of Kerala's greenery and peaceful landscapes are bound to leave an impression in your mind for many years. It is only then that you realise the true power of nature and develop a certain respect for it as well.
Verdict: Experience it. Trust me, apart from the snow-fed mountains of the Himalayas, this is bound to give you as much of a delight as that of any paragliding session elsewhere. So go ahead -up, up, and away! Explore the world of the glider in your own backyard.