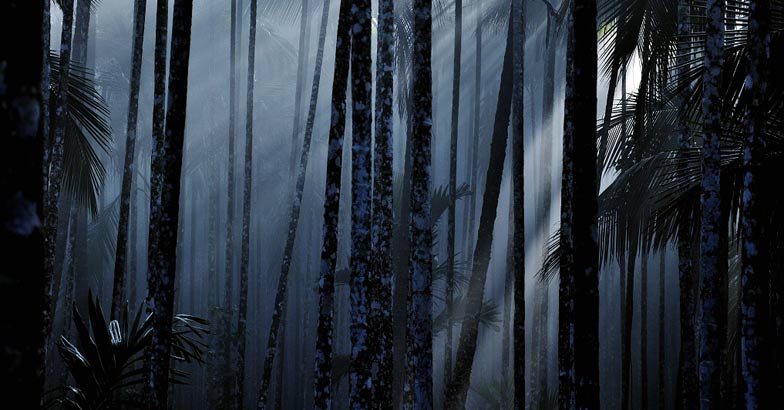 Wayanad. The name conjures up an image of misty peaks, pretty lakes, spice plantations and wildlife sanctuaries. This hill station, like anywhere else, is fast changing. Even though it holds the charm of a small town, it is well prepared to host tourists from across the globe.
Wayanad has much to offer a traveller. Adventure, wildlife, romance, spirituality, tranquillity and a chance to see the etchings of past. A week is not enough to take in the charms of this place, but, considering that it is a long weekend, attempt here is to give you a taste of Wayanad, in 48 hours.
We start our journey to Wayanad from Kozhikode, the city rich in taste, on a Friday afternoon. The National Highway 212 that connects Kozhikode to Mysore passes through Wayanad. The road, winds uphill most of the way, the most picturesque being the hairpin bends at Thamarassery Pass.
On one side, you have the valley, and on the other the hills covered in green. During the rains, there will be small waterfalls flowing off the side of the rocks. You can see monkeys and sometimes a herd of deers, on this drive. It will take you about three hours uphill to Wayanad at a leisurely pace, stopping at the various view points and taking in the sights and sounds during the ride. Don't forget to try the gooseberries, carrots, mangoes and various other vegetables marinated in salt, chilli and vinegar mixture, which are sold by the locals on the view points.
It is night by the time we reached Lakkidi, Wayanad. There are a lot of options to stay - hotels and homestays are dime a dozen. However, it is advisable to make advance bookings if you are thinking of heading out here during the holiday season. We check into Rain Country Resorts at Lakkidi and sleep off to the music of crickets outside.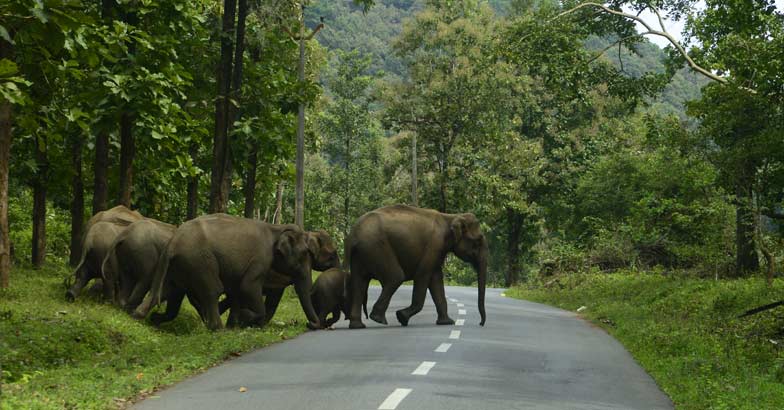 We are up and about by 6am. Our destination is Thirunelli temple, which is almost 70kms away, approximately 2 hours by car. We pack some sandwiches for the roads. The drive takes us through coffee and tea estates before it changes into forest. Monkeys are a frequent sight, herds of deer and a huge variety of birds can be spotted on this drive. Drive carefully, because, often herds of wild elephants will decide to cross the road.
The Thirunelli temple is in a valley surrounded by four hills - Brahmagiri on the north, Udayagiri on the east, Narinirangi hill on the south and Karimala on the west. And of course there is a myth related to trinity of Hindu Gods too. There is a small mountain stream nearby, the Papanasini, which is so pure that it could wash away the sins of those who take a dip in it. The temple sees heavy crowds during the Karkidaka Vavu, where thousands offer ritualistic Vavu bali or the offerings to our ancestors. There are a couple of small eateries outside the temple to satiate the pangs of hunger.
From Thirunelli, Pakshipathalam is just a stone's throw away. A haven for birds and a trekkers paradise, Pakshipathalam is one of the lesser explored regions in the district. The Forest Department watchers take you on a day trek to Pakshipathalam, most of the days at 8am in the morning. Prior permission's are a must, they also provide camping equipment. It is a challenging trek, and not advisable if you have old people and kids in your group. We decide to give the trek a miss and head out to Wayanad Wild Life Sanctuary. Read more on Pakshipathalam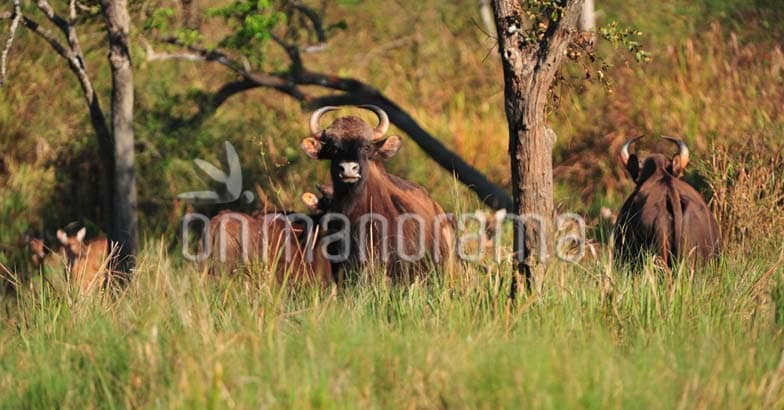 Established in 1973, the Wayanad sanctuary is an integral part of the Nilgiri Biosphere Reserve and Muthanga falls within this reserve. Muthanga houses some of the rare and endangered species of both flora and fauna. Muthanga is one of the best places where you can get to see Asia's largest elephant population and other wildlife including tigers, leopards, wild bison, deer, giant squirrel, monkeys and wide variety of birds and flora.
It is evening when we head back to the resort; tired, but ready to explore what the next day had to offer.
After a hearty breakfast, we head out early yet again. We are off to see the Jain Temples in Wayanad. Jainism once flourished in this part of Kerala. Some families, stay on even now. This is a popular tourist destination now.
Read more on Jain Temple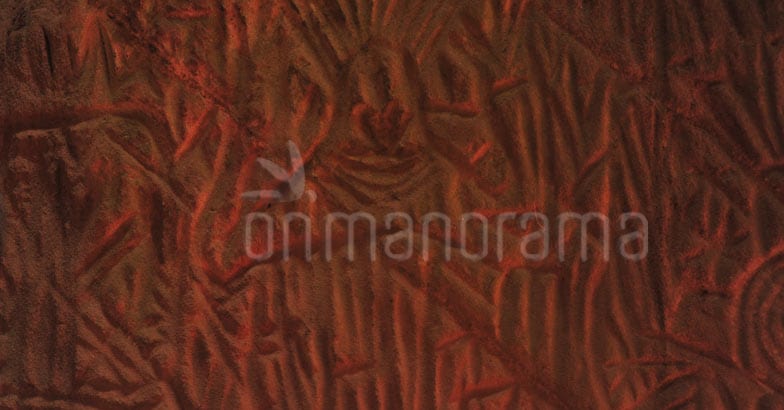 And then, before the mercury soared, we head for the Edakkal Caves. These caves, were once the home of prehistoric men; from the Stone Ages. In 1894, it was Fred Fawcett, a police official of the erstwhile Malabar State who discovered the Edakkal Caves and immediately recognised their anthropological and historical significance. We marvel at the writings made by our ancestors. The entry to the caves are open from 9am every day to 4pm in the evenings. It will take you an hour, if not more to walk up the hill, take in the scribblings on the wall and head out. We decide to head out to Kalpetta for lunch Read more on Edakkal Caves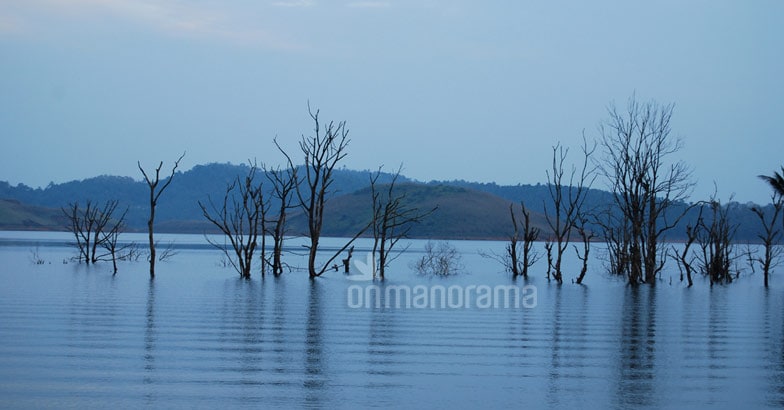 After lunch we head out to the Banasurasagar Dam. The largest earth dam in India, this dam is build of boulders and stones. You can again, trek in the hills and go on a boat ride on the reservoir.
It is evening when we head out to Pookode Lake. This fresh water lake is an instant hit with tourists. You find couples on their honeymoon, families and school children on excursions here. You can go on a boating here. This is a place where you can shop too. The District Tourism Promotion council runs a couple of shops which sell spices and forest produce like honey.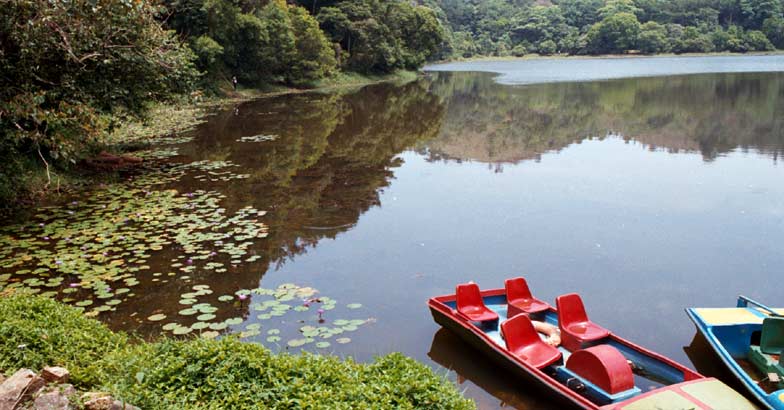 As we watch the sun go down, it dawns on us that it is about time to head back. To reality and the humdrum of everyday life. We know we have seen the most talked about attractions in Wayanad, but, we also know that Wayanad has many more hidden gems. The temple dedicated to Sita Devi and her sons Luv and Kush, the pretty village of Bavali which shares the border with Karnataka and a multitude of waterfalls, hills and valleys, plantations we never went. Those, we keep for another day.