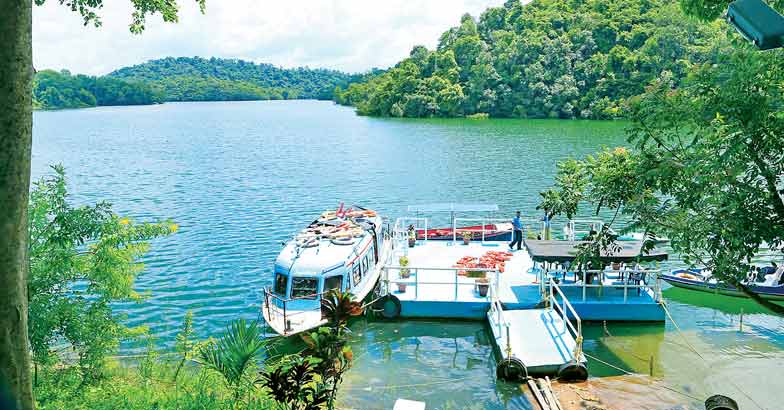 There are a number of reasons to visit Neyyar - from the abundant wildlife that include lions, elephants, tigers, leopards, bears, wild buffaloes, and birds to the huge diversity of flora - trees, creepers, rarest of the rare orchids, and more.
Although Anamudi is the highest peak in the Sahyadris, it is Agasthyakoodam that is known as the evergreen spot in this mountain range. The peak is known for its steep slopes which can be accessed only with great difficulty. Neyyar is born as small, nondescript mountain streams in various parts of Agasthyakoodam. By the time it reaches Kombai settlement colony, it takes the form of a small stream. As Neyyar flows downhill, slowly it gains momentum and strength, aided by the many such rivulets that join it on the journey down.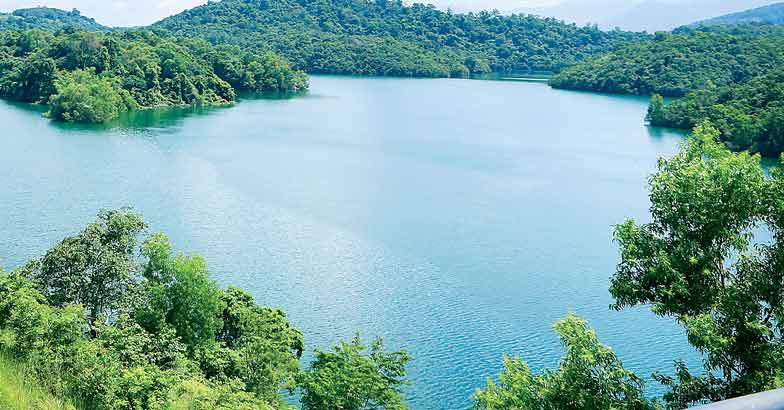 There are two legends about Neyyar's origin, both related to Agasthya rishi, one of the seven sages. It is said that the ghee, or clarified butter, used for the puja at Agasthya's ashram used to flow downhill. This made it difficult for people downhill to get water. Agasthya understood this problem and changed the ghee to water.
Another legend is that the sage had instructed people to use the ghee flowing from his ashram only for their daily needs, and always to collect only the quantity needed for the day. A local feudal lord once questioned this and stored the ghee needed for a week. The sage got angry at this and turned all the ghee to water. Whether it was ghee or water that flowed, locals say the river originates somewhere near Agasthya ashram. 'There is no other mention of a river where ghee flowed. It is said in the Puranas that Vishnu's first avatar, the fish, manifested in a river where ghee flowed. If that is indeed the case, that took place in Neyyar,' says C.V.Suresh, a teacher who authored the book 'Cultural History of Neyyatinkara.'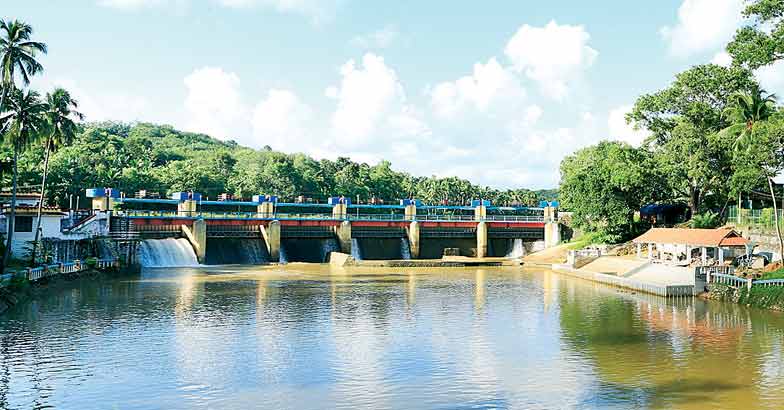 Neyyar is the southernmost river in Kerala; it originates from Agasthyakoodam and joins the Arabian sea at Poovar. As you skip along the little waves of this river, you can see blue, mist-covered peaks on the horizon. Kalimala, Kalippara, Klamala, Kondakettimala ... all of them have their own tales to tell. There is a temple on top of Kalimala, and another on Kalippara (Lokambika temple). These are devi temples but the main pujas are held on Sivaratri. It is mostly the Kani tribals from the surrounding areas that come for these pujas. On Sivaratri day, entire villages make their way to these forest temples. The festivities last till the morning.
The temple ponds on both the peaks are a wonder - they don't dry up even in peak summer, and the water is crystal clear. On one of these peaks is also the famous southern Kurissumala pilgrimage centre. Every year, thousands walk up these hills in memory of the sacrifices of Jesus Christ.
Neyyar dam is among the most beautiful gardens in Kerala. Rare orchids add to the coruscating kaleidoscope of colours here. It also has artificial waterfalls, an aquarium with a large collection of fishes, parks, and a boat service run by the state forest department.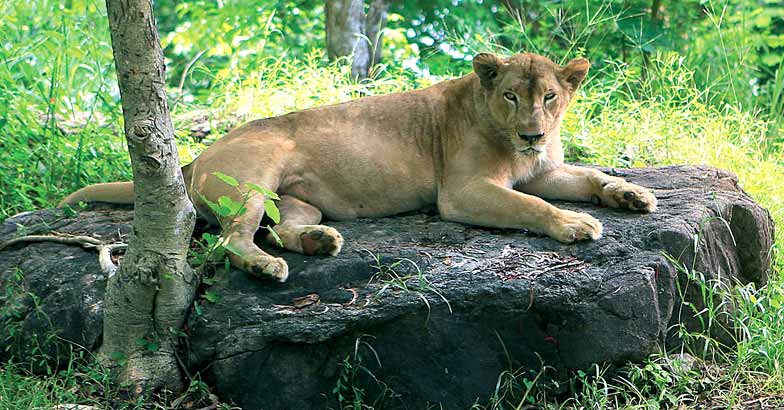 The famous Lion safari Park here is on a small peninsula jutting into the Neyyar reservoir. You can reach the park through land or take a boat to there. The area is fenced in with barbed wire, and the lions roam free inside. Visitors are taken inside the park in fully covered vehicles. The lions sometimes can be seen on the road itself, or close by. 'The park here is more beautiful than any other lion safari park in the world,' says Sakkeer, a businessman from Kozhikode who travels around the globe. 'But even we Malayalis don't know about it.'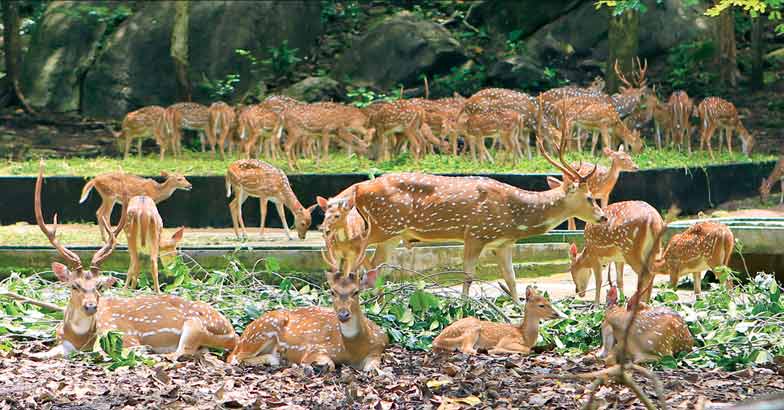 The deer park, also on a small peninsula, is another attraction. There are hundreds of deer here, from various species. It is a sight to see them graze near the fences. 'The number of visitors to Neyyar dam is increasing by the day,' says forest ranger Baiju Krishna. 'But more North Indians come here than Keralites.'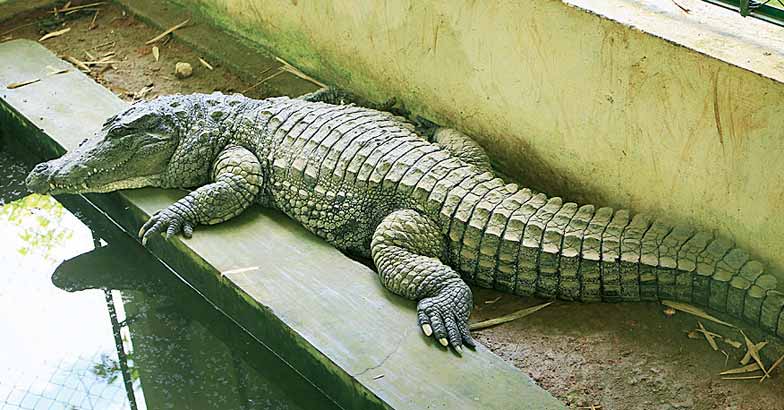 The crocodiles in Neyyar once hogged the headlines for all the wrong reasons - they used to spring on unsuspecting local people who used to come to the reservoir for bathing and washing clothes. Several people have lost their lives to these attacks and several more have been maimed. Why do these crocodiles harbour an enduring hatred for humans? The reasons are still unclear. Locals used to say it could be because of hunters targeting baby crocodiles, but there has been no evidence to substantiate it. Attempts were made to relocate the crocodiles when their attacks began to increase; that led to the setting up of the crocodile park here, which further led to the establishment of the Steven Irvin Crocodile Research and Rehabilitation Centre.
Neyyar's beauty is best appreciated from a height. There are two watchtowers here; both offer great views, including the of blue-water lake that spreads across kilometers. The natural beauty at Neyyar's foothills is probably unrivalled in the world. Fresh water that flows down, carrying with it the essence and fragrance of various rare medicinal herbs from the jungles, boating facilities, trekking packages – Neyyar's wild beauty beckons travellers. You can trek to Meenmutti waterfalls too. It is a two-day trek. The halt at the end of the first day is at Kombai settlement colony; here Neyyar flows like a little child. Further downstream, she is joined by her tributaries Kallar, Valliyar and Mullayar, and transforms herself into a roaring, mighty river.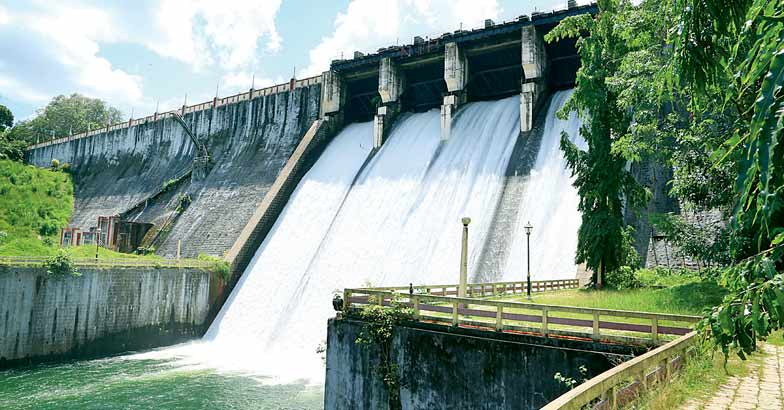 The dam across Neyyar was built 55 years back to bring water to the farmlands in Neyyatinkara taluk and Vilavankode taluk in Kanyakumari, which was once part of Kerala. The work on the dam started in 1951 and it was commissioned in 1959. The cost then was Rs 4 crore, which is the cost of building a small bridge today, even adjusted to inflation. Two canals, one for Kanyakumari and one for Neyyatinkara, distribute water from the reservoir to farms downstream. The one to Tamil Nadu is now closed.
Kappukadu elephant sanctuary is a little away from Neyyar dam and can be reached either by land or by taking a boat. Wild elephants found injured in the forest are brought to this sanctuary for treatment. There are nearly 10 such elephants in the sanctuary that have been domesticated this way. Among the elephants that take travellers for safari is Jayashree, who is famous for her discipline and for ensuring the safety of travellers. At Kappukadu, you get a ringside view of elephants going about their life - taking baths and being fed. Cottages here offer an opportunity to live close to nature. A special raft to cross the river is also available. North Indian and foreign travellers love this place.
An idol of Agasthya is installed on the tallest peak on these ranges. At the top of the peak you can find dwarf trees and shrubs; Puranas describe the sage as short in height too. 'Neyyar is not only a river but also a civilization. It is life-giving water, magic and tantra, work and culture. It is Dravidian, and is like nourishing water and light for writers like me,' says famous writer Prof. V. Venugopan Nair. His stories abound in characters from around the river.
Still, despite it being the life-giving river of Thiruvithancore, Neyyar was never written or sang about; films were not made around it. It is a mystery why Neyyar did not percolate into Kerala's culture scene in the way Bharathapuzha, further north, did. Is it because of Agasthya's curse, or is it because she flows mostly through thick jungles that throw a thick veil of secrecy over her?
Perhaps, only the river knows. But she just keeps flowing, displaying no intent to reveal her secret to anyone.
(In special arrangement with Vanitha)