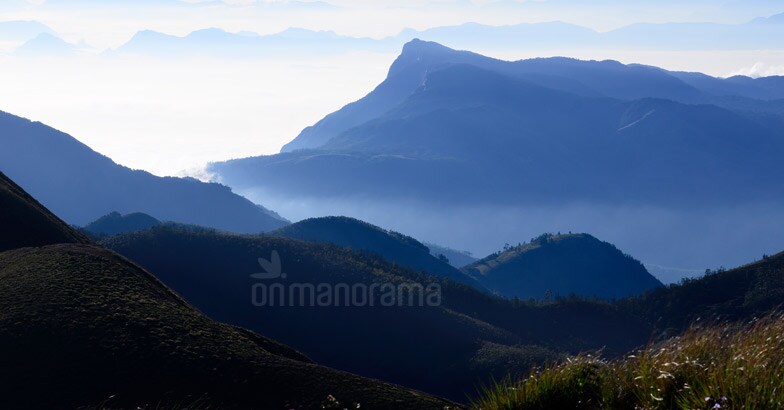 'Have you seen the mist covered Meesappulimala? Have you seen the magic mushrooms?' These are the questions Charlie asks Kani who is about to commit suicide and before long, the two vroom away on a bike through the high-ranges. This dialogue in Dulquar Salman's recent movie 'Charlie' has brought Meesapulimala, situated about 24km from Munnar town back into focus.
One of the tallest peaks in South India, Meesapulimala is a destination for the highly adventurous. It is ideal to pick up a guide for a trek through this hills, which is home to the Indian gaur and nilgiri tahrs. You can drive up till Rhodo Valley, the tall pines will wave to you from the sides of the road as you drive up to the base camp.
The 'Neelakurinji' flowers - in the season and a thousand other flowering shrubs dot the hillsides. The wind carries the smell of wild animals, the mist will roll at your feet.
However, the reference 'Charlie' makes is not the first time that Meesapulimala has found a place in a movie. Meesapulimala has been one of the top destinations with the movie-makers in the country for the last couple of years.
Rohit Shetty's blockbuster 'Chennai Express' was shot here. Neither Meenamma (Deepika Padukone) nor Rahul (Shah Rukh Khan) were seen trekking these hills in the movie. They followed the formula dance and romance sequence in the super-hit song 'Titli' against the backdrop of these hills.
Meesapulimala has been a favourite with the Tamil movie industry too. Dhanush romances Amyra Dastur in the song ' Roja Kadale' from the movie Anegan here. Here's the video.
Dulqur Salman's movie Vai Moodi Pesuvam was also shot here.
You can book your stay with www.kfdcecotourism.com and get in touch 8289821401 for more information.