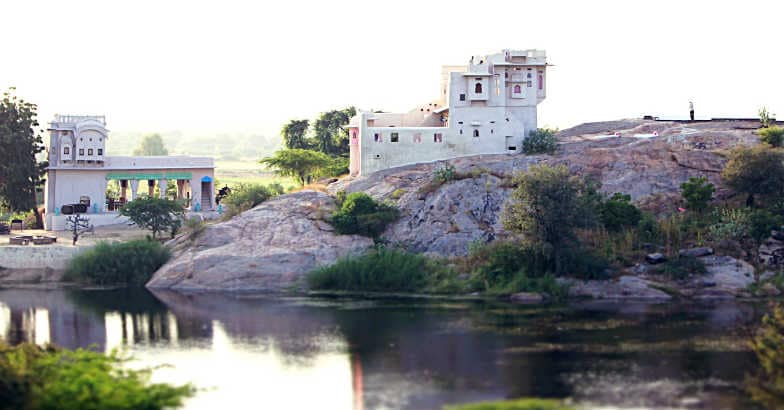 (You need not travel back in time, just visit this Hunting lodge of Rajasthan that refuses to fall prey to the theatricals of our civilization.) 
  At first you wonder how can it be so quiet. Then you ponder over how your life is at the mercy of city hullabaloo. Everything here is in shades of pastel blues, pinks and greens. There are fancy cottages perched on huge boulders overlooking a small lake.
The Lakshman Sagar Palace, which now looks straight out of Cinderella land, was actually debris sometime back. It is always interesting if there is a story behind a place and this hunting lodge of Rajasthan has many buried underneath. As the story goes, sometime in the nineteenth century, there was this royal Thakur Lakshman Singh of Raipur who was passionate about hunting. It took him several months and a detailed survey of about seventy months to zero in on this place. This hinterland of his kingdom was not the most beautiful place, but had rocks mushrooming everywhere. However, there were many antelopes, partridges and abuzz with other flora and fauna.
The then Thakur created two structures here-one each for the men and women. The taller version complete with arches was for the delicate womenfolk. Interestingly, the place had everything to offer now, except ducks and hunting ducks was very much in vogue and a very British thing to do at that time.
Ducks in a desert? Well, Thakur commanded that a lake should be dug right there, next to the structures. Now, that is what you call royal. However, the heydays did not last long. Falling prey to disorder, lack of maintenance and neglect, this man-made paradise was reduced to shambles.
Today, it stands tall in the form of twin towers-Mardana (men) and Zanana (women) with a beautiful and well-maintained lake. Soaked in the tales of the 19th century and trying to touch the threads of modernity, as little as possible.
It can be a complete retreat for someone looking at a experiencing village life. Lakshman Sagar, as they have rechristened it, is roughly about three hours from the Ajmer railway station. As you approach the hamlet, it is rugged, it is remote and yet it is peaceful.
While you do not expect much to excite you in a village and prepare yourself for a mere 'peaceful' outing, there are these twin towers that appear from nowhere and just brighten your mood.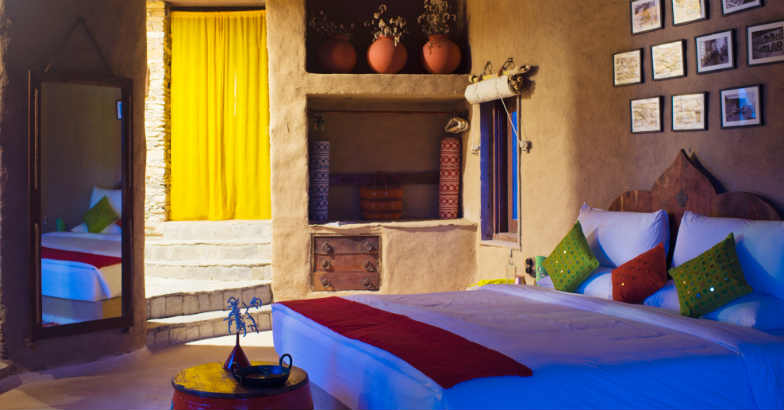 Drenched in Rajasthani culture and painted in colourful strokes, the windows on the structure present a story of their own. The reception is out in the open where you are greeted with garlands and ushered directly inside Mardana quarters to give Drenched in Rajasthani culture and painted in colourful strokes, the windows on the structure present a story of their own.       It is an economy in itself that is dependent on people coming to this erstwhile hunting lodge! The people are indebted to every visitor who has turned their life of toil to that of fortune. Guests are God send, how else do you explain money coming out of debris?
You can engage in pottery, farming, angling, have lunch with the villagers at their home, churn butter, drink fresh milk and buttermilk, pull out groundnuts and what not. The locals are curious to know what enthuses you about their daily activities and at times more than thankful to you for lending a helping hands with their chores.
For the city lover, you have a private pool right next to your personal rustic cottage that overlooks the charming lake-house to many a rare species of birds. You can have a spa session sitting at a French window that allows ample sunshine into your drawing room that is complete with books on bird watching, games such as snake and ladders and other artifacts that are indigenous to Rajasthan.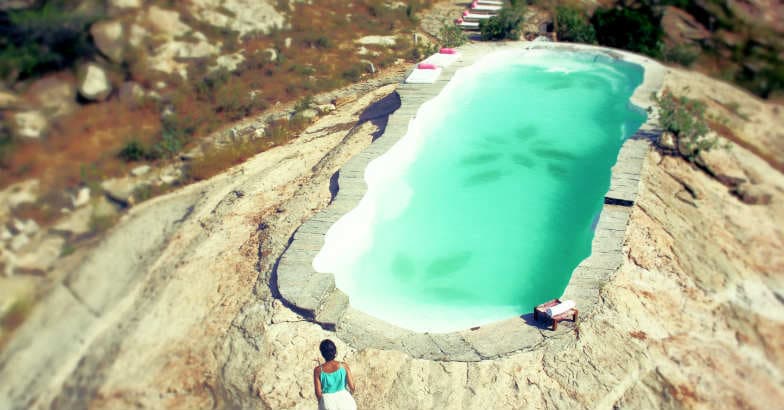 And as the sun sets, as the villagers head back home along with the birds, you can park yourself on the rooftop of the Zanana quarters, sipping a sundowner with attendants giving you a royal feel and treatment.
  How to get there:  Lakshman Sagar in Rajasthan's Pali district is 120km from both Ajmer and Jodhpur-well connected with railheads.
What to do there: You might want to visit the Raipur market for leather-made shoes, rugs and red chillies.