Cycling has caught on as a popular hobby in Kerala with more people getting cautious about their carbon footprints and taking up the green two-wheeler as a mode of regular commute. The Green Kerala Mission has even appointed Bicycle Mayors in four cities in the state, hoping to encourage people of all age groups to take up this healthy, eco-friendly pursuit.
But here are three Malayalis who, driven sheerly by their love for cycling, have decided to turn their passion into an adventure of a lifetime. Their multifaceted adventure is going to last 230 days and will end with the inauguration of the 2020 Olympics in Tokyo, Japan.
Haseeb Ahsan, Cliffin Francis, and Dona Jacob are undertaking a cycling marathon that will begin on December 15 in Kochi, cover 10,000 kilometres in 8 countries and conclude in Japan on July 24, the opening day of the Tokyo Olympics.
Three is company
Most friendships are built on common interests and these three cyclists are associated solely by their love for the sport. Although all three of them attended the same college in Kerala, they did not know each other till very recently.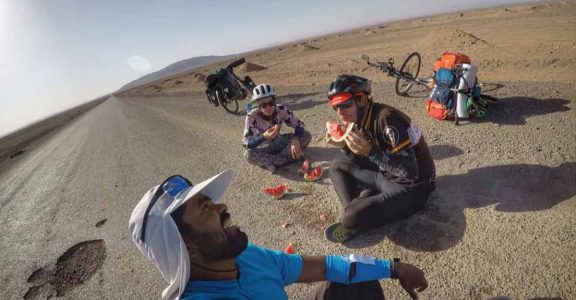 Haseeb, 32, who works in Bangalore, met Cliffin in Russia.
Cliffin, 29, is the most experienced of the trio, having cycled from Dubai to Moscow for the 2018 FIFA World Cup.
Dona, 29, who is an engineer by profession, is looking forward to promote independence and the spirit of adventure among women through this expedition.
Despite their individual goals, the three of them are connected by a very strong thread – passion for travelling. It is not without passion that one quits their jobs to embark on a journey that won't be easy.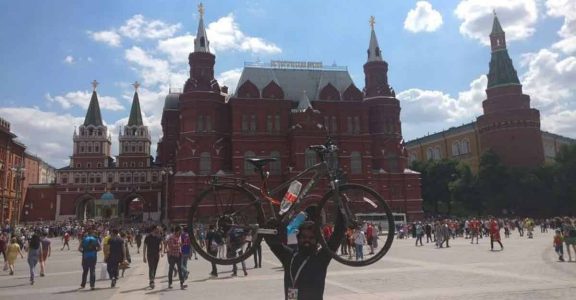 More than an adventure
Some adventures are driven by wanderlust, some due to adrenaline rush, and some just for the sake of doing it. If you ask those who jump off rocky cliffs into doubtfully deep water bodies or fall upside down, tied to a rope, from thousands of feet above, they will rarely have an answer that satisfies all.
But that is the thing about adventures, only the ones who experience them know why exactly they did it. This trio's case is no different. They are doing this to attain a few individuals goals and also a few bigger ones.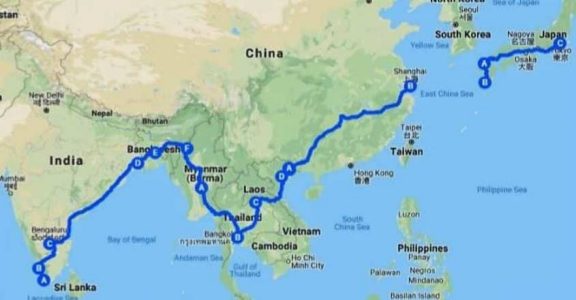 The plan came up with the idea that they would carry a poster with them on the tour and gather best wishes for the Indian contingent participating in the 2020 Summer Olympics to cheer them on.
But they also want to take up a cause that is usually associated with travelling but rarely brought up in Indian classrooms - mental health.
They plan on associating themselves with certain NGOs that will help them visit schools every week where they will spread awareness about the importance of a healthy mind.
And they are going to talk about not one, but two stigmatised issues, other one being menstrual health and hygiene.
On the road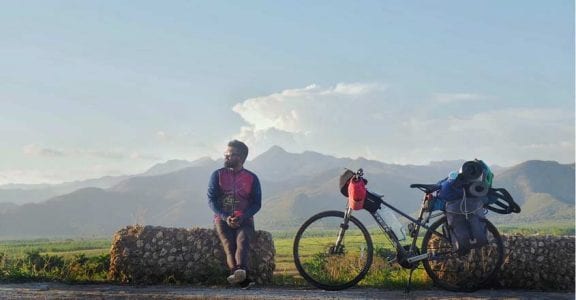 On their journey, Cliffin, Dona, and Haseeb are going to be on the road for 222 days, during which they will pass through Bangalore, Visakhapatnam, Bhubaneswar, Calcutta, Meghalaya, and Mizoram within India before cycling through Bangladesh, Thailand, Laos, Vietnam, China as they head to Japan.
The trio will be on a tight budget on this trip with daily expenses planned not to exceed Rs 1,000 per person. For this purpose, they will be camping wherever possible instead of staying in lodges or hotels. They will also be cooking their own food using the basic utensils that they will carry with them.
They will be documenting their experiences through vlogs, blogs, and Instagram. Their Instagram page 'snails.on.wheels' has already garnered more than 400 followers. You will be able to track their journey and experiences through their YouTube channel that will be launched after the trip commences.