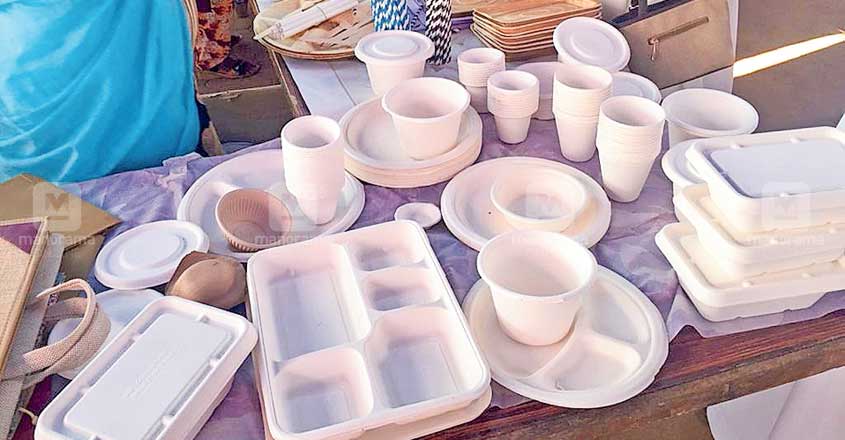 The Kerala government has banned plastic bags and other items which made people look for other effective substitutes. While some immediately turned to the past and began using the leaf wraps and cloth bags, others were busy experimenting with environment-friendly materials. Now, both merchants and customers prefer using alternatives that are available in the market. Suchitwa Mission and Haritha Kerala Mission are organizing local fests and exhibitions in association with the local governments where environment-friendly packaging materials are exhibited and sold.
Heavy fines are being imposed on merchants and shop keepers who still use plastic bags, despite the ban. The wholehearted cooperation of the general public is essential to create a plastic-free environment. Besides, alternatives and eco-friendly items should be made available on reasonable prices as well. More entrepreneurs should come forward with novel inventions that could be the perfect substitute for plastic.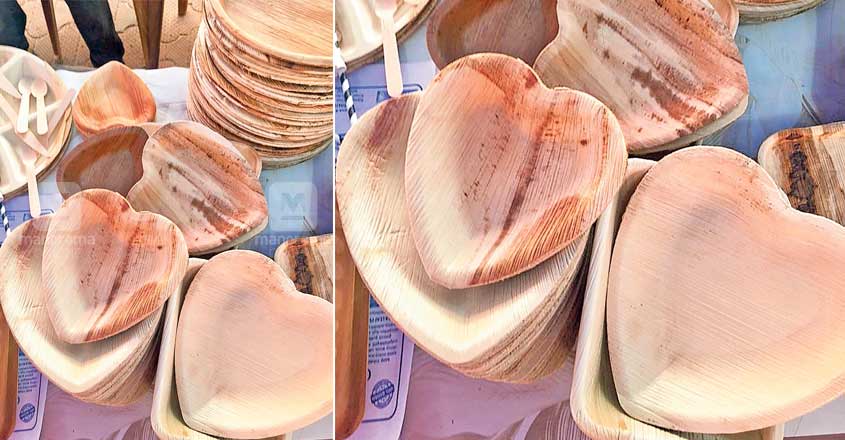 Numerous alternatives
The good old cloth bags have regained its lost glory after the plastic ban in the state. Besides, paper bags, leaf glasses and plates, paper pens, paper straw, coir items, steel and earthen vessels, mud glasses, bamboo and jute products too have become popular these days as eco-friendly alternatives to plastic. Such products are being stocked in the market with the cooperation of Kudumbasree, Suchitwa Mission and Haritha Kerala Mission. However, many complain that the prices of the cloth bags are on the steeper side. Cloth bags are available between the price range of Rs 10 – 25 based on their size.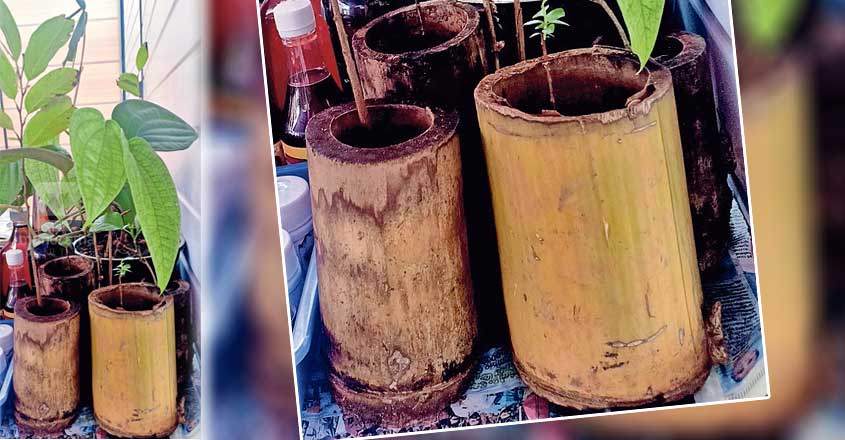 The district paper bag manufacturers association has prepared paper bags to be used at textile shops, hotels, home appliances stores, hospitals and grocery stores. Paper bags are available from Rs 4 – Rs 30. It is estimated that the production of paper bags has gone up by 70%.
Leaf bags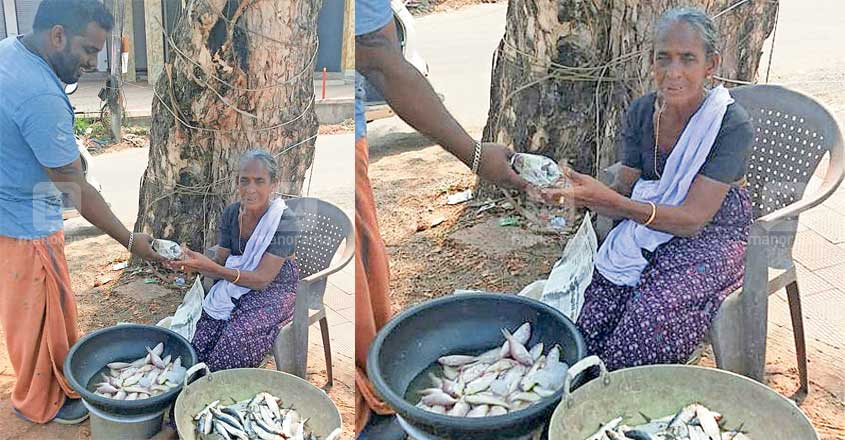 Kunjothi (67) of Karivelloor Onakunnu has been earning her livelihood by selling fish for more than four decades. In the initial days when she began selling fishes, she used to carry the fishes in a basket, in her head. However, for the last 30 years, she has been selling fishes from a small makeshift stand on the road side. Kunjothi has gone back to old school packing methods, just like she had done before plastic bags became popular. Now she wraps the fishes neatly in sheets of paper and leaves. She would ask her regular customers to bring their own paper sheets. Kunjothi says some would come with cloth bags too. She is happy that her customers are cooperating with her as she makes the perfect fish packets using eco-friendly materials.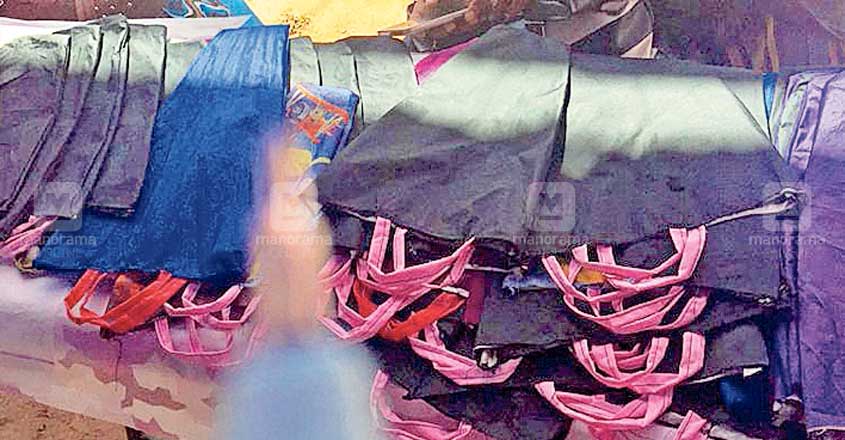 Large and round leaves of teak trees are mostly used to wrap fishes or meat. Meanwhile, paper bags are used at the grocery stores. If the fish seller comes to your house, then you could buy fishes in your vessels. Plastic flex boards have given way to cloth banners. Palm leaves and clothes are used for decorating the venues in an environment-friendly manner. These methods are especially popular in the countryside.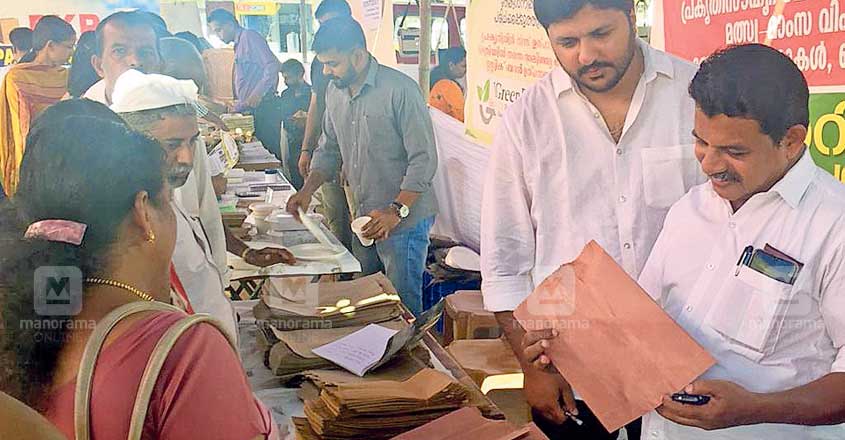 These are plastic items that are banned in Kerala
» Plastic carry bags
» Single use plastic sheets
» Thermocol and Styrofoam plates, cups and spoons and decorative items as well
» Single use plastic cups, plates, spoons, forks, straws and dishes
» Paper cups, plates, bowls and spoons with plastic coating
» Plastic water pouches, plastic juice boxes that are not branded
» Water bottles below 500 ml
» Plastic garbage bags
» PVC and flex boards
» Plastic bags that are used to pack fruits and vegetables
Paper bags that can carry up to 3 kilos of fish or meat are priced between Rs 2 and Rs 5. Meat or fish could be stored in these bags for at least 2 – 6 hours. Besides, bags made with umbrella fabric too are being widely used. Exhibitions and fests are being conducted at various places to make the people aware about the positive effects of using materials that are excellent alternatives of plastic and to introduce such products. The authorities are eager to organize such fests everywhere.
"We have been able to effectively ban the single use plastic items. The merchants or the customer do not feel any difficulties as enough substitutes were made ready in the district. Fests are being organized under the supervision of the local bodies to introduce more alternatives. We plan to open a counter at the collectorate too. Strict inspections to seize plastic materials would be conducted. Fines too would be imposed," said TV Subhash, Kannur district collector.