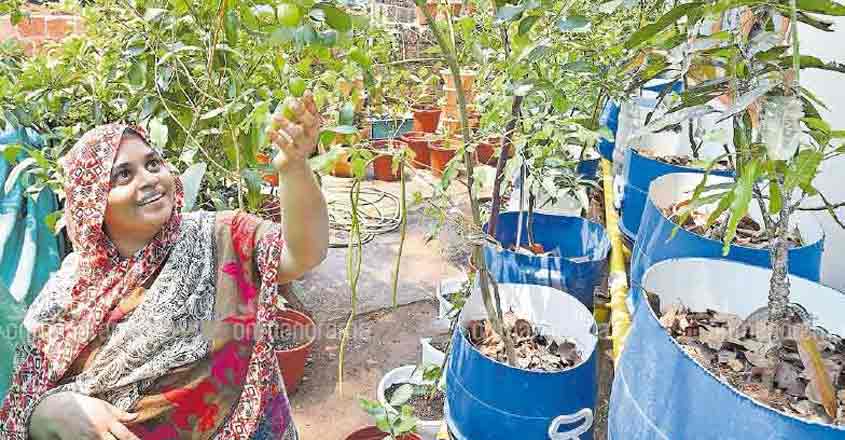 Social media platforms are often criticised for taking the focus away from things that matter. But then, once in a while, one good reason comes along which reinforces our faith in social media as agents of positive change. A thriving fruit and vegetable garden sustained purely by organic farming practices shared by seasoned framers on Facebook certainly earns brownie points for social media networks. Shuhaiba Firdous, whose house and surroundings at Kulam Beach Road in Kannur, is home to this Facebook-guided fruit and veggies garden.

After her marriage to Firdous, who runs a beef shop at the Kulam market, Shuhaiba came across the Facebook group of farmers who propagated organic practices. Inspired by the lively discussions on the forum, she started her own fruit and vegetable garden with a few saplings. Today, the roof of her house, the courtyard, the seven cents of plot around the house are all overflowing with trees and plants of all kinds. Among local varieties of fruits and vegetables are a lot of exotic ones that are doing really well in Shuhaiba's garden, thanks to her dedication to giving them the right care. She credits the farmer friends on the social media platform for guiding her.
Efforts pay off
Shuhaiba has plants growing in soil, growbags, and pots. More than 200 varieties of fruits and an equal number of veggies share space in the garden. Budding and grafting are the methods she has found most conducive to growing trees that bear fruits quickly. "All kinds of trees and plants will thrive on our soil, if we give them enough care," says Shuhaiba. Proving her words true, an awe-inspiring array of fruits from Mulberry to Nagpur and Chinese orange varieties and Lebnese Fig stand in her garden.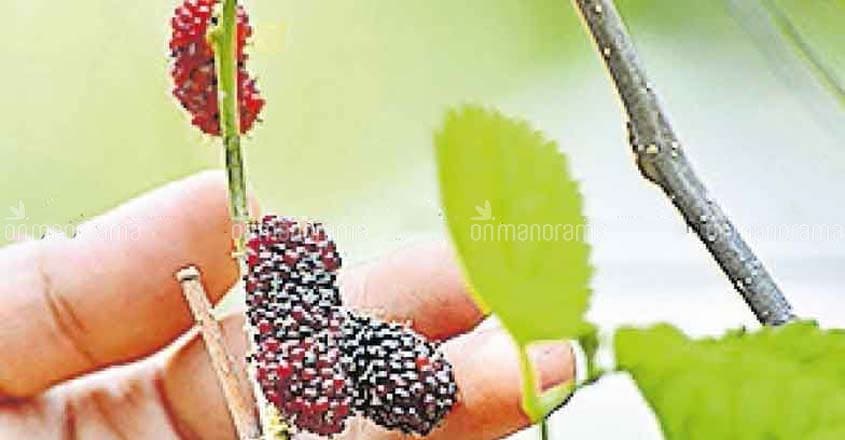 Fruits galore
If they are looked after with a lot of tender loving care, the crops have a way of reciprocating it abundantly, says Shuhaiba. The pepper variety called 'thonnuran', which is usually harvested in three months, was ready for harvesting in just 45 days in her farm, she says. "Sindooram mangoes took only an year and a half; Nagpur orange, three years and Mosambi took just about three-and-half years before they bore fruits," she says.
Jaboticaba, Manila tennis ball cherry fruit, Peanuts butter fruit, Soursoup fruit (mullan chakka), Abiu, Surinam cherry, Pakistan Mulberry, Java plum (njaval), Blackberry, Blackberry jam fruit, Maparang, Lovi-lovi, Arabian olive and countless other fruit trees thrive here. Eleven varieties of Jackfruit trees and 20 varieties of Mango trees are on the terrace garden among other exotic species like Thailand lemon.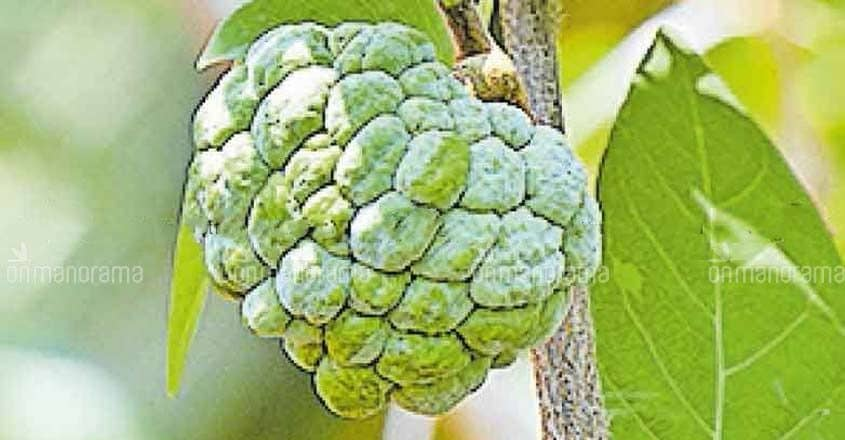 Happily sharing space in this little orchard are vegetables of a wide variety. Tomato, cabbage, pudina, African coriander, amaranth, bitter gourd, snake gourd, long beans and lot of other veggies receive part of the love showered by Shuhaiba on her plant family.
No chemical fertilizers 
Shuhaiba says that chemical fertilizers are a strict no no in her farm. Instead, she uses locally sourced cow dung and bone-meal mixture. "There is another fertilizer mixture that I make myself . Sarkkara (raw brown sugar), poovan pazham, veppin pinnakku (neem cake) and cuw dung are mixed in a drum. For every one mug of the mixture, nine mugs of water is poured into the drum. It is left in the closed drum for five days. This is an excellent organic manure for plants," she says.
The saplings are bought from Ananthakkad plant nursery at Pariyaram. Daughter of T P Abdul Salam and Usnu Banu, Shuhaiba is a mother of three boys - Fardeen, Shabin and Bilal.