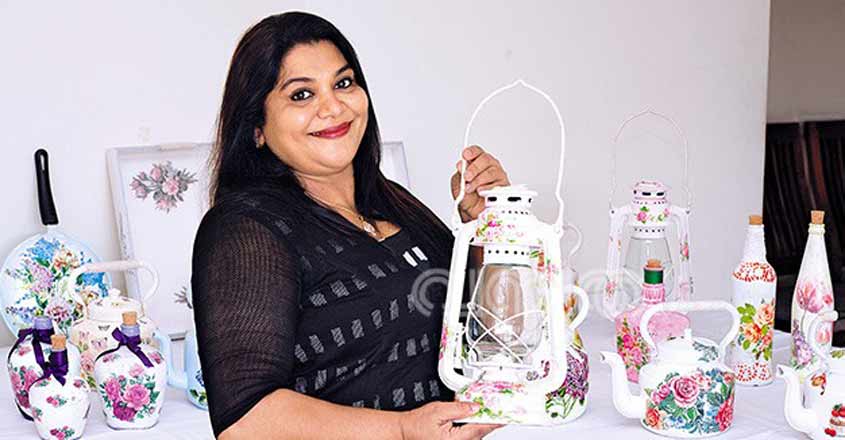 She had art on her mind which was why Bindu Joy kept surfing the net for more info on the medium. One such search on the net took her to YouTube where she stumbled upon the French word 'decoupage,' which in reality is an art form that involves transforming old and used items into pieces of beauty using something as trivial as tissue paper.
More videos later, Bindu got a clearer picture of what the art meant and she tried her hand at it. Though the art form looked tough at first, Bindu managed to master it. Her efforts have paid and the lady is happy that she can now craft things of beauty and come up with novel artefacts. All this she executes from the confines of her home. She needs no extra space for them. 'Decoupage' is one cute work which has become quite a money-spinner for this Kowdiar-based housewife.
Things turned topsy-turvy with the passing of her husband Joy and life had almost lost its sheen. All that she wanted was to hang on and make a change. She was also bent on finding out something original which would sustain her and keep her going.
Inspiration from Martha Stewart
Years ago, the gifted Bindu used to design curtains and bedsheets along with her mother. She knew she was good at it and the first thought that crossed her mind was to take up something along those lines. Besides, she was good at drawing and copying from what she saw elsewhere. Though she turned to drawing once again, the novelty factor eluded her.
That was when Martha Stewart entered the scene. Bindu was as usual on YouTube when she stumbled upon the artist who worked wonders with her hands to turn the old into the new. With Martha working on the old and discarded, they became fresh showcase pieces. The concept of 'decoupage' which means cut and paste was a reality that dawned only much later on Bindu.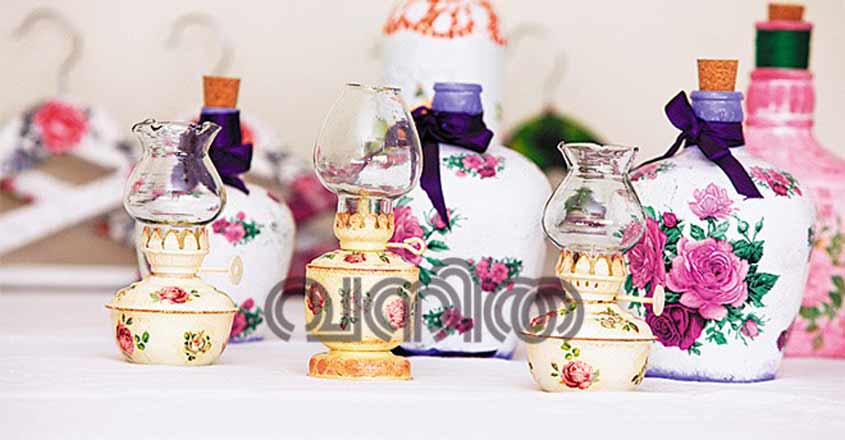 Ages ago, the Siberians used to decorate and beautify burial mounds in the cold wilderness by sticking stones and pebbles all around them. Thus decoupage as an art originated in Siberia from where the Chinese, fascinated by the art form, took it across to their land. When the decorative style crossed the seas and landed in Europe, it became the French art called 'decoupage.' Decoupage teaches you how to use and beautify all that's old and regarded as trash-worthy.
Tough lessons
"Inspired by what I'd gleaned from the video, I took off with some paint, glue, and tissue paper," says Bindu. But the first try with ordinary glue was a disaster. Not one to be disheartened, she tried again and then again, only to endure setbacks. Bindu came to the conclusion that she needed professional help to get things going. A solid base was the call of the hour. At this juncture she heard that Bengaluru was the one place where those interested could attend decoupage classes. So to Bengaluru, she headed.
The complete reality of decoupage dawned on her once she got professional help. This was no mean art. It was serious stuff. Armed with her new knowledge, Bindu set about making her own stuff. As a first step she collected old bottles and cleaned them up. She then sourced online for tissue paper with pictures and Mod-Podge glue.
The first step is to clean up bottles and the lines on them by rubbing and smoothening them with sand paper. Step two gives them a coating of primer and then two coats of any decoupage colour of one's choice. This is the finest part that's done by using a brush. And finally, the delicate part of cutting the tissue. The brush is dipped in water and a border is drawn around the picture that's intended to be cut out. The glue is then spread on the picture and pasted on to the bottle. At least three coats of glue are called for before the pictures can be pasted. After the bottles are varnished, decoupage will take four days to be perfected in style.
Once she had perfected her art and craft, the longing to display them popped up.
"So I WhatsApped a decoupage creation of mine to a friend", says Bindu. "Good painting", came the reply. Encouraged by the comment, Bindu decided to gift her friend a decoupage item. From the moment her friend got a bottle decoupage from Bindu, her full focus was on the art. That incident was the beginning. Why not make a business of this hobby?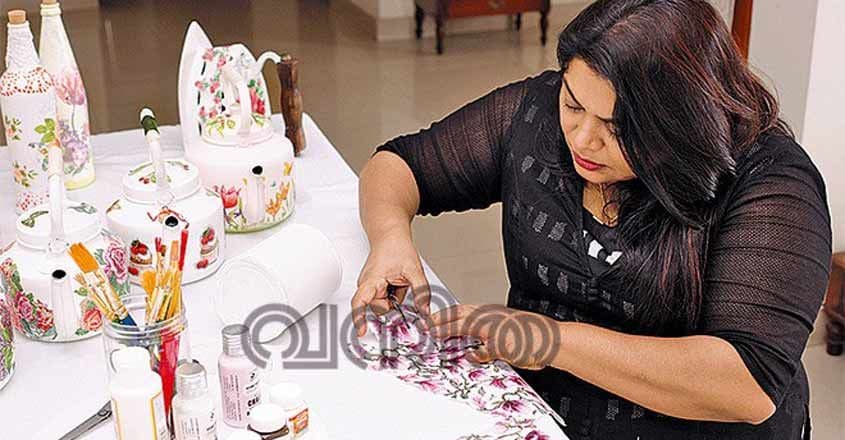 An exercise in novelty
Bindu had to narrate her adventures into decoupage to her friend who listened to her with avid interest. The impetus she got for that defining moment combined with the full support of her three sons Arun, Alan, and Kevin saw the genesis of Bindu as an entrepreneur. She soon started an FB page titled "Ebony 'n' Ivory". Though there was the usual initial apprehension as to how well the endeavour would be received, the solid backing of her three lads was backing enough. Today, it's through Ebony and Ivory that all the deals are made.
Though the medium involves tissue paper, the bottles can be washed. But they can be used only as show-pieces. And it's quite heartening that all of your old and yellowing items can be made new and given a fresh lease of life and beauty. Bindu is now a tutor and conducts decoupage classes in several places.
Decoupage can be crafted not only on bottles but on anything from plates, to dishes, iron boxes, lanterns, hangers, pots, milk cans, buckets, mobile covers and furniture. But it's a must that one masters the art on professional lines. Later, creativity can be combined with expertise to bring out things of exquisite beauty. Perfection lies in patient pursuit of the art. It may take days to craft a perfect piece.
In patience alone lies the joy of creating something more beautiful than what we would have lost otherwise, says the artist.