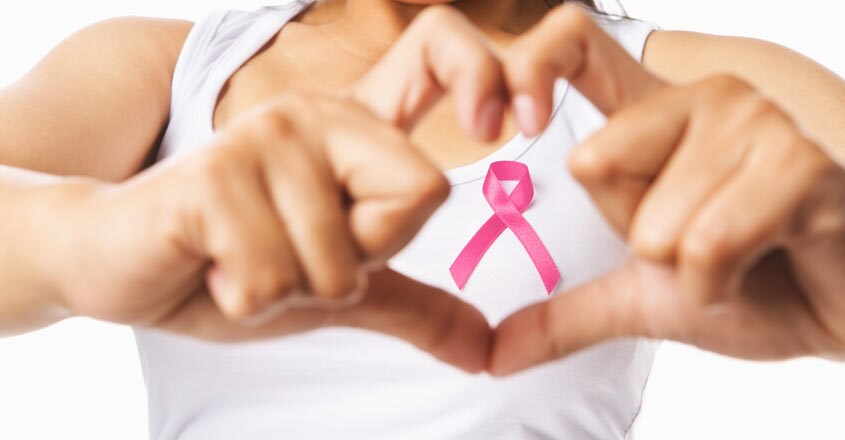 October is observed as the Breast Cancer Awareness Month in countries around the globe, and is marked by conducting elaborate campaign programs to create awareness about the disease. Though it may affect both men and women, breast cancer is mostly found in women. It in fact is the most common kind of cancer seen in women. However, identifying the disease in its initial stages and undergoing proper treatment is essential.

Breast cancer can be diagnosed with X-ray tests, mammogram, and ultrasound scan. Advanced tests like MR mammogram can identify cancer even before it turns into malignant tumours. Early diagnosis is the most important factor in the effective treatment of breast cancer. The sentinel node biopsy is the most advanced procedure to find out whether the cancer has spread beyond a primary tumour.
Sentinel node biopsy
Sentinel nodes, in the armpits/wrists, are the first lymph nodes into which the tumour drains from the cancer-affected breasts. The sentinel node biopsy is an advanced surgical procedure to determine whether the cancer has spread beyond the tumour in the breast. In majority of the cases, breast cancer spreads to armpits as well. Surgically removing the cancer-affected breast and also the cells in the armpit/wrist have been followed until now to prevent the tumour from spreading to other parts of the body.
A biopsy test conducted on the removed cells and tissues would help determine the stages of the disease, and thereby plan the appropriate medication and treatment. However, in order to determine the extent of the disease, the cells in the wrists or the sweat glands in the armpits have to be removed entirely. This may lead to numbness on hands, extreme scratching, and lymphedema (swelling on arms or legs). The sentinel node biopsy requires the removal of only the sentinel nodes, and retains the rest of the cells and tissues in the body, thereby reducing the side effects.
The modern society is aware about the various kinds of cancers, and the people are able to recognize the symptoms at an early stage itself and seek effective treatment. Expert medical practitioners say that breast cancer can be cured if it identified at an early stage and treated efficiently. They assure that it is not a deadly disease which could destroy your body or mind, if treated properly. Dr Chitrathara, senior consultant and surgical gynae-oncology at the VPS Lakeshore hospital says, "Breast cancer can be completed cured if identified and treated in the early stages. Procedures like sentinel node biopsy help lessen the side effects and the patient can lead a normal life after undergoing treatment."