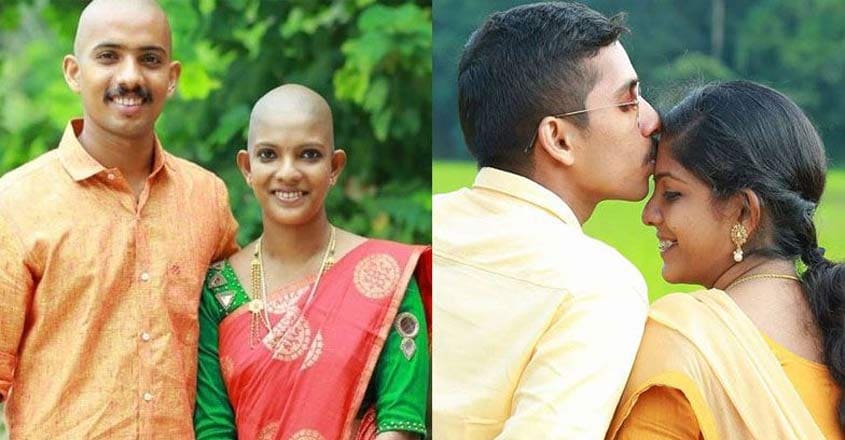 Shaan Ibrahim, on his first wedding anniversary, had shared his incredible love story, and it is winning hearts on social media. The youngster has beautifully expressed his love for his wife, Shruthi, who was also his college sweet heart. But what brings tears to your eyes is the way the young couple is facing Shruthi's bout with cancer.
Shruthi has just undergone her 9th chemotherapy session as part of her cancer treatment. When his wife's hair began to fall, Shaan held her close and tonsured his own head to show his love and support.
Sharing a picture of them with shaved heads, Shaan posted a touching message on his Facebook page, "It all started with a hibiscus flower. She was the girl who came to me with a challenge on the first day of my college life. I was challenged to walk through the college verandah by wearing the flower over my ear. I told her that I would, if a certain girl would hold my hand and walk along with me. From that day, Shruthi has become the beautiful hibiscus blossom in my life."
At college itself, Shaan had decided that he wanted to spend his life with Shruthi. He held her hand and proclaimed to other men who had a crush on her, "Don't even bother, she is my girl."
"Shruthi first became my red blossom, then my companion, love and my life. She supported me when I struggled to set up life, and conquered me with her love. To honour her love, I gifted a 'minnu' (mangalsutra) and made her mine. A petal of the blossom which filled our lives with its sweet smell has fallen – a year of togetherness. It was a year of realisations; the first year of our journey called life. Happy wedding anniversary dear companion," Shaan concludes his Facebook post.