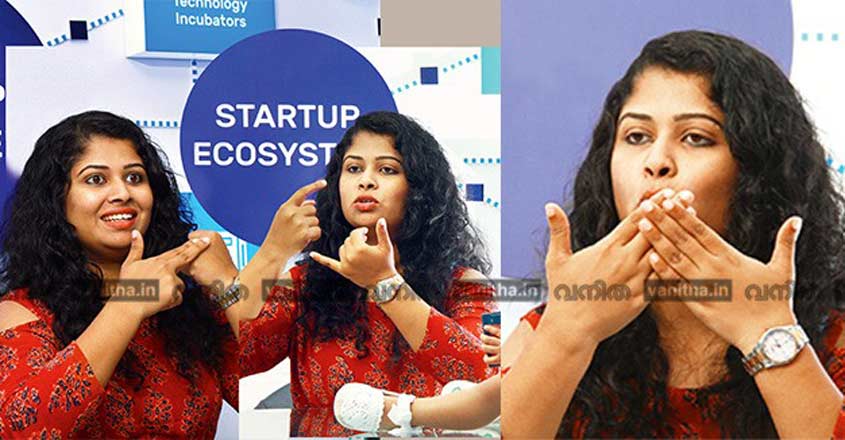 "If you talk to a man in a language he understands, that goes to his head; if you talk to him in his language, it goes to his heart," it was these words of the great Nelson Mandela that inspired Theertha Nirmal, the speech and hearing impaired young woman hailing from Kozhikode to launch the Startup 'Sign NEXT.'
Of course, she became the first Malayali speech and hearing impaired woman to become a CEO. But more than this personal achievement, Theertha is proud of the fact that she was able to make a significant contribution to her own community.
"Our application aims at imparting information to the hearing impaired through the language familiar to them – the Sign Language, and make use of sign language for extending education and women empowerment. And this is the first such initiative in India."
Theertha was accompanied by her husband and business partner Sanu Chukkri and her translator friend when she arrived for the interview. The friend kept a steady translation of Theertha's words in sign language.
"How can a speech impaired woman communicate with her gynaecologist during labour? It is not possible to get the assistance of a translator in all circumstances," Theertha's words point at the intensity of the crises faced by the speech and hearing impaired in their daily lives. It was the discussions and deliberations regarding these issues that led to the concept behind 'Sign NEXT.' Essentially, Sign NEXT is an app that helps the speech and hearing impaired community using the sign language which is the most effective mode of communication for them.
"In the first phase, our priority is on women's empowerment. Videos on personal hygiene and health have already been prepared. Women's diseases and precautions regarding those conditions, menstrual hygiene, measures of hygiene during and after sex and the information that women would need during pregnancy, labour and post-labour period – all these will be imparted through the videos," says Theertha.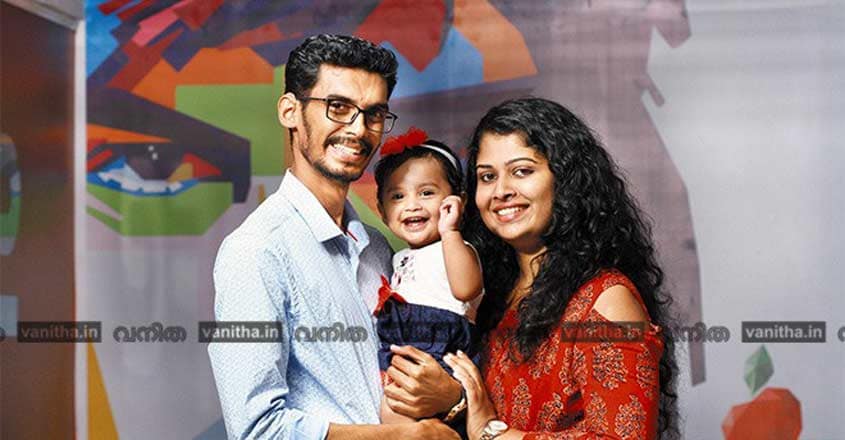 The core team of Sign NEXT is made up of Theertha, Kingsley David and Pravij Kumar. Theertha's husband Sanu and Kingsley were colleagues. As Kingsley has a hearing impaired relative, he could easily communicate with Theertha and Sanu. It was the close interaction of the trio, discussing the issues faced by the speech and hearing impaired that sowed the seeds of Sign NEXT. Thus, Theertha, who was teaching the hearing impaired children at National Institute of Speech and Hearing (NISH) at Thiruvananthapuram became the chief executive officer of Sign NEXT.
"Even when we were students, me and Sanu used to face a lot of obstacles in our daily lives. Most of the teachers were using the spoken word instead of the sign language. May be, they were thinking that we should try to follow the spoken word and that it'd help us more. But for us it was a sort of half-cooked learning. It was only at NISH that we could learn sign language comprehensively. And it was only then that we started to understand the subjects completely. That increased the interest in learning. Isn't it always better to communicate in your own language when you have a language of your own ?" Theertha asks.
"Many videos for the hearing impaired could be found in the YouTube. But most of them doesn't have any subtitles. So, those videos are useless for us. These days almost everyone possesses Smart phones and so we are trying to make use of Apps that can be accessed from anywhere and at any time. There are around 1.8 crores of hearing impaired persons in India and almost 95 percent of them do not read or write English. That is the main reason the speech and hearing impaired persons are losing out on job opportunities, even if they're talented. We're trying to teach English through our app. We don't need anyone's sympathy, but we just want a support and encouragement to stand shoulder to shoulder and work."
"The work of Sign NEXT was initiated around one and a half years ago, tying up with the Kerala Startup Mission," recalls Theertha. "When I took a break for delivery, Kingsley and Pravij managed the company affairs. Kingsley runs Sign TV, a news channel for the hearing impaired. He has also received the GPTW Award for teaching sign language to around 3000 able bodied persons in Technopark through his initiative 'Talking Hands: Creating Conversation.' Pravij is also learning sign language. If there is any confusion while communicating, we use the written language."
"The sign language also has different dialects region wise just like the spoken language. However, the symbols for many words like 'Father', 'Mother', 'Fever', and 'Rain', are common. The videos make use of sub titles, images and animation apart from the sign language. The assistance of doctors and counsellors are also utilized in the making of these videos.
"I used to wonder as a child why I was not able to scale the heights that my siblings and friends were reaching so easily. Then I took a decision that I was not someone to be kept aside just because of my hearing impairment. You should never let your impairments hinder your way, but you should find ways to turn them into positive energy. Then, the unnecessary burdens that weigh you down would melt away and you'd find the energy to soar towards newer heights. Of course, it was not easy to learn new things. There were a lot of mistakes. But we went forward, working around those mistakes.
"Two months ago, there was an empowerment programme for the hearing impaired organized by the New Delhi based Centum Gro Initiative. One activity that they gave as assignment was to visit various places in Delhi. The participants were divided into groups of five persons, and each one would be allowed to take only Rs 100. Thus these groups of five had to visit eight places in Delhi, without seeking the help of phone or Internet.
"It was my first visit to Delhi ! Yet we visited all the places by using sign language, making sketches and showing photos. Since our budget was limited, we were either walking or using the public transport. We ate cheap food. When we needed to take an auto, we'd go for joint trips. We also had a task of buying a good gift within the budget. For that, we had to seek out the cheap bazaar areas and negotiate the crowds. But we managed everything successfully.
"That trip was quite a learning experience. It taught me that it was possible to get things done even in the absence of comfortable transportation or money or mobile phone. It's true that we can realize our own real potential only in the face of adversity.
"I have just this one message – the only person who can chain us is none but you. We just need the strength to break those chains, and then sky will be the limit."