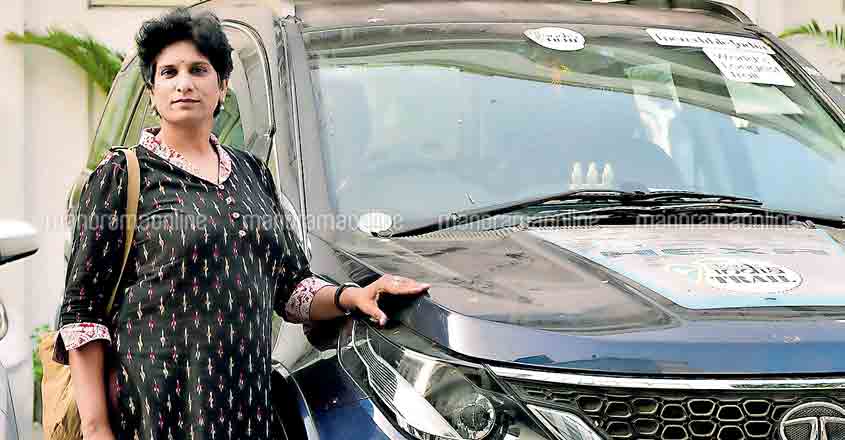 Kochi: Can a woman drive around in a car alone at night? That too, sleeping in the car and using public rest rooms. Sangeetha Sridhar set out on a solo trip to study the state of the public restrooms for women in India and also about women's safety. It's already been 205 days since she hit the road.

Sangeetha firmly says that it is not at all dangerous for a woman to travel alone. She added that it is often the unnecessary panics which escalate a dangerous situation. Sangeetha (52), a native of Coimbatore, grew up in the Nilgiri hills and acquired a master's degree in computer science. She went to the famed University of Southern Queensland in Australia for her higher studies.
She worked as an advisor of the Oman government's e-governance. Sangeetha has worked in various Middle Eastern countries for the last 25 years. She has been living in Abu Dhabi for the last 4 years. She took the initiative to promote the message of 'Clean India, Safe India' as part of Sheikh Zayed's birth anniversary and Gandhiji's 150th birth anniversary.
Women should be strong
"This is not a pleasure trip. But I have the support of the department of tourism in India. I haven't received any sponsorship or any other monetary support. As Tata and Sons is celebrating its 15th anniversary, they allotted a Tata Hexa car for me to use. It is I who pay for the fuel and its maintenance. When I reached Kerala, the IOC gifted me a few coupons to fill fuel. I am really thankful to them. I spent 60% of my time inside the car itself. I use only the public rest rooms," explained Sangeetha.
Sangeetha says that the public rest rooms are clean enough to be used by a traveller. She points out that had it not been like that she wouldn't have continued her trip. She has developed a mobile application which has the details of all the public toilets that she had used in her trip. She hopes that this information would be helpful to others who set out on such solo trips.
"A woman can spend time in public spaces at any time. But she should have a good reason for that. A woman should possess the courage to face any problems. She also requires the physical capability for that. Everyone is responsible for their own safety. Life is all about moving forward in harmony. You have to face the challenges. But I don't believe that we should live to challenge everything," noted Sangeetha.
Border to border
Sangeetha began her journey on 12th August last year from Mumbai. She travelled to various places in 29 states so far; 25 of those places were in the international border areas. She visited Leh in Kashmir and passed through 10 hill stations and mountain passes. She went to the north eastern states before coming down to the south.
From the Sir Creek in Gujarat which is the westernmost point of India, Sangeetha travelled to the Kaho bridge in Arunachal Pradesh, the easternmost point. Later she visited Kanyakumari as well.
The soldiers whom Sangeetha met on the border areas told her that she was the only civilian who has been to all these centres on a solo trip. Sangeetha's husband Sreedhar is the CEO of a company owned by the Sheikh of Abudhabi. Her son Aswant Sreedhar is a robotic engineer in the United States of America. She vouches for her family's wholehearted support in her ventures. Sangeetha, who is currently in Kerala, would head back to Mumbai soon.
"Women should take care of their health. How many women can sit comfortably on the floor for hours without complaining of back pain or leg pain? How many women realize that eating nutritious food and being physically fit are important? How many women are determined to save themselves from obesity and other life style diseases?" asks Sangeetha Sridhar.