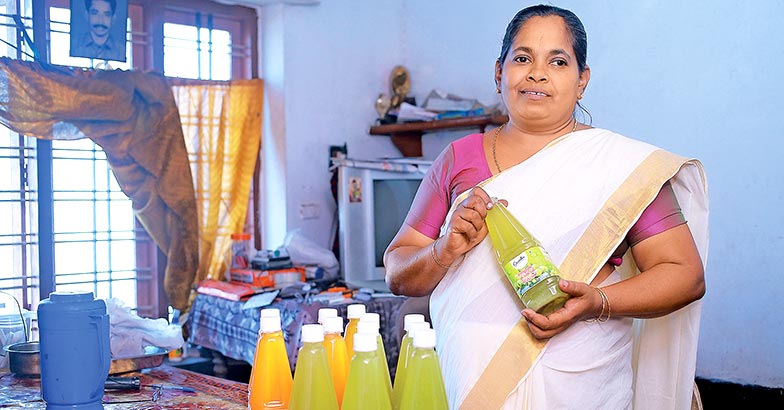 An idle small-scale business that could be started from home is the manufacture of products such as pickles, squash and jam. Realizing the opportunities, homemaker Aji Sabu came out with a uniquely concocted squash – a mix of gooseberry (nellikka) and bird's eye chilli (kanthari mulaku). Though this was made at households in the interior, it was Aji who took the initiative to make the squash on a commercial basis. She is also making varieties of squash, pickles and jam at her home at Marathakkara in Thrissur district.
Squash tops the list
The mainstay of Aji's business is the wide range of squash products, and 'nellikka-kanthari' squash is something special. The other squashes which are a hit and were tried and tested by Aji are lemon-'nannari' squash, beetroot squash, raw mango-ginger squash and ginger squash. All these products are ready-to-drink ones, and can be had by mixing water with the squash.
These squashes are good for patients with diabetes and hypertension, notes Aji. The training Aji got from People's Service Society in Palakkad helped her to taste success in this field. The society gave her the idea and support to start the unit at home.
Aji has been running the business for the past four years, and also gives training in processing and preservation of fruits and vegetables. She also imparts training to people who are interested in starting a business in mushroom cultivation, jackfruit-related delicacies and floral arrangement.
Basic investment – a blender
Aji started the unit by using household items. A blender could be considered as the basic investment as it was the only equipment she bought while embarking on her business journey. Gooseberry is ground in a blender and 'kanthari' is specially made into a paste for preparing the squash. Both are mixed together along with salt and sold in the market.
Aji does all the work by herself, and, if needed, seeks the help of a person. Her husband Sabu is working in a private organization. She doesn't have any distributors and the main sales is by participating in exhibitions and fairs. Marketing is not a problem as there will one or two exhibitions every month. The customers at these fairs become regular consumers and the products are delivered directly or by courier.
Now, there are some regular customers, and, moreover, some doctors have prescribed 'nellika-kanthari' and ginger squashes for their patients as these organic products help in reducing blood sugar and treating abdominal diseases. Aji is planning to jack up the production capacity by installing machinery. Now, the monthly sales turnover is only worth around Rs 1 lakh and the net profit is Rs 15,000. Aji is considering his line of work as a side-business.
The hallmarks
100% organic products.
Preservatives and artificial colours not used.
System in place for quality assurance.
No machine intervention during production process.
Equal importance given to the medicinal value and taste of the products.
Virtually no competition in the market and there is scope for expansion.
Products can be made at home itself.
Unique product and a different taste.