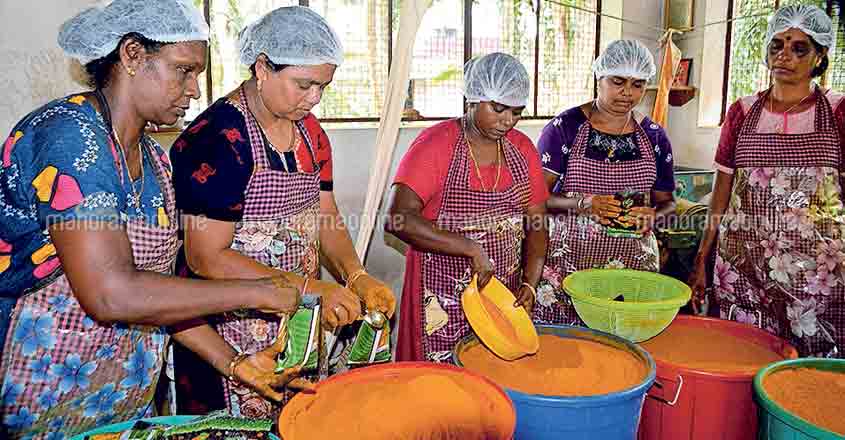 Five women, who were actively involved in kitchen gardening, took up turmeric cultivation as part of the Haritha Gramam project in Kerala's Alappuzha district. However, they found themselves in a spot after the produce from the 13 acres of land far exceeded their needs. They then decided to boil the turmeric tuber and grind it into powder. That's the tale of how Shudhi curry powder unit was set up in Mavelikara. And the five women behind this small yet successful unit are Binny Vishwambaran, Udayakumari, Vijayamma, Sudharma and Anitha.
The initiative was started in 2013. People flocked to the unit to buy the powdered turmeric and the women even started getting orders to grind turmeric tubers into powder. For this, they underwent training at the CPCRI and agriculture development centre. About 7kg of turmeric tuber is needed to make 1kg of turmeric powder. Earlier, they worked at a rented place and then leased out a building owned by one of the women.
They took a loan of Rs 6 lakh to buy equipment, including those needed for grinding. They registered the company as Shudhi and started selling the turmeric powder. The women ensured that the norms set by the food safety department and the pollution control board are followed in the manufacturing and packing processes. As more people turned up to buy the product, the manufacturing was also stepped up. And their revenue too saw a steady growth.
The women were also able to pay up three-quarters of the loan. As demand rose, they started manufacturing coriander and chilly powders, and various masala powders. Apart from shops, they are also supplying products to stalls, including those owned by Kudumbashree.
The group members are assured a minimum wage of Rs 5,000 every month. Apart from this, they also make revenue from grinding turmeric into powder. They are also supplying turmeric powder to Onattukara Spices Farmer Producer Company.
They are also into packing ginger and turmeric seeds that are supplied from the agricultural department and various panchayats.
The daily wage for this task is Rs 400. Around 20 tonnes of seeds were handed over for packing.