Confronting death is a painful experience, particularly when it happens to someone who has been part of your life for 55 years, growing together, sharing joys and sorrows.
In the case of my wife, Lekha Sreenivasan, it came unexpectedly, when it appeared that she was on the verge of recovery.
She had a lively conversation with our son a few moments before she passed away. In one second, her "breath became air" as in the case of Dr. Paul Kalanidhi, a neurosurgical resident who died at the age of 36, having chronicled his lifelong quest to learn what gives meaning to life in the face of death.
I do not know whether Lekha had a premonition of death as she never discussed it, but in the last two years, when the world itself was in the grip of fear of death, all her actions, particularly her turning to writing her story indicated that she was aware that her time was coming.
It seemed that, even in the midst of her busy schedule of helping the needy through Karuna Charities, which she founded many years ago in New York, she felt that she reached a moment in life where she must give an account of herself, provide a ledger of what she has been and done and meant to the world.
She found a joy unknown to her in her prior years that does not hunger for more and more, but to record her past for posterity. She saw in it a way out of her aches and pains, her breathlessness and oxygen dependence and the many pills she swallowed.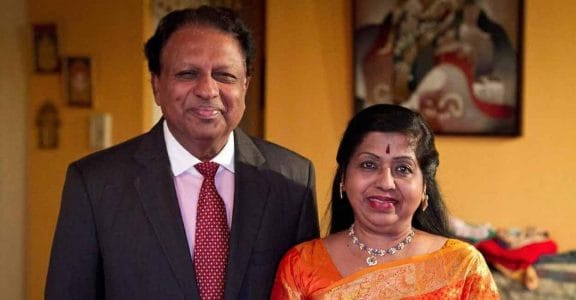 As she feared, she could not see her work completed and left us with peace on her face, as though in sleep without medicines and oxygen mask, which sustained her.
Like in the case of Dr. Paul Kalainidhi, it was the urge for narrating her life that brought her back to life. As Dr. Kalainidhi wrote, "The monolithic uncertainty of my future was deadening; everywhere I turned, the shadow of death obscured the meaning of any action. I remember the moment my overwhelming unease yielded, when that seemingly impassable sea of uncertainty parted." She faced each day like Samuel Beckett did, saying to herself, "I can't go on. I'll go on."
Interacting with family and friends was the source of her solace, but her inner struggle was entirely her own. The only sign of her state of mind was that she was insecure when I travelled out of town.
She even felt that the pandemic was a blessing in disguise as my travels were severely restricted on account of it. Her elephantine memory helped her recall events with clarity and precision.
Her book, 'Better Half Of Diplomacy,' being published posthumously is a sincere, truthful and transparent narration of her experiences in different parts of the globe.
I discovered on the day of her demise and later that there were many people who cared for her and loved her for what she had done, not just as a diplomat's wife, but as a compassionate human being, who dreamt of wiping every tear from every eye.
Of course, many eminent people, including the Honourable Governor of Kerala, Arif Mohammed Khan, Chief Minister Pinarayi Vijayan, former Defence Minister A.K.Antony, former Chief Minister Oommen Chandy, the Leader of the Opposition V.D.Satheesan, BJP State President, K.Surendran, four Ministers of the LDF Government, Shashi Tharoor MP, Baselios Cardinal Cleemis, K.Muraleedharan MP, Binoy Viswam MP, M.K.Raghavan MP Former Ministers, Ramesh Chennithala and Pandalam Sudhakaran and many others from different walks of life came to pay tribute to her.
But, to my surprise, many poor and sick people, the beneficiaries of Karuna Charities International she founded in New York, came with tears flowing down their cheeks, wondering how they would pay the medical bills and school fees of their children next month.
It was clear that unknown to me, she cared for them and kept her charity work going with the help of her friends even when she herself was sick.
Obviously, she had held them close to her heart as she did her family and friends. Even as we grieve for her, we celebrate her life with the conviction that she made a difference in the lives of many poor and hungry people.