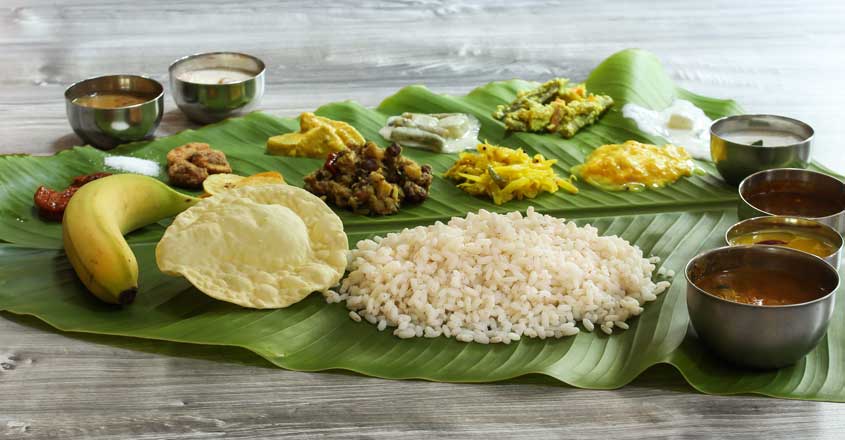 Thrissur: Kerala sadya is very much a part of the Malayali culture. The sumptuous Kerala sadya is not just a lip-smacking feast but a food that boasts of a 1,200-year-old tradition. And it is still going strong in the 21st century without undergoing any major changes.
If you have to relish the Kerala sadya in all its authenticity, you should head to the Pisharody's Restaurant in Thrissur.
An old tharavadu (ancestral house) was converted into this ethnic restaurant at Kuruppam Road. With is long veranda, wooden chairs and the thatched roof, the whole place oozes nostalgia. It lets you settle down in a Malayali milieu before you get going on the sadya.
Even to this date, the pure vegetarian restaurant serves the Namboodiri sadya.
The feast includes all the essential sadya ingredients from sharkara upperi, ghee, pachady, kalan, ollan, aviyal, sambar, rasam, curd, papadam, rice and payasam. The dishes would not be very spicy.
If on a day, kootucurry in missing on the banana leaf, errissery is sure to have taken its place. You can choose either the matta (red parboiled) rice or ponni rice.
Tamil flavours have been infiltrating into the Kerala sadya recently. But Pisharody's serves the sadya in the good, old Valluvanadan style.
And you begin the sadya with…
Elders have advised that you should start the sadya with the sharkara upperi. This is the only item on the leaf that contains chukku (dried ginger). It can aid in digestion.
Sambar is a consolidation of all the vegetables. The coriander leaves in sambar acts as a cleansing agent. These leaves can reduce the strong masala flavours of the curry. Curd and butter milk help to control the body temperature. For a healthy body with good digestion, the body temperature has to be always maintained. On top of all these, the ultimate taste of the sadya rules. And Pisharody's promises you just that.
It could also be one of the few restaurants that serves a sadya at 10.30 in the mornings. Sadya will be served till 3.30pm. Then it is time for dosas, coupled with chutney, ulli chamanthi and chutney powder.
The first restaurant of the Pisharody's chain was started at Kavalapara in Palakkad and then at Angadipuram in Malappuram. Then the brand reached Thrissur.