Does your dermatologist keep talking about the importance of applying a generous amount of sunscreen every now and then? Even Hollywood actor Hugh Jackman (much known as the X-Men's 'Wolverine') had recently urged people to apply sunscreen after he underwent a series of treatments for basal cell carcinoma over the years. Speaking to Dr Sonia Raghukumar, Consultant Dermatologist of Niara Aesthetics in Kochi, Onmanorama examines why is this substance considered to be an essential part of one's skincare routine.
Sunscreen and SPF
A sunscreen is a skincare substance that protects the largest organ of our body from the sun's harmful ultraviolet A (UVA) and B (UVB) radiation. The word "Sun Protection Factor" (SPF), which is usually used in the same sentence as "sunscreens," is another crucial indicator of how well a given product can shield the skin from the sun rays that cause skin damage and sunburns.
"People are usually aware about the significance of using a sunscreen with a good SPF, but how many know that 'PA' rating, which is equally important for our skin in blocking the UVA radiation. Ideally, a sunscreen with above 30% SPF would do the job for Indian skin, however, the type of product might differ according to each skin type," said Dr Sonia.
PA denotes "Protection Grade of UVA." As SPF measures only UVB protection, the PA rating which measures UVA protection too is important.
Indian skin under less risk category
Indians have varying amounts of the skin pigment "Melanin," which keeps them in the lower-risk category for developing skin cancer. (Melanin protects the skin against visible light and UV rays).
"Westerners possess lesser levels of Melanin, which increases their chances of skin cancer. This is why they use this skincare product religiously and insist people on making this as a habit," said Dr Sonia. However, Indian skin is not completely safe; continuous exposure to lights or UV radiation can show early signs of aging on our skin such as pigmentation, wrinkles and darkspots," she added.
How to choose a sunscreen suitable for your skin?
According to Dr Sonia, one must understand their skin type before buying any skincare product, be it a sunscreen, moisturizer or face serum. It would be better to try the product first before purchasing. "Trial and error always works. Apply the product and wait for 20-30 minutes to see the effects," she said, while adding, "The best sunscreen is that you use consistently on a daily basis. Rather than bothering about any brand, we must focus on using the one that suits our skin and does not make it greasy or leaves a white cast."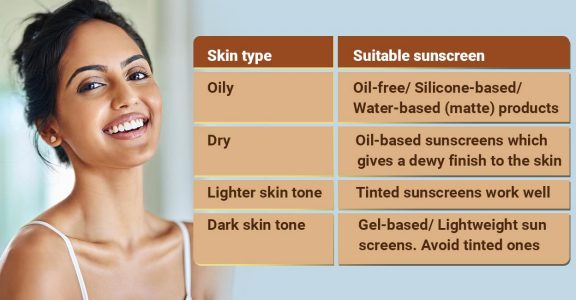 How to use?
Though most of us have heard about the three-finger application rule when it comes to sunscreen, Dr Sonia, however, stresses that only two-finger portion is required.
• One must not forget to apply sunscreen on the neck, apart from the face. The neck area shows signs of aging faster.
• Reapplication of sunscreen at least twice or thrice a day is important.
• Sunscreen must be used at least once a day even if one is staying indoor, because it protects our skin from harmful effects of LED lights, phone or laptop screen light and the light being reflected from tinted windows.