Jayan and his wife wanted a simple single-storey house that is comfortable and easy to manage as their children are settled elsewhere for jobs and studies. Their brand new house at Cheriyanad near Chengannur perfectly fits this idea. Noted civil engineer Sooraj, who is also a close friend of the couple's son, has designed this beautiful house, keeping in mind the needs and likes of the family.
The cement texture and the brick cladding on the outer wall of the elevation are what draw attention instantly. Besides, the corner windows add a chicness to the elevation. The owner says that their guests often click pictures of this feature as they have been impressed by the unique designs. Baby mettle has been paved on the front yard to allow the rainwater to seep into the ground. Interestingly, the car porch is built separately on the back side of the house.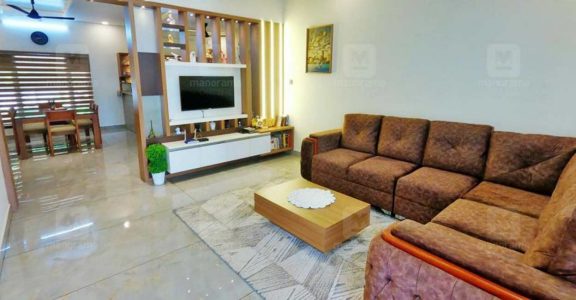 Designed in 1571 sqft, this amazing abode has a sit-out, living and dining areas, a kitchen with an adjacent work area and three bedrooms. Except for the couch in the living room, all other furniture pieces and the panelling have been custom-made using the timber sourced from the plot itself. The common areas and the bedrooms are adorned with attractive gypsum false ceilings and LED light fittings.
The long sit-out is a major highlight. Meanwhile, the living area has been arranged just beside the entrance area. The TV unit is what separates the dining area from the living space. The dining and the kitchen are arranged as part of the open hall. A crockery unit beside the compact dining table completes this area. The open kitchen that has everything within the hand's reach is an interesting feature. Though smaller in size, the kitchen has lots of concealed storage units and cupboards.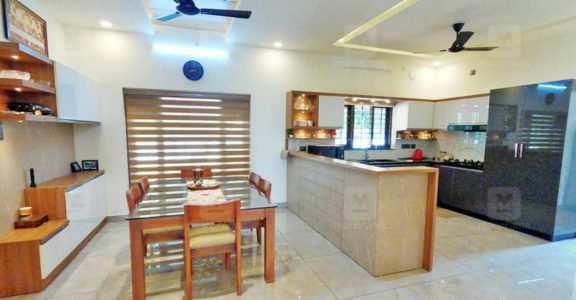 People usually have lots of misconceptions about having an open kitchen. They think that the house would smell of food if the kitchen has been designed like this. However, a powerful electric-powered chimney has been installed here to suck out the cooking smells. Besides, there is a work area too where a woodfire stove has been arranged.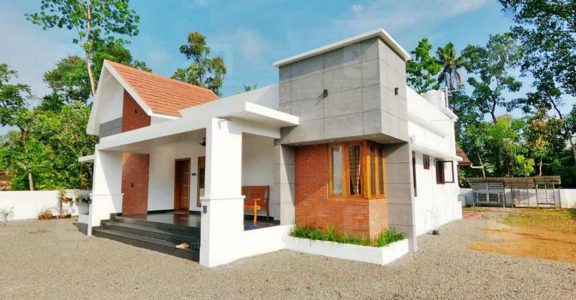 The bedrooms are simple yet elegant. Two bedrooms are bath attached; meanwhile, there is a common bathroom too. Tiles have been pasted on the walls until the ceiling, to give a clean and chic look to the bathrooms.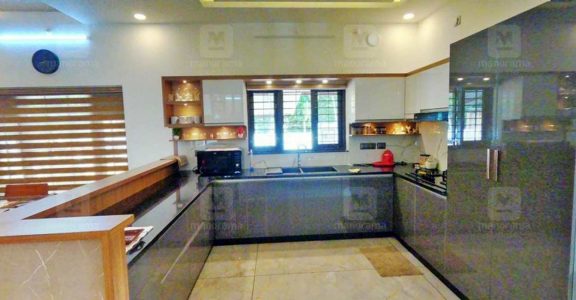 Even though the house is quaint, the owner hasn't shied away from furnishing it quite lavishly. They made sure to use high-quality furnishing materials rather than just using cheap ones to save some extra money. The house, including the structure and furnishing, was completed on a budget of Rs 47 lakh. This is a perfect model for a middle-class family if they are ready to compromise on the high quality of the furnishing materials. In that case, such a house could be easily constructed in under Rs 35 lakh.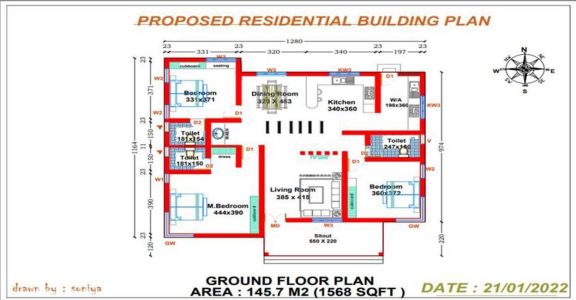 Project Facts
Location – Cheriyanad, Chengannur
Area – 1571 SFT
Owner – CV Jayan
Designer – Sooraj Surendran
Kottapuram Builders
Mob – 8075657556
Interior Design – Shibin
Year of completion - 2022