In the spring of 1836, Hermann Gundert, a 22-year old German scholar, boarded a ship that was to set sail from Britain to Calcutta. The young man had already obtained a doctorate in philology at the University of Tubingen and was a specialist in Sanskrit. He was hired to be a private tutor in Calcutta, but it was southern India that he would call home for the next 23 years. Gundert's writings from Kerala would go on to have a deep impact on his grandson, the poet, novelist and painter Herman Hesse.
The University of Tubingen's library has a collection of palm-leaf manuscripts, printed books and pamphlets in Sanskrit, Tulu, Telugu, Kannada, Tamil and most importantly, Malayalam, a language Gundert grew to love. His journey to Kerala began with a change in his plan as soon as his ship reached India. Gundert, who was already fluent in Bengali, Urdu and Marathi, chose to settle down in Madras instead of going to Calcutta. He began learning Tamil there and within two years, he was sent on behalf of the Basel (Protestant) Mission to Nettur. This would be the beginning of a 20-year immersion into the culture of the regions that now make up Kerala.
Pioneering achievements
"It was he who wrote the first important grammar of Malayalam and a ground-breaking Malayalam-English dictionary which is still in use today," the University of Tubingen's Gundert portal  says. "Among his pioneering achievements are the introduction of the crescent moon sign 'chandrakala' in Malayalam and the consistent use of the recently emerging orthographic distinction between a short and long 'e' and 'o'."

Gundert's scholarly Malayala Bhasha Viyakaranam was published in 1851. It was one of the first attempts to have a non-Sanskrit based approach towards the grammar of an Indian language. The introduction of punctuation marks in Malayalam has also been attributed to Gundert, who was also one of the first foreign scholars to suggest that Malayalam actually evolved from Proto-Dravidian. In 1860 he published Paathamala, the first textbook in Malayalam.
Gundert did not restrict his interest in Kerala to the language, but was fascinated with the history of the state and its people. "Gundert has been particularly interested in the history of Kerala, because we find several versions of Keralolpathi, the text Kerala Pazhama (history of Malabar from AD 1498-1631) and Kerala Natakam (also newly edited as volume one of the Gundert Archive Series), which caused a sensation in Kerala due to unusual legends of the origin of the various castes and communities," the University of Tubingen's website adds.
One of Gundert's main aims in India was to spread Christianity, and although his interests divulged into many areas, he did make a contribution to the Christianity in Kerala by publishing Pazhancholmala in 1845, a collection of Christian theological idioms in Malayalam. He also published Kannada-Latin and Malayalam-Latin dictionaries, in addition to translations of the Old Testament from Hebrew and the New Testament from Greek.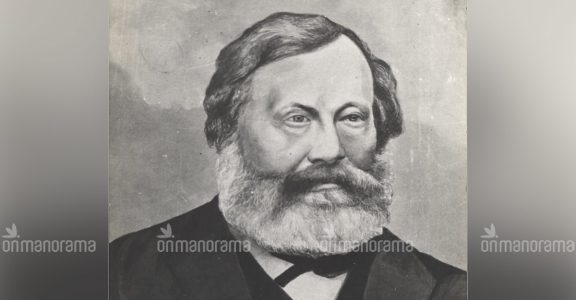 The German scholar left India for his home country in 1859, but the Malayalam language continued to be on his mind, as was evident from the fact that he spent more than a decade in Germany to compile an English-Malayalam dictionary. Quite a few of the Malayalam words in that dictionary are no longer in use in Kerala.
Widmar Puhl has written one of the most fascinating accounts of Gundert's life. The title of the book translated reads as The Luther of Malabar: Herman Hesse's favourite grandfather. Gundert met and married the love of his life Julie Dubois in India in 1838. It was in India that their daughter and Hesse's mother Marie Gundert was born. English and Malayalam translation of Puhl's book would evoke a good deal of interest in India.

A small section in the Hermann Hesse portal says, "The 'Indian' grandfather, was a source of great fascination to the young Hermann Hesse, and exerted an influence that is not to be underestimated."

Legacy in Thalassery
The town of Thalassery has a statue of Gundert and the house where the scholar and his wife lived is still around. The house was in a dilapidated state a decade ago but has since been renovated. There have been media reports of plans to convert the bungalow, which is believed to house a technical training institute, into a Gundert museum. Margret Frenz, a descendant of Gundert and academician at the University of Stuttgart's Institute of History, is a regular visitor to Thalasery and a strong supporter of promoting the German scholar's legacy.
Kerala should celebrate Gundert and his contributions to the people of the state and Malayalam language. In an ideal world, there would be a far greater cultural exchange between Kerala and Germany than what we have seen in the recent past.
(Ajay Kamalakaran is the author of 'A Week in the Life of Svitlana' and 'Globetrotting for Love and Other Stories from Sakhalin Island')