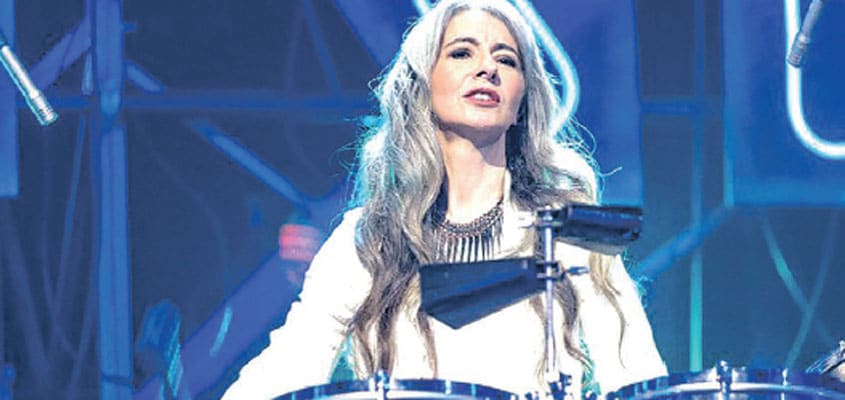 The academic year of 1982 was just beginning. A 17-year-old girl walked into the Royal School of Music in London, seeking to join piano classes. But there was one problem - Evelyn Glennie could not hear!
Teachers were sceptical about taking in her, how to teach music to such a person. Evelyn then slowly moved towards the percussions in the room. Her fingers virtually created magic as soulful music filled the room. Her teachers did not need any other reason, Evelyn was given admission to the college.
Evelyn Glennie was born in Scotland's Aberdeenshire on July 19, 1965. Her father Arthur Glennie, a butcher by profession, was addicted to music and dance. He was a prominent singer in several music troupes. Her mother Isabella, a school teacher, played the organ beautifully. Little Evelyn also took after her musically inclined parents.
Evelyn, who had an extraordinary understanding of rhythm, was the favourite of her teachers.
However, at the age of eight, tragedy struck as Evelyn started complaining of hearing loss.
She had to depend on hearing aid by the time she turned 11. However, she dropped it as she found the hearing aid to be more of a hindrance. By this time, Evelyn learned to experience music with her body instead of hearing it through her ears. Incredibly enough, her fingers, feet and other parts of the body were able to pick up the musical notes.
The world of hearing completely closed on her at the tender age of 12. However, music continued to create ripples within her.
That year, Isabella happened to meet a friend back from her student years. She introduced Evelyn to the world of percussions.
Evelyn graduated from the college in 1985, heralding the arrival of a musical genius.
She then left for Japan for a year to learn the musical instrument - Octave Marimba. She was introduced to music director and sound engineer Greg Malcangi in 1990. Their friendship of four years eventually led to marriage but they later went apart.
She was led to the world of pop music with the release of the album 'Shadow Behind the Iron Sun' in 2000. Evelyn's stellar percussion performance marked the beginning of the 2012 London Olympics. She led a team of 1,000 percussionists in an enthralling exposition, turning the opening ceremony into a memorable experience and the world bowed before the legend.
Evelyn was accorded the Polar Music Prize for her contributions to the world of music in 2015.
Evelyn has also received 15 honorary doctorates from various universities. She is also an ambassador of the Royal National Children's Foundation and she has been the patron of the London School of Samba from 1993 onwards.
Evelyn has also penned her life story - 'Good Vibrations; My Autobiography'. She also put down her experiences of being able to listen to music through her body even after fully losing the hearing capability. That book was titled 'Hearing Easy'.
She also owns a huge collection of 1,800 percussions from various parts of the world. Along with performing at concerts and bringing out several albums, Evelyn also leads motivation classes.
Evelyn holds more than a 100 concert every year in different counties. She has so far performed in more than 40 countries.