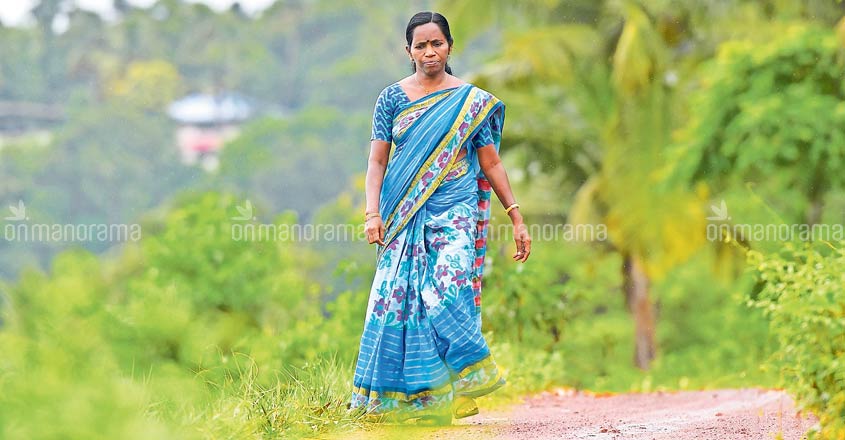 Usha Kumari, the Centre for Development Studies chairperson of the Chirakkara panchayat, cannot easily forget the nights when she had to spend it on the cold floor of a cow shed, holding both her children closer to her.
The inspiring tale of her survival and fight begins from where she had helplessly stared at life, without any savings or even a grain of rice at hand. Usha Kumari has treaded quite a lot of thorny paths to finally transform herself into the strong and motivated personality that she today is. It was from the Poikayil Thodiyil house at Nedungolam, Chirakkara that Usha Kumari has reached the position where she could easily inspire those who think that they would fail in life.
Strong footsteps
Usha Kumari was left helpless when her husband had abandoned her and two little kids. She had no house and was living in a makeshift house inside a cowshed. But Usha was not ready to give up yet. In the day time, she found job as a labourer as part of the Mahatma Gandhi National Rural Employment Scheme. At night, Usha would collect iron bars from a factory that built ready-made walls and worked along with her children. Besides, she also found time to join other women to do agriculture on the fields. She did catering jobs with Kudumbashree as well. Usha (51) is the daughter of Achutan, who worked as a clerk at the KSEB and Thankamma. Her mother was 6 months pregnant with her when Usha's father died. Thankamma had always supported her daughter who was born into abject poverty and misery, until she died three months ago.
It was Usha's activities as a Kudumbashree member which led her to be part of the CDS. She was honoured as the best female farmer after she successfully cultivated rice at the 10 acres field in Polachira, along with her friends. In 2015, she became the CDS chairperson of the Chirakkara panchayat and this her second term. Usha Kumari, a member of the CPM, also works as part of the National Rural Employment Guarantee Scheme.
Not just farming, but Usha Kumari shines in cooking as well. Recalling her experiences participating in the renowned Dubai festival, four years ago, as part of the Kudumbashree team, Usha says, "I, who hasn't even seen my own district entirely, had the opportunity to see Dubai." She now heads the fish farming of the panchayat's paddy-fish rotational farming plan. The paddy has already been harvested and the grains that are stored in sacks need to be boiled. Usha Kumari and her friends are all set to sell this rice as Chirakkara brand.
Plus Two student
Though Usha has always been busy working two or three jobs to support her family, she was interested to study as well. She passed the tenth standard equivalency with flying colours. Now, she is a plus two student who hopes to pass the course with equally good grades. Usha Kumari is involved in many charitable works including rescuing old people from the streets and admitting them in various shelter homes. She says with relief that she along with other Kudumbashree members have nabbed a person accused of raping a young girl. Besides, the group also takes the initiative for the rehabilitation and protection of the girl.
Usha's children Rahul and Ramya have always supported their mother in all her activities. Son-in-law Sumesh and grandchild Sravan are the latest additions to this beautiful family. "I worked hard to give my children good education. I built a house and even married off my daughter. I have few debts. But I am sure I could repay them by toiling hard in the soil," says Usha Kumari who has always faced life, unfazed.