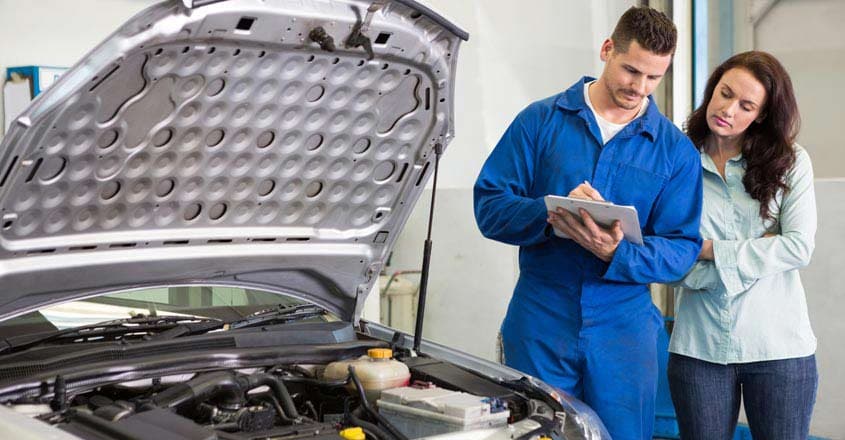 It is a big concern for car owners if the things mentioned in the bill have actually been carried out or not during a service. This is because whatever happens inside the service centre is out of bounds for the car owners. This is something that is similar to what happens inside operation theatres inside hospitals! The maximum you can do is communicate with the service advisor. So, is it better to get the service done at an independent garage where you can see what is being done first-hand?
Outside dealership
These days, cars have much more plastic and fibre components. Open the bonnet and you can see this for yourself. Even a minor frontal impact could cause severe damages. Both petrol and diesel cars now use electronic fuel injection systems. Since they work under high pressure (especially in diesel), their components are super expensive. So, before giving your car to an independent garage, you need to check if they have enough experience and equipment to do the job. Even spraying water inside engine bay during a regular car wash could create problems.
However, for any car, there are some works that can be carried out at a local workshop safely, including oil and filter changes and coolant and brake fluid top-up. Besides, minor dents and scratches on the body too could be fixed at a local workshop.
Care for warranty?
Most manufacturers insist that new cars should be serviced at company service centres during the warranty period. Considering the high costs of several components in modern vehicles, it is not advisable to lose warranty cover of a new car. Besides, new and complex technology too is making their way into cars these days. If you do not rely on right equipment and well-trained hands, you could be asking for trouble. Most non-metal parts are fixed in a special way and if such parts are not handled carefully, they could be damaged beyond reuse. If you think that parts such as door pads and claddings could be taken out and put back using two steel screws, similar to Ambassador days, you are mistaken. To complicate things, several car makers do not provide original spare parts in the open market. So, even if you do not have warranty cover, you have no choice but to rely on the company service centre.
Take it seriously
When you take your car for service, do not leave the place after informing the service advisor about the problems and signing on wherever you are asked to. You need to get a clear picture of what all works they are planning to do and what could be the expected charges on the service request copy that is provided to you.
During a routine service, you can easily exclude any works related to tyres. Tyre rotation, and wheel alignment and balancing can be best done at a tyre service centre; you could not only cut costs and but also see first-hand what happens in front of your eyes.
When you give the vehicle for service, you can ask for a trial if you have any complaints. If no issues could be found during the trial, the owner should be informed of any problems that could crop up during an examination later. In such a case, the owner's approval should be sought to carry out any repair. If it is an expensive work, it is better to visit the service centre even if you are hard-pressed for time and see it for yourself before authorising any work. If you do not understand any issues, do not feel shy to ask questions. The alertness shown in such situations could help you avoid unnecessary repairs.
Warranty for spares
If the service centre informs you that the work is over, do not show haste in settling the bill and leaving the place. You can ask the service advisor to explain the works done and see for yourself the parts that have been changed. If there are any other issues, you could take a trial with the service advisor to check if they have been fixed or not. Do not hesitate to raise questions even if they are small issues. Retain the repair bills - original spare parts have at least six months' warranty. Most manufacturers provide warranty for major repair works. Do not hesitate to seek more details and get them in writing.
Complain without fear
The service centre would display name and phone numbers to whom one can complain in case you are not happy with the service provided by the service centre. If issues reported by you before giving your vehicle for services have not been fixed satisfactorily, do not hesitate to complain. If you have a new car, take full advantage of the free services offered by the dealer. If there are small issues while you take delivery of the car, you could be told by the dealer that they could be fixed during the first service itself. Do not fall for this. Issues with paint, trims etc could be fixed during the first free service. If you need, you could even contact the customer service section of the car maker.
Remain up-to-date
New-generation cars use complex technology. A car owner need not be aware of all the new technology that goes into making the car in detail. But it pays to remain update with some issues that could be of help when you need to be in touch with the service centre. New-generation cars are electronically controlled. The censors at different parts of the car send info to a control unit (engine control unit also commonly called an engine control module) that decide for how long and how much fuel has to be injected into the engine. The same ECU controls the injection system too. In petrol cars, the functioning of the ignition (spark plug) too is controlled by the ECU. Compared to sensors, the ECU is super expensive. The manual provided with the car will have guidelines to ensure the safety of ECU.