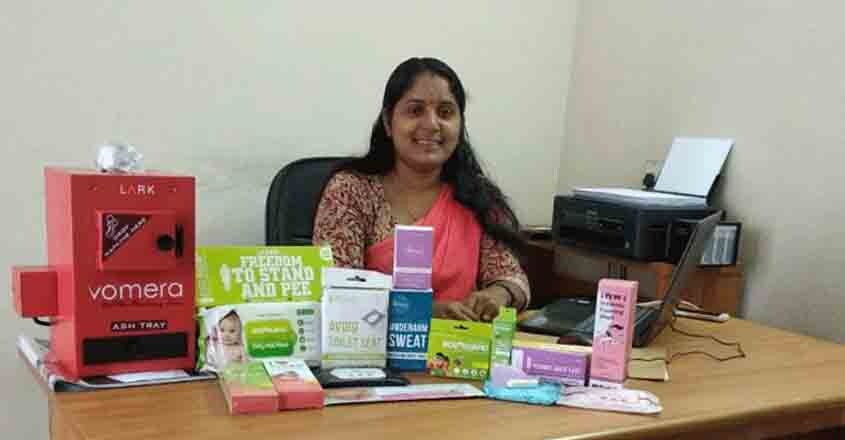 Lijisha Krishnaram was faced with sneers when she started her own business. But very soon even those who ridiculed her supported Lijisha realising how important her venture was for women.

Talking about her life and career, Lijisha says she had no prior experience in business while launching a host of products most essential for women but very few people openly talk about.
The products Lijisha, a native of Kannur, has introduced to the market are familiar to people in Western countries. However, women in Kerala have been reluctant to try these items, even though they have noticed such products on online shopping sites.
Lijisha says that it was a big challenge to market such items among Keralite women who are rather reticent even about their basic needs.
Shame turned into ashes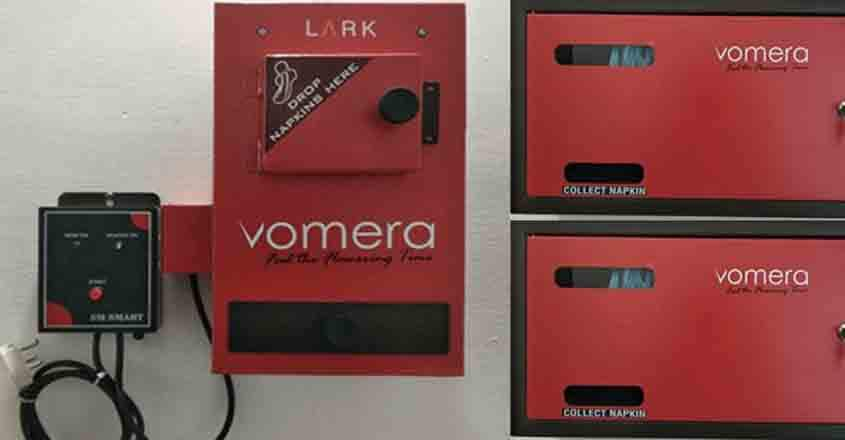 There are many women in our society who are shy even to discuss their periods and the related issues. A major problem faced by all women – housewives, working women, and students alike – is disposal of sanitary napkins.
Some are even forced to flush it down the closet. This may often block the sewage pipes, requiring costly repairs.
Other women may try to burn it. But if it does not burn fully, the napkins pose a major health and environmental hazard.
To address such major issues, Lijisha introduced her sanitary napkin destroyer.
Large napkin destroyers are already available in the market but those which can be used for small number of napkins are not that common. Lijisha's product, which turns used sanitary napkins into ashes, is meant for houses and offices. A wide range of destroyers which can burn 20 to 4,000 napkins have been launched by Lijisha.
When she set on her venture on full throttle, Lijisha's husband, too, came to her support. They together set up the Lark group of companies, which markets a wide variety of products for women.
Menstruation is a blessing, not curse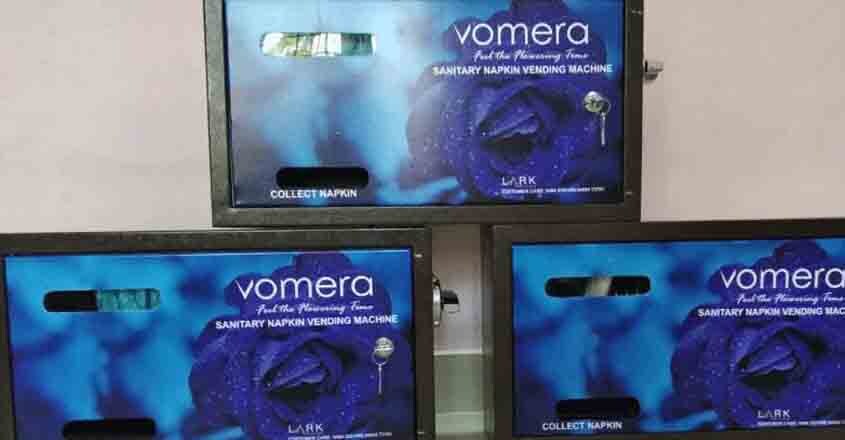 Lijisha considers menstruation as a flowering season rather than an unclean period. So she was determined that her business would be based on matters which are most useful to women. Lark group introduced its 'Vomera' with the tag line 'feel the flowering time.' Lijisha's business which called up on women to celebrate their menstrual body was frowned upon even by relatives initially. However, most of them gave full support to her after realising the noble cause she was upholding.
Vomera brand of napkin destroyer was Lijisha's first women-friendly product. Next she marketed the napkin vending machine. Vomera has designed napkin vending machines with several options. They are meant for offices. Each vending machine can dispense 25 to 50 napkins. Users can obtain napkins using coins, the ID card of the office, chip, and sensors.
Menstrual cup revolution
Lijisha's another product is menstrual cup. It is meant for those women who wish to avoid using sanitary napkins. Lijisha and her colleagues not only sell the new product but also conduct awareness programmes on its proper use.
Usually, menstrual cup is available only through online sales. But, the prices are too steep, making it beyond the reach of the common people. Lijisha has launched her menstrual cup in supermarkets and medical shops at affordable prices.
Stand and pee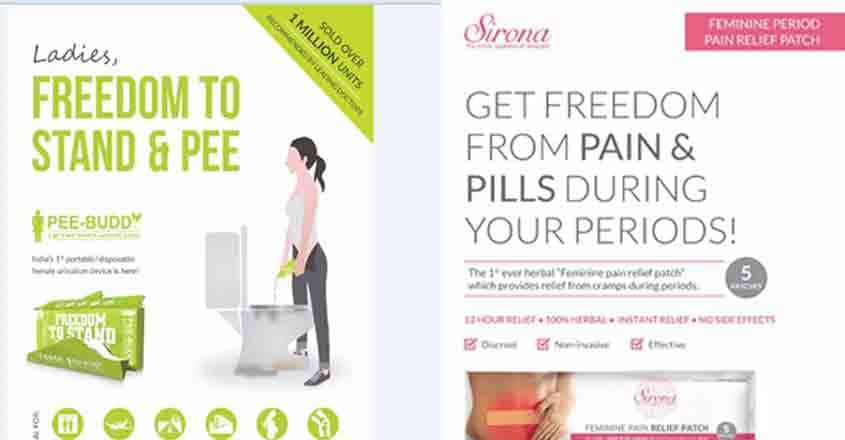 Many women face much discomfort while travelling as they have to depend on public wash rooms. Some of them have often wondered if they could urinate while standing up in such places. To satisfy this demand, Lijisha's firm has launched 'Pee-budd' urination device. It is meant for pregnant women and those having arthritis who have difficulty in sitting to urinate. The product sold with the tag line 'freedom to stand and pee' is the first such item in India.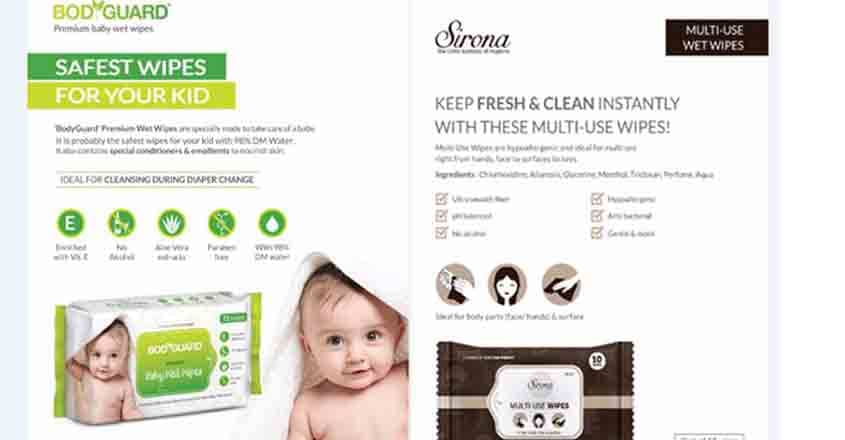 Many women are reluctant to use the western toilet and suppress their urge to urinate, which may lead to several health issues. For them, Lijisha's firm has introduced toilet seat covers. Other products include lotions and wipes to clean private parts.
Easing menstrual pain
Dysmenorrhoea is a nightmare for most women. Some of them may resort to taking pain killers to overcome this. However, the side effects of these medicines could be even more damaging. Lijisha has offered a solution with her pain relief patch which can be stuck to the abdomen. According to her, there is no need to be concerned about side effects as it is a 100% herbal product.
From management to business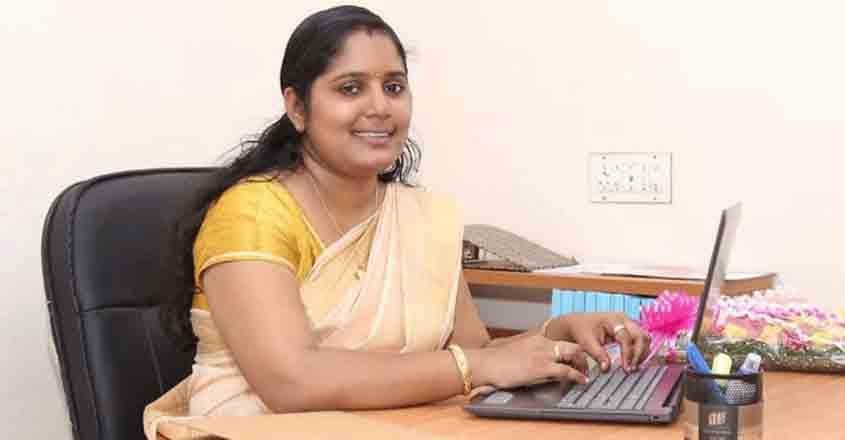 Lijisha did her studies at a polytechnic and later took a degree in business management. She worked in different private firms for around 10 years before launching her own business. Her aim while starting her venture was not profit alone, but to do something which would be helpful to the society, especially women.
There are several textile shops and beauty parlours which satisfy women's needs for fashion and style. However, there are almost no initiatives to understand the basic issues women face and offer the necessary solutions. It was this realisation that inspired the setting up of Lark group.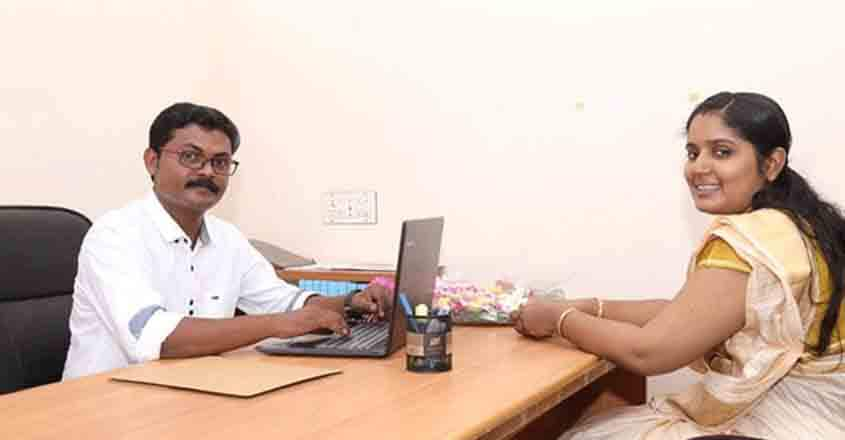 Operating with its head-quarters in Ernakulam for the last two years, the firm has opened new offices at Kollam and Kannur. The company is also engaged in the distribution of brands like Cirona, pee-buddy, body guard, and Invy.
Lijisha points out a report which showed how imperative the women-friendly products were. Many years ago, women at a firm in Kakkanad were asked to take off their clothes to find out who had discarded a sanitary napkin in the waste bin. "I was determined that such incident would never happen again. I began thinking how that situation could be avoided. The idea to launch a sanitary napkin destroyer came from these thoughts," she says.
"These destroyers will help not only the women who work in the offices but also reduce the job of cleaning women," adds Lijisha.
She raises another issue. "Most of the garbage that offices and flats create are collected and managed by women appointed by the municipality or Kudumbashree. They, too, are women. If such waste is not managed properly, these women may develop health issues," she says.
Biomedical waste is destroyed by incinerating. "When the destroyer is installed in flats and offices, it will make much difference," says Lijisha.
"We have been doing this business for the last two years. Even people who kept away from earlier us are now encouraging us," she adds.
Awareness drive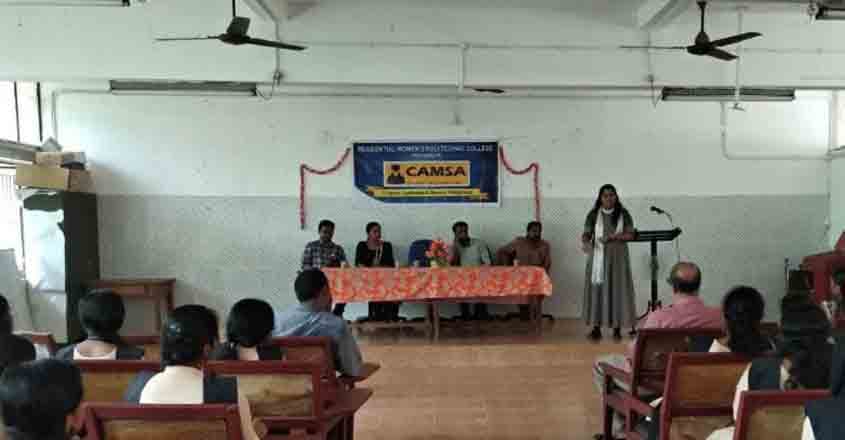 The first challenge Lijisha faced while introducing products which nobody had heard of before was to win the trust of the customers. "During the initial months, our focus was on spreading awareness about our products, rather than sales. We conducted exhibitions and campaigns to make the products familiar to the people. Positive feedback from customers helped us," she reveals.
New products
A major new product from Lijisha's firm is the 'Food waste compost maker.' It is a bin with three panels and will be marketed with the support of the government. The product is designed to turn garbage into organic fertilizer within a month.
Some other products aimed at implementing the green protocol include a pen with seeds and items made of coconut shell and frond.