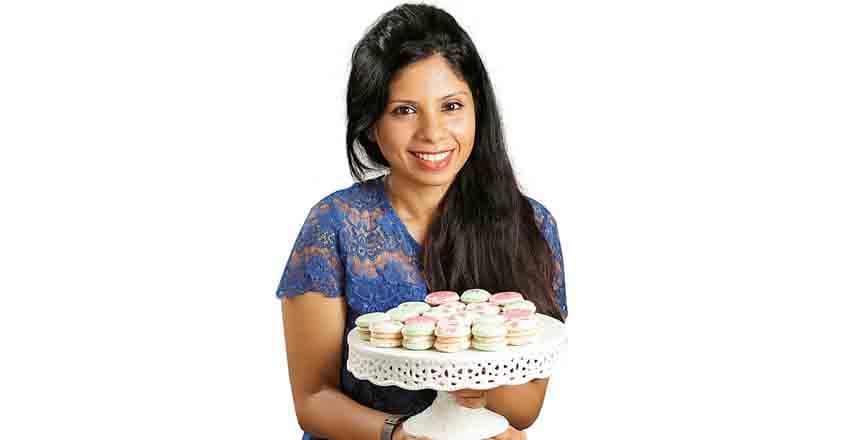 It may sound quite quirky for a dentist to be making macarons instead of mending teeth. Yes, that's what Kanjirappally-based orthodontist Aswathy Devassy is into. Presiding over her fulfilling job of making and selling macarons, the lady has perfected the craft of making them to perfection.

The business twist to the macaron story happened when she served her goodies to guests who chanced to drop in one day. That was how her first order came by. Bowled over by what they had tasted they could not believe it when Aswathy gave a cool nod to their question: Can you make macarons?
Aswathy readily consented when they placed an order for macarons for their kid's birthday. Not a big deal, said Aswathy to herself. After all, she was making the stuff regularly for her kids. So why be tense about this first order?
But as ill luck would have it, her attempts at delivering her first order bombed. Try as much as she could, the macarons simply refused to turn out well. Talking about them, everything lies in the feet of the macarons. The feet are the ruffles on the edges. A macaron is a meringue made partly of foam or liquid that's folded into two with one part made of icing sugar and the other half with ground almonds. When they are baked the top shell layer cooks and it means that the macron can no longer expand and hence must rise up. This forms a frilled ruffle or what's called a foot. If the feet are not formed well, the macarons will turn out to be cookies, crumbled, and broken.
She tried them out a few more times, with little success. So she called up her friends who had placed the order and told them that if her final attempt would not succeed, she would cancel the order. As luck would have it, the macrons turned up trumps and Aswathy could bask in the glory of her feat. The macarons were well eaten, compliments were paid and orders came pouring in. It was a happy Aswathy who hit her pillow that night. Her fears just scampered away.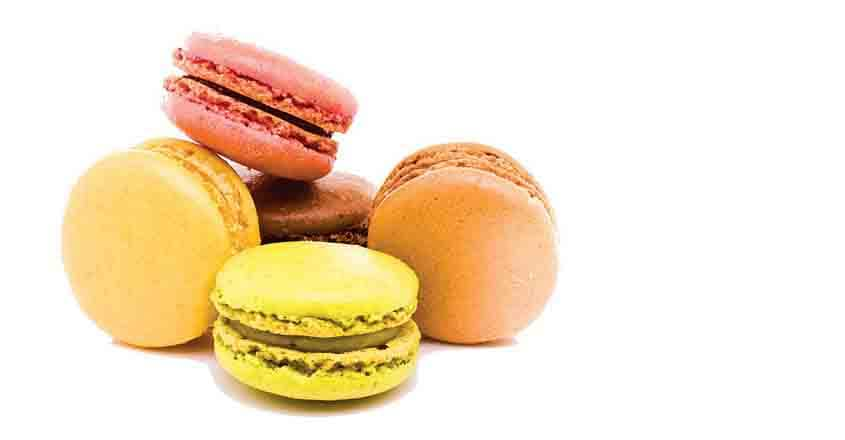 "My grandma and my mother were all great cooks", says Aswathy. She recalls her mother baking birthday cakes for her as well as her brother. And they were made to suit their individual designs and tastes. Those cakes were a big 'something' those days. And as she watched the cakes with awe she used to wonder whether she would ever be capable of such feats.
Marriage over, cooking became a passion, the inspiration being none other than her husband Devassy, a seaman, who loves his food. But then her husband being not exactly slim, Aswathy was scared whether he would pack on the kilos with more goodies. His weight gain was one reason why she refrained from indulging in exotic cooking.
"Trim down and I'll cook for you," she cautioned him. But she was in for a huge surprise when her husband decided to go for her advice. He slimmed down and she knew she had to keep her promise. That's how Aswathy went on to attend cookery classes. She mastered the craft pretty soon. "After all, I have cooking in my genes," she says.
She learnt to make macarons because her kids Jiana and Kiyara love them. Health is a great factor and she sticks to the principle faithfully. Macarons are healthy snacks, as they are made with butter and almonds, she says. They are her kids' most loved school snacks.
Macarons caught Aswathy's fancy from the pictures of the yummy snacks she saw on magazines sourced from abroad. She now makes them in creamy and chocolatey flavours. It's the art work on top that takes time. It needs patience, too. However, it's not a task for Aswathy as it's something she loves to do. The macarons fetch her more than Rs 25,000 a month.
Her orthodontist's skills are on play only once a week at the clinic. The rest are macaron days. "Both my profession as well as my hobby put smiles on people's faces", says Aswathy. Many a time patients come in with sad looks because of facial irregularities and dental disfiguration. But once the sittings are over, and they look good it's so very heartening to see the perfect smile on their faces, says Aswathy.
This is true for food also, she hastens to add. When you cook with joy and your loved ones eat with joy, there's nothing more one can wish for.