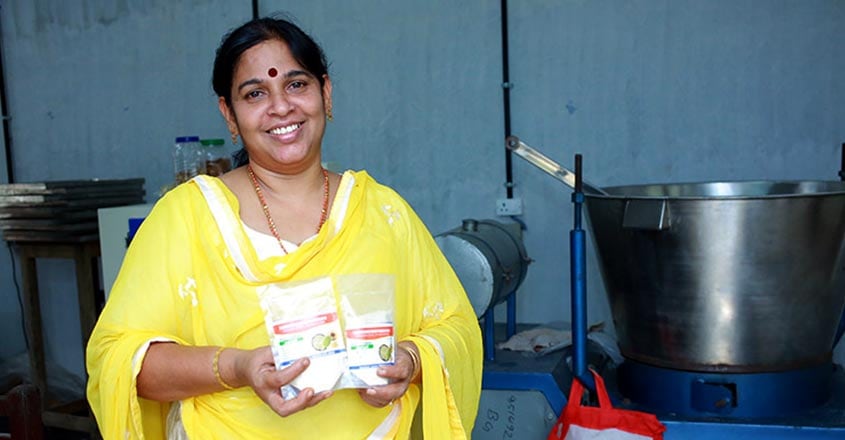 The wide range of delicacies and value-added products that could be made from the humble jackfruit will take anyone by surprise. The list is pretty long and includes 'chakka varatti' (a preserve made with ripe jackfruits, jaggery and ghee), jam, candies, tender jackfruit pickles, sprouted grain-based health powder and 'puttu podi' from jackfruit seeds, among others. Apart from these, Reeja Bai also churns out jackfruit-based sweets such as 'payasams,' 'unniappam,' and 'kumbilappam' from Samrithi Food Products, a unit run by this home-maker near to the municipal bus stand at Vadakara in Kozhikode district.

Plunged into business after training
The turning point in Reeja's business life was the training she underwent in the production of jackfruit-related products six years ago. She got a 10-day exposure to the manufacture of processed jackfruit products at the College of Agriculture at Velayani in Thiruvananthapuram, and also received technical help from the Jackfruit Promotion Council.
Reeja started the venture three years ago and began selling the products after duly testing them and checking their quality. Initially, the production was carried out without any machines barring a dryer. Reeja introduced the products in the market by participating in the Kozhikode 'Chakka Ulsavam,' and the response from the public gave her the confidence to proceed with the business venture.
Fairs and exhibitions
Reeja mainly concentrates on local fairs and exhibitions to generate sales, besides business orders from nearby shops. On an average, Reeja will participate in 20 fairs in a year. Now, two distributors have come forward to market the products.
This niche market has many advantages, and one of them is that there isn't much competition. The products, devoid of any preservatives or artificial colour, are equally good for adults and children.
"Jackfruit can be preserved for at least one year if it is dried properly. We always strive hard to maintain the traditional taste in our products. And we also make it a point to make jackfruit delicacies live while attending the fairs and exhibitions. These all will help in the marketing of products," says Reeja Bai.
Jackfruit and its seeds are usually dried in sun, and a dryer is used when the weather is not good.
Mechanization
As part of mechanization, many machines were installed to ease the production process. Machinery, including oven, freezer, halwa maker and grinder, worth Rs 3 lakh were bought. Everyday 5 kg to 10 kg are produced in the unit. There are two workers to help Reeja, and her husband Venu Prasad chips in with the marketing of products.
Though jackfruits are aplenty in Kerala, harvesting is a problem, and a system should be in place whereby there is steady supply of jackfruits, says Reeja.
Sale of Rs 3 lakh per month
Presently, the firm records a sales turnover between Rs 1 lakh and 3 lakhs per month, and a profit of Rs 40,000. As part of the expansion process, this home-maker is planning to install automatic machines to increase productivity for which 10 more people would be employed. Distribution should be spread to other states, new agents roped in, and the supermarkets should be fully utilized, adds Reeja.
Tips to new entrepreneurs
There is immense scope for food processing units that uses locally available raw materials. This could be started as a family business.
This business venture can be started by using domestic cooking equipment. Modern machines could be added as the business grows.
One could earn a profit not less than Rs 25,000 per month with a capital investment of Rs 1 lakh.