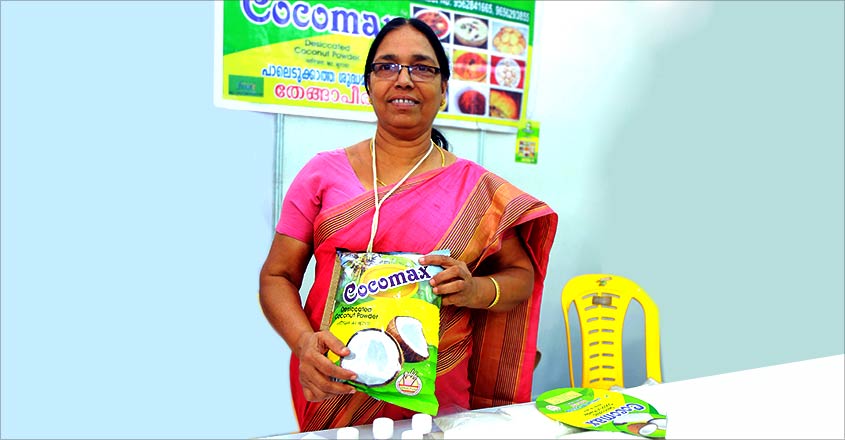 Fruitful spending of leisure hours can make a homemaker's life financially remunerative, if O K Lakshmi's story is anything to go by.

What business?
It's the sale of coconut powder, where you dry the fruit and grind it. In 2015, when she started the enterprise named Lakshmi Coconut Products in northern Kerala's Kozhikode, the entrepreneur wasn't too optimistic. But over the four years, Lakshmi has proven that disciplined work can ensure success in any such endeavour. True, sufficient availability of coconuts in her place, along with a deep desire to own a company, helped Lakshmi to fare well in her enterprise at Nairkuzhi near National Institute of Technology, 20 km north east of the famed Malabar city.
Simple manufacturing
The production ways are simple. First procure the coconuts. Dehusk them and then break the shell. Peel the kernel out and shave off its outer red layer. Cut them into pieces and wash them well. Once the water is drained out, the pieces are put in a mixer and ground.
The powder is then taken out and laid in a drier, letting them remain in 70-80°C for a couple of hours. That follows with a second round of grinding. This time, when taken out, the powder needs to only lose its heat. Once it acquires normal temperature, the material can be packed.
Rs 15-lakh investment
The machinery can be acquired at Rs 15 lakh. The tool that (manually) breaks the shells of the coconut, the drying machine, the drier with five tiers, blower, 10-hp motor, the firewood facility to heat, and the packing machine. Lakshmi's business premises measure a space of 1,500 square feet.
5,000 coconuts daily
The business needs a supply of 5,000 coconuts every day. From them are produced 450 kg of powder daily; a kg is being sold at a price ranging between Rs 200 and Rs 300. The product retains coconut milk.
Sales route
A part of the product is direct sold to bakeries. The firm also sells the product wholesale to shops that supply raw materials to bakeries. The supply is largely to businesses in the adjoining districts of Kozhikode and Malappuram. Some deals happen on credit, but getting back the money on time is usually no issue. Coordination with big distributors can benefit the business; Lakshmi is in the lookout for them. The business can yield a net profit of 20 per cent.
A word to newcomers
Aspiring entrepreneurs in Kerala can ideally look forward to entering business that can procure raw materials locally. That also ensures prosperity of farming in the region. Low-investment business can be highly rewarding. That is the bottom line.