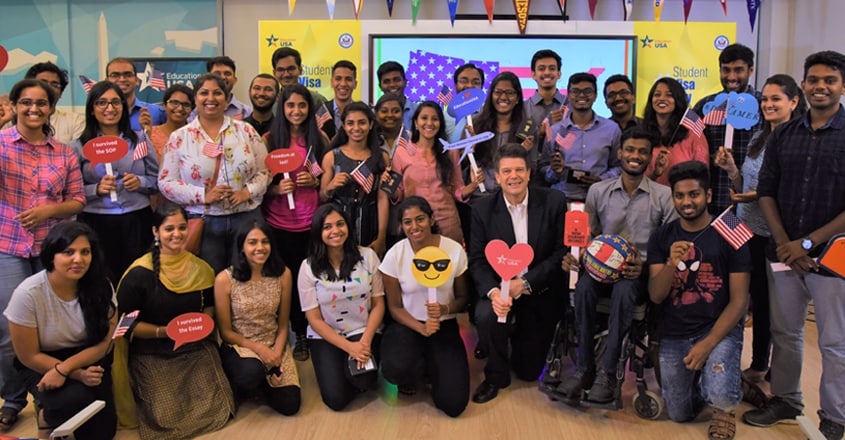 There are over 196,000 Indian students studying in the United States – more than any other time in the country's history. They account for the second-largest foreign nationality among students in the US. To celebrate this educational exchange between the United States and India, on June 12 every year, the US Consulates in India organize various programs to help qualified students prepare for study in the United States.
This year, the US Consulate General in Chennai joined the rest of US Mission India to mark the fifth annual Student Visa Day. This yearly event saw more than 4,000 student applicants interested in studying in the United States pouring in to be interviewed at five Mission India consular sections across the country.
Consulate General Chennai welcomed nearly 1,000 students for visa interviews and afterwards select South Indian students and their parents joined a celebration at the American Center in Chennai, where US Consul General Robert Burgess presented them with student visas.
"I congratulate the students and parents who have taken this life-changing step to pursue higher education in the United States.  I warmly welcome you to the campuses of our 4,700 accredited academic institutions, whose communities are enriched by diverse student bodies, and whose many and varied educational programs offer academic rigour, fulfilling experiences, and lifelong friendships," said Consul General Burgess.
In conjunction with the celebration of Student Visa Day across India, the US Embassy and United States-India Educational Foundation (USIEF) launched the EducationUSA India mobile application to provide Indian students current, comprehensive, and accurate information on studying in the United States.
EducationUSA is a US government program and is the official source of information on US higher education. This free app is the first point of information for students, parents, school counsellors, and others who want to know about US higher education but don't know where to begin.